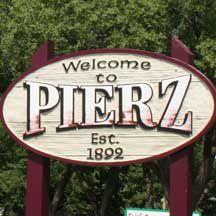 The Pierz City Council approved a five-year contract with Pierz Sanitation at its Oct. 14 meeting. Because its recycling costs have increased, Pierz Sanitation asked for a 50 cent per month per household increase in recycling.
Recycling costs to the city will increase from $3 to $3.50 per household per month, but garbage rates remain at $4.75 per month.
Garbage is picked up every week and recycling is picked up every other week.
The city incurs administration costs, because the deputy clerk does the billing and phone calls are taken by staff at City Hall. In addition, the city pays the landfill fees, which vary each time, depending upon the weight of the garbage collected. Last year, the landfill costs to the city were $23,000 for the year, nearly $2,000 a month.
In light of these costs incurred, residents have paid 25 cents more for garbage collection to the city than what the city pays Pierz Sanitation. In previous years, residents have paid only 10 cents more to the city for recycling than what the city pays to Pierz Sanitation.
Monday, the Council voted to increase the recycling costs to residents by 25 cents more than the city pays Pierz Sanitation, to $3.75 (was $3.10, when Pierz Sanitation charged $3). Monthly garbage rates will remain at $5 per household, since Pierz Sanitation took no increase in garbage.
These rates will remain in place for the five-year duration of the contract, from Nov. 1, 2019 through Oct. 31, 2024. The contract specifies that should the business be sold, the contract rate remains in effect for the full five year term.
Pierz City Council Briefs
Other business at Monday's Pierz City Council meeting included:
• Approving building permits for Advantage One Insurance to place a lighted 18-foot by 6-foot sign at 205 Main Street, and for Jacob Kirsting to place a 10-foot by 12-foot pre-fabricated shed on a pre-existing cement slab at his lot in the Pierz Mobile Home Park, as recommended by the Planning and Zoning Board;
• Approved a request by Pierz Healy High student Katie LeBlanc, and advisers Jamie Strohmeir and Becky Schmidt, to place collection cans at area businesses for the annual Toy Drive, and to use the city garage to hold the distribution in December;
• Approved an exempt permit for St. Joseph's Church for a raffle;
• Learned City Administrator Bob Otremba had been nominated to become part of the Transportation Advisory Council which meets quarterly in Staples;
• Learned new Deputy Clerk Dionne Haberman will begin Monday, Nov. 4;
• Agreed to meet Monday, Nov. 4, at 5:30 p.m. for a Council workshop; and
• Set Tuesday, Nov. 12, at 6:30 p.m. as the date and time to certify special assessments. This precedes the regular meeting, held Nov. 12 due to the Nov. 11 Veterans Day holiday. That meeting begins at 7 p.m.