Providing the weather cooperates, crews are expected to begin paving Highway 27 in west Little Falls, the middle to late part of this week.
For last week and over the course of the next week, a couple of feet of silty clay soil was removed and replaced with clean sand, creating a base for gravel, which is being laid.
Crews will continue that process from the railroad tracks to Eighth Street West, working from sun up to past sun down in some cases and on Saturdays.
"They were even working the Saturday of the Arts and Crafts Fair," said Kirk Allen, project manager with MnDOT.
Underground utility work on Lindbergh Drive, Seventh, 11th and 13th streets will be completed and hooked up by then as well.
Once the gravel is laid down, paving will begin and is expected to take a week.
Allen said the week of Sept. 23, bituminous removal will be done on Highway 27 from Eighth Street West to County Road 214. Although that stretch will be accessible to local traffic, the public will be rerouted to County Road 214.
That portion of road will be milled (tar ground up) and recycled into the new bituminous to be used on the highway.
The first two layers of pavement will be done in sections. The third and final layer will be put down in one long stretch, then striping will be done.
Another large part of the project on the west side to be done in the next couple of weeks is sidewalks and curbs. Currently the sidewalks and curbs have been removed on the south side of the road, but not on the north side. Allen said this was to give pedestrians a solid walkway to get around.
Once the sidewalks are done on the south side, the sidewalks on the north will be removed and replaced. Allen said when looking a the sidewalks, it's evident they are sagging significantly in many areas.
Another piece of work that may be done the week of Sept. 23, is on the railroad crossing arm.
Allen said Burlington Northern Sante Fe (BNSF) is planning to redo the stop arm at the railroad tracks on the west side of the Mississippi River bridge. Originally, BNSF planned to do the work in October, which would have required some of the new pavement to be torn up.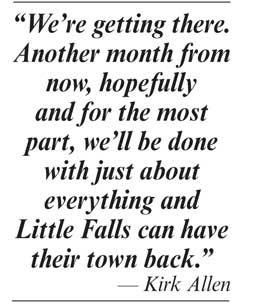 Allen said MnDOT and BNSF have been working together and the plan now is to redo that stop arm the week of Sept. 23.
The expected completion of Highway 27 west is still set at mid-October.
"We're getting there. Another month from now, hopefully and for the most part, we'll be done with just about everything and Little Falls can have their town back," Allen said. "I'm sure nobody will be missing us."
For more information on this Highway 27 project, visit www.mndot.gov/d3/littlefalls.