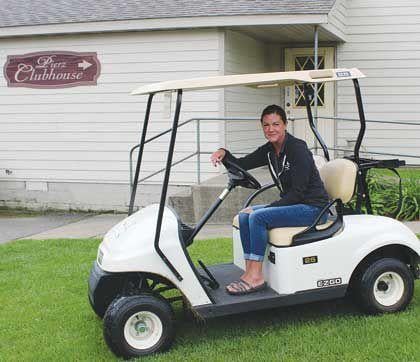 Mary Caughey said the best part of managing the clubhouse at the Pierz Golf Course is being surrounded by the beauty of the course.
"I love being in a beautiful place — it lightens your mood and you're happy," she said. "When people come to golf they're happy even if they have a bad round, they're still golfing. It's a fun place."
Caughey said she is still getting her bearings about her and "getting into my groove" having only been on the job since June 25.
Those first few weeks were "super busy" and the campgrounds were jam-packed, she said.
But, she is getting into her groove and learning the lay of the land not only from her staff, but from her customers as well.
Caughey and her husband, Curtis, have three children, Lacy, 11, Felix, 8 and Leo, 5. They lived in Pierz for six years, but then moved closer to Brainerd, and she worked as a stay-at-home mom. However, their children still attend Holy Trinity School in Pierz. She also worked at Patrick's in Pierz and worked at the clubhouse during men's league for a stint.
"I know the area and have gotten to know quite a few people in town — and we love it down here," Caughey said.
She was surprised when she received a phone call mentioning the open position at the clubhouse and was encouraged to apply.
"So I did," she said.
Caughey had wanted one more summer at home with her kids, but when this came up, she thought it would be a great opportunity and worth it in the long run.
Pierz Mayor Dave Fischer said he's known Caughey for about 10 years.
He is the one who encouraged her to apply for the job.
"I felt she had the personality to be able to work in that type of atmosphere — there can be some stressful times down there as with managing any business that deals with the public. She handles the public very well," Fischer said.
"We feel we can train anybody to do the job down there — but you can't train people how to deal with people — and Mary knows how to deal with people."
Bob Otremba, Caughey's immediate supervisor, said she will be a good fit. "I'm excited. She's got a lot of experience in hospitality," he said.
"Right now, we're focusing on learning the job and taking care of the responsibility we have in front of us, but as we expand, I can see her being a big part of it."
Caughey has some ideas to bring awareness to the clubhouse and make it more inviting to everyone, even those who do not golf.
"I can't even tell you all big ideas I have," she said. "My dream would be to have people come down here for meals like they did in the hay day — I think that's very possible."
Since the kitchen is open from 7 a.m. – 7 p.m., "We could do breakfast. There are such easy things we can do — a golfer can take a breakfast sandwich with them when they go," she said.
Expanding the lunch and supper menus is another area she has her eye on.
Then there's marketing — making sure the Pierz Golf Course and Clubhouse, complete with campgrounds, swimming area and playground, isn't such a well-kept secret, but a fun destination.
"This isn't going to happen right away, but I think we can make this place great," she said.