The phrase "we're in this together" is circling the U.S., perhaps the globe, as humankind is asked to distance themselves from one another.
Area faith communities that once gathered together once or more a week to share their faith and worship have had to get creative as the governor and faith leaders in the state order no contact or limited contact and "social distancing" — something that's hard to do inside the walls of a church.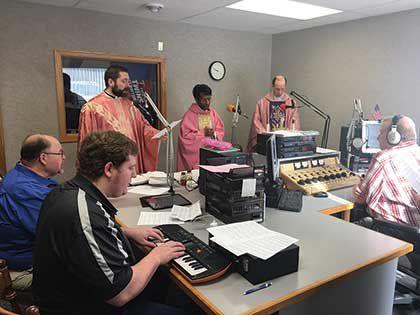 Fr. Ben Kociemba, Fr. Mark Botzet and Fr. Jimmy Joseph, priests who minister to the Catholic churches in Little Falls, Randall, Sobieski and Belle Prairie, have taken steps to bring their parishioners together with social media. Daily Masses are streamed live on the Little Falls Area Catholic Facebook Page. On Sunday, Mass is broadcast at 9 a.m. on KLTF for those who wish to listen. The first Sunday, the priests and musicians went to the radio station, but with the Governor's order to "stay-at-home" the Mass will be broadcast remotely, still at 9 a.m. That Mass will also be livestreamed on Facebook.
A "Flocknote" campaign has begun, with those interested able to sign up for emails and/or texts from the parishes at www.triparishcatholiccommunity.org or at www.littlefallscatholic.org.
Online services for Keith Thompson, pastor of Living Hope Church in Little Falls, are nothing new, but now Sunday morning worship time is only available online.
"We have been online for a few years now so that part is not new," Thompson said. That livestream can be found at www.livinghopelf.org, on Facebook and YouTube, with the social media user name of Livinghopelf.
"My wife and I did a Facebook live post last week where we updated the church regarding the online service, shared some scripture, encouragement, invited people to contact us with prayer requests and other needs and prayed for our world, health care workers, the sick and those that are now out of work," he said.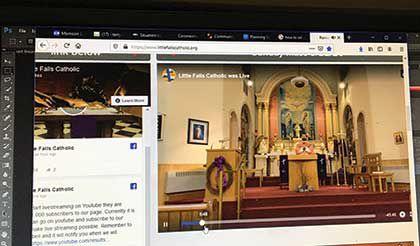 The couple also encouraged people to help support local businesses.
"We were amazed to have well over 700 people watch the video live or throughout the next few days. I will be doing this at least once a week," he said.
Staff pastors at Living Hope are connecting with children and youth also through social media, sending links to Bible curriculum and studies are being emailed to families to do at home.
Until Gov. Walz put out a "stay at home" order, effective until April 10, plans were to start a "drive-through prayer," with individuals staying in their car and pastors staying just outside the front door of the church. The pastors would invite them to roll down their window and share their needs so the pastors could offer prayer for them.
Several Bible study groups are being encouraged to use technology such as Zoom or Facetime to connect throughout the week.
Those members of Living Hope who do not have internet access or cellphones, are being contacted by phone with updates and to check on their needs, as well as to offer prayer.
Steve Priola, pastor at First Baptist Church in Little Falls, said the congregation used the app Zoom to have an interactive church service Sunday, March 22.
"We'll use it for our Bible study and again on Sunday," Priola said.
He's also been sending inspirational group texts several times a week to his "church family" to keep in touch.
Pastor Tony Romaine at First United Church in Little Falls is keeping people engaged by sending out "Messages of Hope" each day. He sends then out on Facebook and also by mail to those who cannot access the internet.
"We also record each Sunday service and post those online via our YouTube channel and broadcast over GRTV. I also post my sermons on our website (firstunitedlf.org) and again, send them out via mail to those who do not have internet," he said.
First United has a phone visitation team set up to call the membership and check in on each other.
"We also livestream via Zoom and have our Bible Study over Zoom as well," he said.