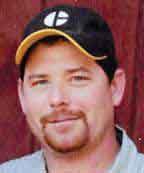 Sheriff Shawn Larsen and his team take time each week to work on the investigation into the murder of Terry Brisk. At the end of this story, a link to a video of Brisk's family will be shared.
Brisk was murdered Nov. 7, 2016, while he was out hunting in a wooded area owned by his parents in Belle Prairie Township, on the corner of Hawthorne Road and Jewel Road, east of Little Falls. He was 41 years old.
As time went on, a few details were released, but Larsen said a lot of details would not be released so as not to interfere with the investigation.
Larsen said, "Our agency wants the public to know that we have no reason to believe that this was a random incident. This was an intentional act of violence that resulted in the murder of Terry Brisk."
Information Larsen shared includes:
• The suspect was in close proximity and killed Brisk with his own weapon. Brisk would have clearly been able to see the suspect and probably had interaction with them prior to the shooting.
• Brisk's weapon wasn't located right away, but a search of the surrounding area resulted in finding his gun.
• Law enforcement has received little information in tips regarding this case, so whomever is responsible for this murder is not speaking to anyone about it.
"We continue to ask for the public's assistance for any information that anyone may have in regards to this case. Let us know anything you may have seen or heard or any suspicious activity you may have observed," Larsen said. "This case is still under investigation and it will remain a priority until the Brisk family and our community get the answers that they deserve."
Larsen said this isn't considered a cold case and it is revisited weekly, as the Sheriff's Department works on different strategies and follows up on information that is known.
Larsen encourages anyone with information to report it by contacting the Morrison County Sheriff's Office at (320) 632-9233.
He's also partnered with Crime Stoppers so people can report tips anonymously. Crime Stoppers can be contacted online at www.CrimeStoppersMn.org; by calling the toll-free 1 (800) 222-8447 (TIPS); by installing the Submit a Tip APP on any Smartphone; or by sending a text message beginning with TIP674 to CRIMES (274637).
"This case will remain a priority until it gets resolved," Larsen said.
The Morrison County Sheriff's Office, along with Terry Brisk's family, would like to this video. The video consists of Terry's family members sharing their quest to find the person responsible for taking his life. The family speaks at the site where a memorial has been erected in Terry's honor and near the place where Terry was killed. This video was shared by the Morrison County Sheriff's Office in lieu of a press conference.
https://www.dropbox.com/s/hw662eywjog8irk/terry%20v5.0.mov?dl=0