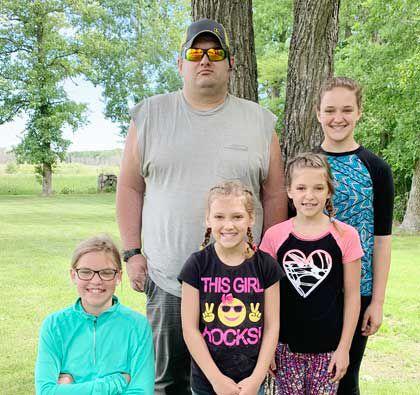 A benefit will be held Saturday, Sept. 21, for the Pint family, at the Pierz Ballroom and Lanes, from 4 p.m. – 10 p.m., featuring a sloppy jo meal and silent and live auctions.
On March 24, Gerald "Junior" Pint was doing some work around the yard in his skidsteer, when the friend that was helping him noticed the machine was not moving. Upon closer inspection, he found Pint unresponsive and called 911.
Emergency personnel determined that Pint had had a seizure and took him to the emergency room at St. Gabriel's Hospital.
A cat scan revealed Pint had a mass on his brain. Plans were to send him home with anti seizure meds, when he had another seizure.
From there, Pint was rushed to St. Cloud Hospital, where numerous tests were performed on him to try to figure out what the problem was. Finally, a brain biopsy was done and a week or so later, the family received the results that Pint had two brain tumors, one on each side of his brain.
The surgeon told the family the tumors would have to be removed, or they would continue to cause problems and eventually death.
Since then, Pint has had two surgeries to remove the tumors, and is now receiving radiation and will eventually receive chemotherapy.
"We don't know what the future holds, Junior is just trying to make the best of it, spending time with his four daughters: Shelby, 13, Madelyn, 12, Samantha, 10, and Bethany, 9," said his sister, Brenda Isder.
Pint, who is 39 years old, has been unable to work since March, so proceeds from the benefit will be used to help the family with expenses. Pint has worked for R & H Drywall in Pierz for over 20 years.
Contacts for silent and live auction can be made by appointment with Brenda at (320) 360-1226, Tracey Brixius at (320) 360-5125, or JR Brausen at (320) 630-5039.
Cash donations can be made at the Farmers and Merchants Bank in Pierz.