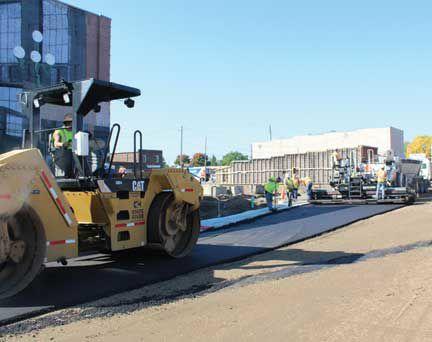 The good news is that paving has finally begun on Highway 27 in west Little Falls. The bad news? Beginning Monday, Sept. 23, Highway 27 will be closed to traffic from the Mississippi River bridge to the west edge of the city for the duration of the project, which is expected to be completed in mid-October.
Several north-south street crossings will be open for drivers, including Lindbergh Drive, Third Street and Fifth Street near Casey's. The one-mile stretch will be open to pedestrians, with signs posted where they should not go.
The closure during the remainder of the project is being done for several reasons, said Kirk Allen, project manager with MnDOT.
First is the safety factor — large machines and traffic don't always go well together. Allen said as many as 12 different contractors were working on the project last week.
The gravel/sand/asphalt cement mixture that makes up the pavement (also known as blacktop, tar, bituminous) is being hauled from a pit in Fort Ripley, with as many as 15 large semi trucks taking turns hauling. The trucks line up and as one truck is emptied and moves out, the paving crew comes in behind the next truck in line as it makes its way down the highway.
The large and heavy equipment used to lay down the tar and then compact it requires operators to focus on what their machine is doing, without distraction.
Allen said Knife River has contracted with other local businesses to provide trucks to haul the tar, as there are several projects underway at one time.
Another reason for the closure for the remainder of the work is that progress on the project will move more quickly without traffic.
"Too much traffic going through town would really slow construction operations," Allen said. "We recognize that it's another inconvenience to the traveling public and the businesses, but if we close it we can get in and out of there a lot faster."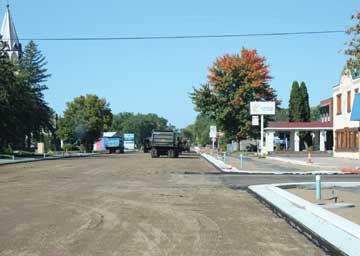 Allowing traffic could double the length of time it takes to do the work, Allen said.
As the days get shorter and weather isn't always cooperative, it's important get the job done as quickly as possible and to get it done correctly, he said.
Although no underground work was done from Eighth Street to the west edge of the city, starting Monday, that pavement will be milled (ground off) and recycled into new bituminous to be laid down.
Two layers of pavement will be laid in pieces, with the final layer put down in one piece across the project so there will be no seams. Allen said it not only looks nicer, but makes it stronger.
All of the road striping will be completed during this time as well — including left center turn lanes that the west side has never had before. Allen said it will help traffic move through town more efficiently.
All the underground utility work has been completed and city sewer, sanitary sewer and water has been hooked up, Allen said, allowing the top work to be done on the side streets affected.
Allen said a tremendous amount of cement work, including curbing and sidewalks, needs to be completed. In some areas, cement work already completed must be torn up and redone, due to bicyclists causing damage.
Allen asks bicyclists and pedestrians to stay away from cement that has not cured to prevent the need to tear it up to redo it.
Another piece of work to be done beginning Monday, Sept. 23, is on the railroad crossing arm.
Allen said Burlington Northern Sante Fe (BNSF) will redo the stop arm at the railroad tracks on the west side of the Mississippi River bridge. Originally, BNSF planned to do the work in October, which would have required some of the new pavement to be torn up and traffic detours after Highway 27 had been reopened.
The work by BNSF should be completed by mid-week, weather permitting.
For more information on this Highway 27 project, visit www.mndot.gov/d3/little falls.