A life taken too soon. A beloved mother, daughter, sister and friend. That is what Cindy Ann Meyer of Pierz, 41, was to many.
    "She always had a bubbly personality and was very friendly with everybody. She just gave off a great glow. She came in the room and everything was lit up," said Krista Tretter, bartender at The Cave Bar and Grill in Hillman.
    Meyer died tragically in a car accident, March 24. As a way to help her two sons financially with any future needs, Jodi Mann, owner of The Cave Bar and Grill, and several others are hosting a fundraiser, Friday, April 23, at The Cave Bar and Grill, located at 37051 Highway 27 in Hillman, with a silent auction starting at 4 p.m. and the live auction at 7 p.m.
    Bartender Krista Tretter said so far many items have been donated to the event. Just for the silent auction, more than 50 items, such as gift certificates for various area businesses, sweatshirts, hoodies, glasses, dishes, holiday decorations and more.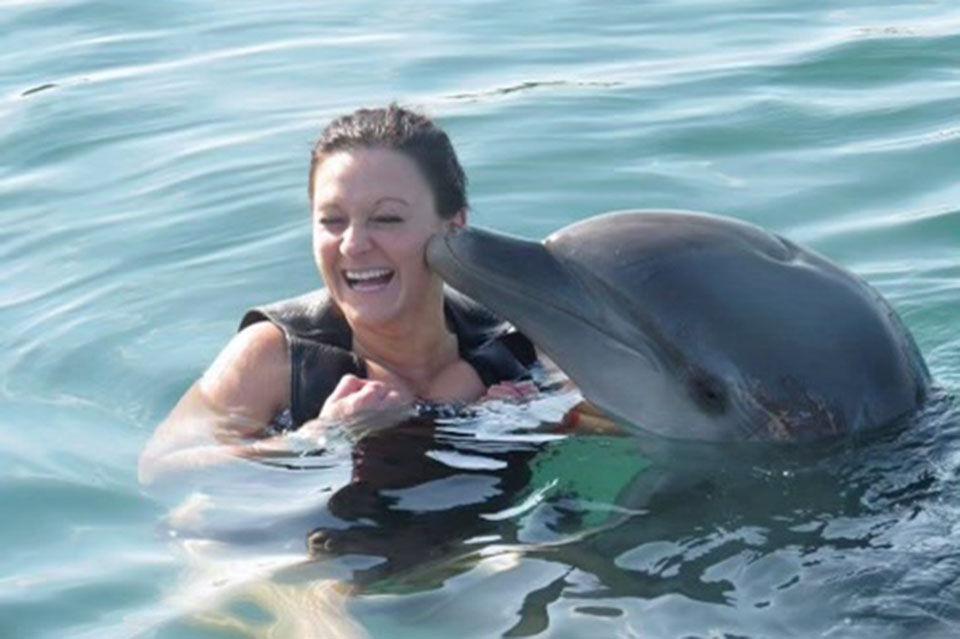 "More are coming in as the days go by," she said.
    Items in the live auction include air fryers, a 32-inch flat screen television, griddles, a small freezer, a five-day campground stay with ice cream tokens, golfing packages, wooden benches, quilts and more. One special item is a quilt made by JoAnn Hebler, a 77-year-old resident of Hillman, who was famous for her quality quilts and other sewed items. It was donated by the Hebler family and is one of the last quilts left made by JoAnn, Mann said.
    In addition to the auctions, several raffles will be held, such as a 50/50 raffle with cash, a gun raffle, a meat raffle and a raffle of scratch off tickets worth $200. Tickets for the scratch off raffle is currently sold at the bar and the winner will not need to be present at the time of the drawing, Mann said.
    A sloppy Joe dinner will also be prepared and served by The Cave Bar and Grill   with all proceeds going to the family.
    Mann said that because of limited capacity inside the bar, the event will be held outside rain, shine or snow.
    Mann and Tretter said they are very thankful to all who have donated so far. They are also very grateful for all of the help they have received from their friend, Stacey Hoheisel, who has sought and collected a multitude of donations.
    As their hearts go out to the family, Mann said they wanted to host the fundraiser as a way to help the children as well as letting them know that there is a whole community out there that is willing to help whenever it's needed — not only now, but even after the fundraiser has been held.
    "We are not going away. We will still be here," she said.
    According to Meyer's obituary, Meyer grew up in Pierz and graduated from Pierz Healy High School with the class of 1979. She attended cosmetology school in St. Cloud later on where she also obtained her license to practice cosmetology. In addition, she enjoyed flower gardening, traveling and shopping.
    "She will forever be remembered for her great sense of humor and her excellent abilities as a hairstylist. Cindy will also be remembered for her infectious smile, huge hugs, contagious laugh and the words, 'I love you,'" the obituary read.
    Those who want to donate items to the fundraiser can drop them off at the Cave Bar and Grill between 11 a.m. and 11 p.m. or make arrangements for pickup by calling Mann at (320) 360-5074, Tretter at (320) 406-7299 or Stacey Hoheisel at (320) 232-7605.
    Checks can be made out to "Cindy Meyer Fund" and mailed to The Cave Bar and Grill, 37051 Highway 27, Hillman, MN 56338.