Con Natvig of Swanville has coached football for 54 years. To many, he is a legend. Not only because he keeps giving back to the community in various ways, but also for the difference he has made and continues to make in many lives.
    "I have the outmost respect for him. He is a Hall of Famer," said USA Head Football Coach Jay Loven.
    Loven also knows firsthand the impact Natvig has had on many players through the years. He was one of them. Natvig coached him during his high school years during the 1980s. It's also with that same style of coaching, Natvig continues to encourage and teach players.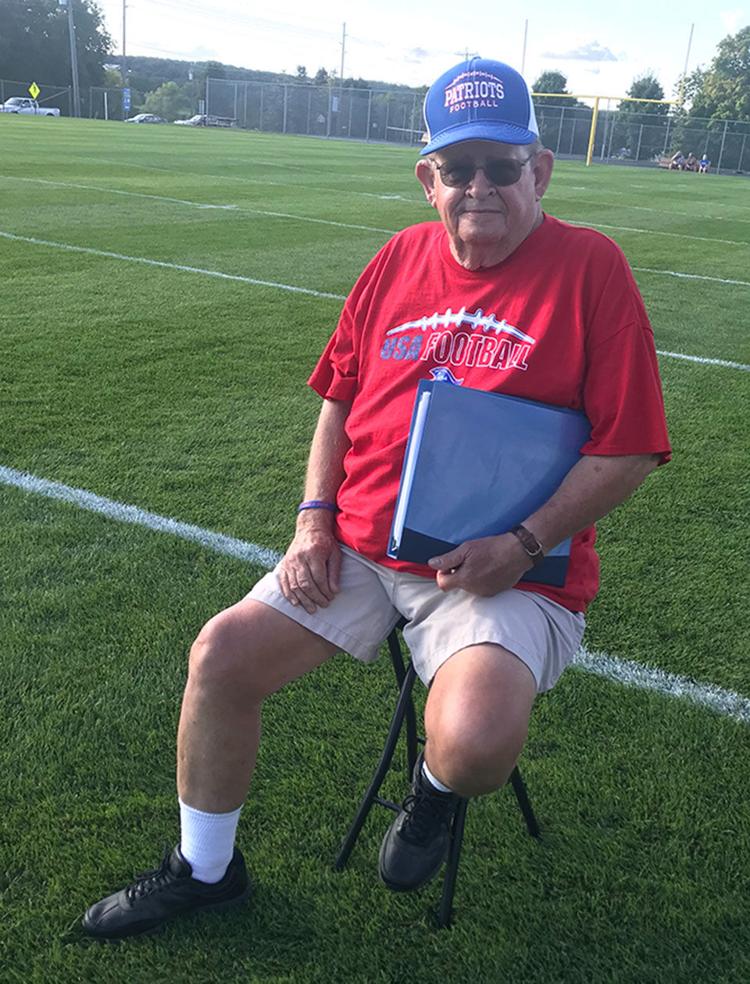 One thing that amazes Loven about Natvig is that although more than 50 years has gone by since Natvig started coaching, he is still as passionate about coaching and able to reach players from all backgrounds and at all levels.
    "If he ever has to stop coaching, that will be a sad day in the world of football in the whole state of Minnesota. He is one of the best," Loven said.     
    Natvig started coaching at Swanville High School in 1966 when he started working there as a physical education and health teacher. In addition to football, he has also coached baseball and basketball.
    "I enjoy it all. I enjoy the players, the camaraderie with the other coaches and it's just fun to see young men mature and become athletes," he said.
    Loven became an assistant football coach for Natvig, later in his tenure for eight years.
    "He's the one who got me started in coaching," Loven said.
    Natvig retired from teaching 1999 after teaching for 33 years. However, since he no longer would remain in the district, his coaching contract was not renewed when Swanville High School and Upsala High School merged its football team.
    "Back then, just about every coach was in the district they coached in, which now it is completely different," Natvig said.
    Recognizing his niche for coaching, Natvig's friend, Browerville Football Head Coach Gary Graham asked him to join the Browerville team as his assistant football coach.
    Natvig spent about 17 years coaching in Browerville — something Loven always found to be uncomfortable.
    "I coached against him for 17 years and I absolutely dreaded every time we had to play," he said.
    Coaching changed for Natvig in 2016 after he was diagnosed with lung cancer. Going through aggressive chemotherapy and radiation treatments and not knowing if he would be around to coach the fall of 2017, Natvig resigned from his position.
    "In January of 2017, my doctor told me I had two years, maybe at the most five, to live," he said.
    It was news neither he or his wife, Kathy, took well.
    Initially, it was planned for Natvig to have four rounds of chemotherapy, but because of the significant damage it was causing his body, his doctor at the Mayo Clinic in Rochester canceled any further treatments. Instead, he was instructed to focus on healthy nutrition and engage in physical therapy.
    Slowly, he regained his strength and after a month of physical therapy in a medical facility, he continued his own physical therapy at home with the help of a treadmill.
In time for football season in the fall of 2017, Loven convinced Natvig to return to coaching, but this time for USA.
    "It was so nice to have him back," Loven said.
    In June 2018, Natvig was declared cancer free and life was looking up. — for a while anyway.
    Earlier this year, Natvig returned to the doctor in May after having trouble breathing and experienced shortness of breath. A chest X-ray revealed fluid build-up in his right lung. One liter was removed and the fluid was tested, which revealed some strange cells.         It was ultimately the lung positron emission tomography (PET) scan he had that showed that he has cancer in the pleural lining of the lung. Since then, fluids have been removed from his lung four times, he said.
    This time, he was given immune therapy instead of chemotherapy, a less aggressive form of treatment.
    "I am just happy I don't have to go through chemotherapy again," he said.
    Since the shortness of breath and difficulty breathing makes it extremely difficult for Natvig to get around and affects his ability to coach, family members and several people in the community are raising funds to buy a golf cart for Natvig. To make it simpler for people to donate rather than going through any middle parties, Loven said they arranged for any donations to be sent to Natvig directly.
    Those who want to donate may make out a check to Con Natvig with "Donation for Golf Cart" in the memo and mail it to Con Natvig, PO Box 302, Swanville, MN 56382.
    For more information or to arrange an electronic donation, call Loven at (320) 360-2550.
    Natvig said that once he gets the golf cart, the first thing he will do is to take out his wife of 49 years for a spin.