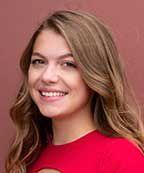 Little Falls Community High School has announced that Claire Zack has been chosen as the Girl of the Month for April 2020. She is the daughter of Rosemary and Corey Zack.
Zack's academic success is highlighted by her unblemished 4.0 gpa and her distinction as one of the valedictorians for the Class of 2020. Additionally, she is a two-year member of the Honor Society.
Athletics have topped Zack's list of extra-curricular activities during her years at LFCHS. Zack's leadership qualities are evidenced through her role as captain of the cross country, Nordic skiing and track and field teams as a senior. She also served as a captain for track and field as a junior and was named All-Conference in the 200 meter run during the 2019 season.
Choir is another area where Zack shines. A member of concert choir, the Jubileers and the choir president, she shares her talents with others. Serving as a two-year Link Leader, Zack also gives of her time as a mentor to freshmen and new students to the high school.
Zack's volunteer activities include participating in the annual Days of Caring and working traffic control at the Little Falls Arts and Craft show.
Tom Stockard, Advanced Placement Economics teacher, said he feels blessed to have had the opportunity to serve as Zack's instructor in multiple courses.
"Claire has an impeccable academic record as evidenced by her class ranking and her mastery of course material at the termination of each unit. Claire can cut through curriculum with a scalpel and notably achieves elevated levels of understanding beyond simple knowledge and comprehension. This was evidenced recently by her domination of a difficult AP economics exam," Stockard said.
"Although a plethora of examples can be offered to cite Claire's academic achievements, it is her tenacity and commitment to excellence outside the classroom that equally set her apart from her peers. Claire is involved in a wide array of both fine art and athletic activities. It is amazing to observe her bubbly personality transform into an intense competitor and experienced thespian," Stockard said. "Her ability to be simultaneously involved in many co-curricular activities and maintain a remarkable academic record signifies her level of maturation and administration. Her stellar academic record and commitment to her school are second to none."
Lyn Gwost, college composition teacher, said she finds Zack to be a bright spot in her day.
"Claire always comes to class with a smile and a pleasant demeanor. She is a gifted writer, a perceptive communicator and a sincere human being. Quite simply, Claire is the ideal student. She consistently gives her full effort, exhibits a growth mindset and approaches school with an earnest desire to learn. Plus, she is truly genuine, kind-hearted, empathetic and altogether, lovely," Gwost said. "I have truly been blessed to have had Claire as a student, and I am certain her future will be magnificent."
Zack enjoys painting, singing and being active through running and working out.
After graduation, Zack will be attending Carlson School of Business on the the University of Minnesota Twin Cities campus in pursuit of a degree in marketing.