When the Holy Family Catholic Church on Bulldog Lake in Hillman closed in 2018, locals not only had to find another church for Sunday mass, but they also had to find another event center for local happenings.
It was not just the church that closed. The diocese ran a craft retreat center and held community events like weddings, bingo, reunions and more. The event center even used to be a roller rink.
The diocese kept the church and cemetery, but put 14 acres of land, the retreat center and event center up for sale.
Last fall, Linda Peeples, editor at the Crosby Ironton-Courier and craft store owner, saw the opportunity for her and long-time friend Mary Kay Tennant, from Texas, to take the space and turn it into a bed and breakfast (B&B).
Linda's son, Blake Peeples, an ordained minister, plans to use part of the old retreat center for weddings. He's even created a website: Bulldog Lake Weddings.
"I figured since it already had the chapel, I might as well open it and put it back in business. Apparently it's been very popular for local people that can't or won't get married in a Catholic church for whatever reason," Blake said.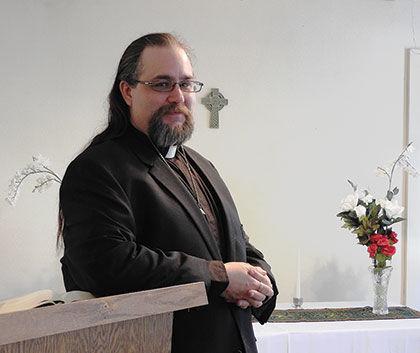 Blake said he's performed wedding ceremonies for people as a hobby for years after being ordained through Universal Life Church, a non-denominational organization.
The chapel, which can seat about 35 people, is ready for weddings immediately and there are separate event rooms for receptions. Blake said that they could accommodate about 50 people in the main building, but the event center down the hill will be able to host 300 people.
The event center has a large main floor and is equipped with a bar, kitchen and restrooms. Blake said it's mostly ready to go, but they need county permission to host events there.
Blake said something he enjoys about weddings is making the bride and groom feel comfortable on a day that can bring out a lot of nerves.
"I like to do custom weddings. I like to work with them and find out obviously what kind of wedding they want, and then I tailor the ceremonies to them," he said. "And yes, we are open to all weddings. Anybody that wants to come get married, as long as it's legal in this state to do, that's fine."
Linda is working to get permits and financing squared away so renovations can begin on both sites. Blake said an official opening date has not yet been determined.
The main building, along with the chapel and gathering rooms, will be the site of the B&B. There will be six rooms for up to 12 guests, and Tennant said a homemade Texas breakfast will be included.
Tennant, who is spending her first winter in Minnesota, will be living on site and running day to day operations for the B&B. She said she's had years of experience with B&Bs and has worked various jobs several involving cooking for large groups of up to 500 people.
"I enjoy seeing people enjoying my cooking," she said.
If people are interested, Tennant said she can also make wedding cakes and likes to use live flowers as decorations.
When spring comes around, Blake said they are planning to install a gazebo for outdoor weddings as well as volleyball courts and maybe a dock and a pontoon.
"With a pontoon we can offer lake weddings on the lake," Blake said.
They're open to a variety of wedding ceremonies and events, Blake said. With the B&B, he said wedding parties could stay the night before or after the wedding if they wanted. They're open to working with customers to accommodate their needs and wants.
There was even mention of possibly adding some small cabins on the grounds, Blake said. The three of them have a lot of ideas, it all just depends on time and money.