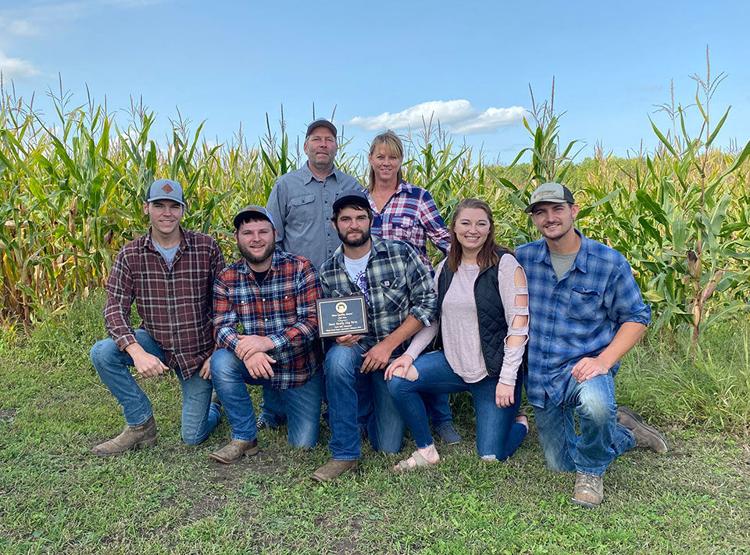 Raising hogs with care on their family farm in Little Falls, Tim and Kris Boros were recently surprised when they learned their farm placed fifth out of 450 farms across the United States for their quality of meat. It is an honor they do not take for granted, but also lets them know that what they are doing is making a difference.
    What made the award even more surprising and special is the fact that the family only started raising hogs from farrow to finish for Niman Ranch this year. Before, they had only sold piglets for the company — something there were no awards given out for.
    There are many things the Boros family likes about Niman Ranch. The company is one of the largest networks of small, independent family farmers and ranchers in the United States, whether it is to produce fresh beef, pork, chicken or lamb.
    Niman Ranch also requires livestock to be raised with their specific protocols, which were designed with the help of animal welfare expert Dr. Temple Grandin and is considered to be one of the strictest in the United States. According to the company's website, all animals are raised outdoors or in deeply bedded pens.
    Tim said because the company's raising protocols are so strict, Niman leads the industry in sustainable and humane agricultural practices.
    "The animals are never given antibiotics or added hormones and are only fed a high quality, vegetarian diet," he said.
    Over the years when the Boros started working with Niman Ranch, they focused on buying registered sows and on producing animals with the focus on improving their meat quality.
    At this time, the Boros Family Hog Farm is home to about 125 sows that are housed in open and bedded pens where they can freely roam around.
    The barn, which originally was used as a chicken barn back in the day, is 12,000 square feet.
    Kris and Tim said what makes farming even more fun and enjoyable is that all of their children take an interest in it and do what they can to help, whether it is to give shots, feed, castrate, fieldwork and more.
    The farm is also the home to five boars the family has specifically selected from a breeder in southern Minnesota, who is well known for his quality meat, as well.
    The process begins by the sows being moved to one end of the barn to roam with the boars. Once bred, the family keeps a close eye on each sow and once it's time for her to give birth, much like a pregnant woman, she will begin to nest, Kris said.
    Kris said the maternity process is her favorite part of farming. Each hog also have their own personality. While most of them will allow people they trust to pet them, rub their bellies and calm them down, if needed, some can get a little testy, Kris said.
    "They'll grab straw and make their little nest usually one or two days before they give birth," Tim said.
    Even though being there for when they give birth sometimes means not going to sleep until morning dawns, the lack of sleep is totally worth the moment, Kris said. Working at Retka Insurance during the day, she knows it all too well, she said.
    "You never know how many they are having," she said.
    Thrilled for their high quality meat, Tim and Kris attribute the success to the feed Niman has them give to their animals. It is filled with every nutrient they could possibly need and in the just right amount.
    They said when growers fall in the lower percentage in their quality of meat, the company usually asks them to consider their breeding and nutrition.
    Tim said when they gave the hogs another brand of feed, the quality wasn't as high. Another reason is that another farmer they know that buys some of the piglets they still sell didn't score as high on meat quality. The only difference is what they are feeding their animals, Tim said.
    "The quality of breeding is there, so it has to be the nutrition," he said.
    The Boros Family Hog Farm has been in the family since 1910. Although they are not pressuring their children, they are hoping to pass it on to them one day.