An activity that can be done indoors or outdoors, giving a taste of nature, wildlife and education, all while abiding by that 6-foot social distancing guideline is as easy as looking up.
Every day most people likely get a glimpse of bird flying, hopping or chirping away while out for their morning walks, driving to work or just gazing out of their living room window. That nonchalant acknowledgment can become a lifelong hobby with just a bit of curiosity and some tips from a long time birdwatcher.
"You'd be surprised how competitive, how interesting and how widespread birding really is. It's considered to be the fastest growing sport in the United States," said Frank Gosiak, a lifelong birdwatcher in Morrison County and around the state.
Gosiak said he started birdwatching when he was just 4 years old. Growing up in his Bowlus home, he recalled seeing his first redheaded woodpecker. Gosiak was interested not only by the bird itself, but the colors and beauty of the creature, which captured his artistic eye.
Now Gosiak has documented 370 different species of the 430 bird species in Minnesota.
"I chase all over the state. I'm a state bird lister and it's kind of a competitive thing because we try to get as many species for each county and you try to get over 200 species in a county and so there's a group of us crazy guys and gals and a lot of young people that go out and try to get as many birds as we can," he said.
There are lists for county sightings, yearly sightings and even lifetimes lists including some of the most rare birds to Minnesota.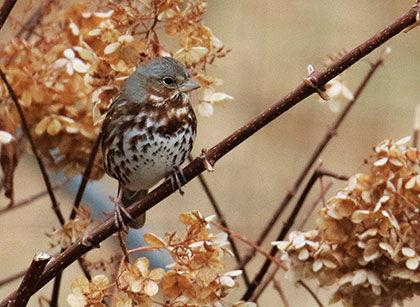 For around 20 years, Gosiak has been reporting sightings on The Minnesota Ornithologists Union website. People can become a member or use the site to find information about where certain birds are spotted in real time. The website has records dating back decades, Gosiak said, and data can be searched by date, location or bird species. The reporting is done by birdwatchers throughout the state uploading photos, identification and location information, which provides them with a personal tracking system as well.
"It gives me a map of which ones I've seen in the state, which ones for each county and it shows all the birds that have ever been seen in Minnesota," Gosiak said.
By acknowledging the habitat or the time of year, Gosiak said he knows which species are going to be in a certain location, especially in Morrison County, an area he has explored time and time again. To shake things up after years of searching for birds, Gosiak said he and other birders will compete with each other to find the most birds in an area or in a day. Once, Gosiak and a friend found 157 bird species in the county in just one day.
"I can pretty much identify every bird that comes into Minnesota by sight and most of the sounds, but I've been doing it for quite a few years," he said.
A man committed, Gosiak said he has numerous stories of close calls. Once he explored a swamp a little too deeply and wound up stranded with a broken leg.
"It's a passion," he said.
But there's no need to take birdwatching to the extreme. People of all levels can join in, he said. Right now in early spring is a great time to start bird watching as birds are migrating up north from their winter homes. Some birds to watch out for include various colored warblers and some 20 variations of sparrow.
"They're all coming through right now. Most of your birders are really out there right now because all your water birds come through, your shore birds, ducks and I'm talking 25 to 30 different varieties of water fowl," Gosiak said. "All your gulls, the state of Minnesota has many many different gulls; some are as large as an eagle and some are about the size of a pigeon."
Now is a good time for people to walk along trails, visit parks or even just pay more attention to trees in their yard as they'll likely spot varieties of migrating birds. Gosiak noted the greens, blues, whites and yellow colors that warbler birds wear as they migrate north.
"They're a fairly small bird and only a few of them actually breed in this area but they pass through and go to Canada," he said.
All of the birds popular in the spring are usually again popular in the fall, as they migrate south for the winter.
However, off seasons in summer and winter can be great for birding as well, he said.
"You get a lot of rare birds. Sometimes if there's a hurricane down south, you'll get a wood stork or a spoonbill comes into Minnesota. A real rare bird here," he said.
Birds will come into uncommon areas for an assortment of reasons related to weather and disaster events. Gosiak noted the intense forest fires in the western U.S. in recent years which have pushed some birds to eastern states.
"A lot of birds can survive in those burned areas so they shift living areas. We were getting some Townsend's solitaire, varied thrushes, the west coast birds are being pushed over and for survival they'll do that," he said. "Or they get caught up in winds from a storm."
Some birds are drawn to an area with increased food sources. Many red-headed woodpeckers followed the plague of Dutch Elm Disease on trees, eating the bugs that came with it. And Gosiak said Minnesota sees more snowy, boreal and hawk owls as Canada's mouse population is on the decline.
Rural areas offer endless locations for birding, he said. Woodlands, river banks, wetlands and prairies are all places to see a variety of bird species. Some places Gosiak visits for birdwatching include: Crane Meadows National Wildlife Refuge, Lindbergh State Park, Blanchard Dam, Pine Grove Park and Belle Prairie Park.
"Any of your swamps and marshlands are very good spots, too, because there are a lot of food sources there," he said.
Some birds spotted in wetlands include wrens, sparrows, rails, herons, waterfowl and several varieties of blackbirds.
A birdwatcher may spot orioles, scarlet tanagers, indigo buntings, cardinals, finches and more near flowering trees or seedy plants.
A beginner may have a hard time identifying a bird from the hundreds of options in a birding book, but Gosiak said there are now apps people can download that help with identification. A birdwatcher can upload a photo or even a recording of a bird song to identify a bird
"The best thing a person could do is get a bird book. There's bird books that break up wetland woodland and prairie/grassland birds. They can go right to that section," Gosiak said. "So if you're out in the prairie and you see a strange bird, open the book up to the prairie section and it's going to at least get you close to where that bird's going to be in the book so you don't have to go through the whole thing."
Books can also provide telltale identifiers of birds such as beak type, color distinctive markings and behaviors. Birders can also take field notes of bird features and identify them later.
Although gear isn't necessary, Gosiak said a decent pair of binoculars can add to bird watching experience, giving a closer look at a bird without scaring it off. He recommends a binocular with 10 by 40 lenses since they're forgiving of unsteady hands while still an effective sighting tool. A more serious birder can also add a spotting scope to their toolbox, a great way to see birds close up in open areas.
Birders should at least bring supplies needed for any day out in nature: snacks, water, a charged cellphone, appropriate clothing and bug spray.
If a birding endeavor leads to private property, Gosiak has tips for that too.
"Make sure you're courteous at all times. If you see a really interesting bird, don't just go running into somebody's yard. It's nice to go knock on their door and tell them what you're doing and ask if they're OK with it," he said.
Those preferring to birdwatch a little closer to home, or right from their home, can hang feeders in the summer or winter. Although Gosiak said he wouldn't put out feeders during migration season as it may encourage birds to stick around an area they should be leaving.
The most important thing, he said, is to have fun. Birdwatching is also about getting outside, walking trails and connecting with other people.