When participants arrive at the Vocational Rehabilitation Services at the Little Falls CareerForce Center, they are met with smiles and friendly faces. One of them is Betty Roehl, vocational rehabilitation technician senior.
    Roehl was recently named January Employee of the Month by the Little Falls Area Chamber of Commerce.
    "It was shocking. I didn't get here by myself. Everyone around me has supported me. This is an honor, but the credit is due to all my co-workers for the last four years because they supported me," she said.
    By looking at Roehl, it is impossible for a person to know the challenges and obstacles she had to go through to be where she is today.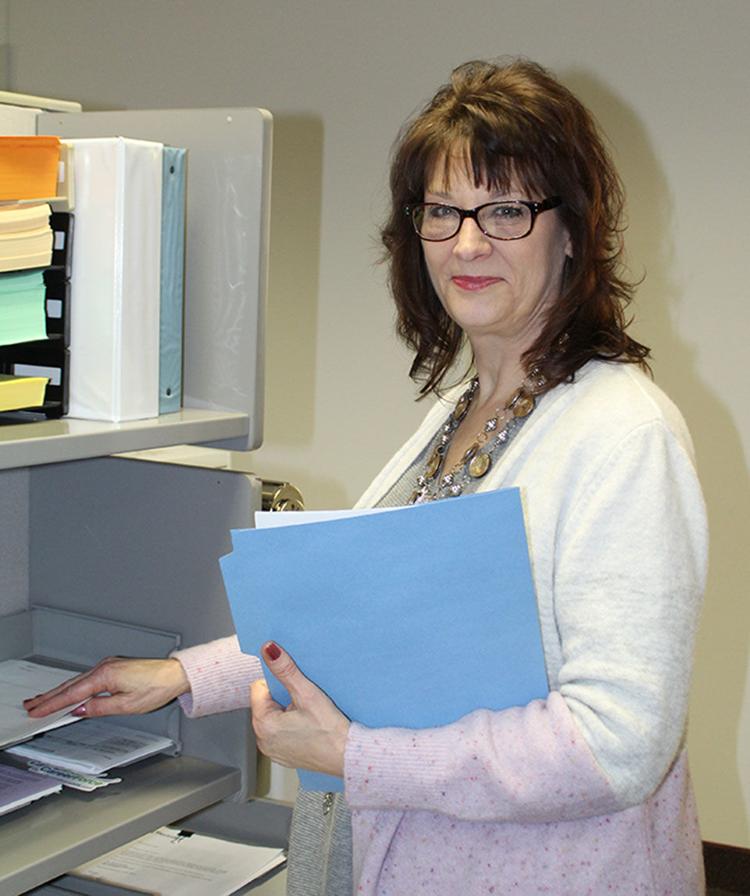 Roehl grew up with agoraphobia, an anxiety disorder that causes the individual to fear and avoid places and situations that may cause them to panic, feel trapped, helpless or embarrassed. As a result, many avoid social settings.
    "There were years I was confined in my home. I couldn't go to the mailbox and I couldn't drive, because I would have massive panic attacks," she said.
    In her younger years, just walking out the front door caused her such anxiety that she would become dizzy and her surroundings blurred.
    The few times she was in a public setting, it helped to have someone she felt safe with and trusted with her, but it wasn't often.
    "I just couldn't be around people," she said.
    Eventually Roehl met someone who understood her condition. But in 2011, unforeseen circumstances in her life forced her to overcome her struggles.
    As she had always wanted to work in administration, she enrolled at Central Lakes College in Brainerd. About a month before classes started, Roehl visited the campus and walked around the grounds often to become more familiar and comfortable with the surroundings.
    Because of her disability it took her longer to complete her education at Central Lakes College, but she graduated in 2015 with an administrative assistant diploma.
    Stepping out of her comfort zone and continuously challenging herself, she accomplished several other milestones many take for granted, such as having a driver's license.
    Roehl said it was when she was receiving vocational rehabilitation services at the CareerForce Center in Brainerd, which assists individuals with disabilities in obtaining and maintaining competitive, community employment, that she learned about the job opening in Little Falls.
    Today, she provides administrative support to two counselors and other staff members at the Little Falls location and performs a variety of tasks, such as answering phones, completing payroll and invoicing, working with the participants in various ways, writing letters, requesting documents from various entities and more.
    Roehl said at first it was a struggle just to drive from her home in Brainerd to Little Falls, but that soon expanded to feeling comfortable and courageous enough to drive to St. Cloud.
    She also assists at the Vocational Rehab Services in Monticello and help with training new vocational rehab technicians.
    "Going from essentially being a displaced homemaker and into the workforce was scary, but so liberating," she said.
    Roehl said it was her faith in Jesus Christ that helped her to overcome her struggle and liberated her on so many levels.
    "My favorite saying at the time was, 'Do not despise the cocoon. It is not isolation, it is protection, for out of it comes beauty and freedom.' That's what came to me during prayer. I was forced to depend on God, which was the best thing for me," she said.
    Roehl's contribution to the team has not gone unnoticed by her supervisor, Jessica Outhwaite, as she is always willing to go the extra mile and does so with a positive attitude and a smile on her face.
    "Betty is a true asset to the team and participants we serve. Vocational Rehabilitation Services is fortunate to have her as a member of the Little Falls team," she said.
    When she is not working, she enjoys spending time with her husband, interacting with her children and grandchildren, baking and cooking.
    As Employee of the Month, Roehl will receive gift certificates from Bursch Travel Agency, Domino's, Fitness Connection, Franciscan Sisters, Melgram Jewelers, Linden Hill Historic Event Center, Perkin's Restaurant and Bakery and Thrive with Vision. She will also have a professional photo taken by Maddie B's Photography.