With a gaping wound on her leg and a broken arm, 5-year-old Avery Amstutz called 911 and even walked up a hill to flag down a first responder in order to save her dad's life.
"I was calm when I called," Avery said.
For her acts of bravery, Avery not only received an award from Sheriff Shawn Larsen and her elementary school, but was also granted the Life Saving Award by the Minnesota Sheriffs' Association (MSA) in December 2019.
On Sept. 22, 2019, Avery and her father, Andrew, were in an ATV accident in Cushing Township. Avery called 911, as her father was unconscious.
"Morrison County Dispatcher Amanda DeZurik took the call and she remained calm as she spoke with Avery to try to determine exactly what happened, what the injuries were and more importantly, where they were at," Sheriff Larsen wrote in nominating DeZurik and Avery for the MSA 2019 Life Saving Award.
Larsen wrote that the dispatcher recognized that a call with a child had to be handled differently, and she remained on the line with Avery until she was able to instruct her on how to meet with the first responder.
"We listened to the 911 call and it was just amazing, like I could not do what Avery did. She was so calm and it was awesome to hear a 5-year-old, she really took control, she had a huge hole in her leg and she walked up a hill to flag down the first responder," said Avery's mother, Megan.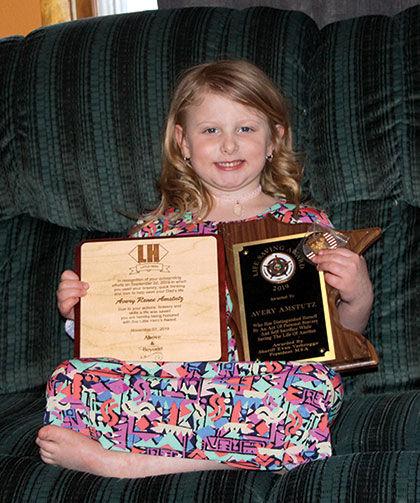 It was amazing how Avery and DeZurik worked together to find where they were, Megan said. In his nomination letter, Larsen said that Avery was determined to call for help and seemed more concerned for her father than for herself.
"She didn't even mention that she had a broken arm," Andrew said. "Because they asked her if anything was wrong with her and she said, 'My leg's bleeding' but her arm was broken and she didn't say anything."
Andrew was airlifted to St. Cloud Hospital with seven broken ribs, a broken sternum and scapula, and a collapsed lung. His injuries also led to the removal of his spleen.
He spent more than two weeks in the hospital.
"You used to say you've never broke a bone, but now you can't say that. Now you broke plenty," Megan said, speaking to Andrew.
Avery said she didn't notice her arm was broken until she got to the hospital.
"So we went there and had to take an X-ray, and then we did and then we found out my arm was kinda broken," she said. "It didn't hurt. Then we had to get the little brace on."
Her classmates at Dr. S.G. Knight Elementary School in Randall sent Avery "get well" gifts while she was out of school. She also said her broken arm needed a cast for a long time, but she was happy to pick the colors.
"First I picked pink and blue, and then I did camo pink," she said.
In mid-October 2019, Megan said she spoke with Sheriff Larsen about visiting the office to meet DeZurik and thank her. On their visit they got a behind-the-scenes look at dispatch and what happens when there's a 911 call.
Larsen also said he had something for Avery, and personally presented her with a medal.
In November 2019, Avery's school made sure her parents attended the Veterans Day Assembly and surprised her with an honorary plaque.
"Then I could pick what I wanted to eat," Avery said.
The school let Avery choose the lunch menu for that day. She said that now certain students get to choose the lunch menu each month.
On Dec. 9, 2019, Avery received her final, and greatest award according to her parents. They knew that Sheriff Larsen had previously nominated both Avery and DeZurik for the MSA 2019 Life Saving Award, but were ecstatic when they found out who won.
"No one there was 5, except me," Avery said.
Avery was the youngest person to receive the award, her parents said. The ceremony was in Alexandria and included awards for people statewide. Avery said when her name was called she walked on stage with DeZurik to get her award.
She and her family had a nice dinner and took several pictures with DeZurik and Larsen. Megan said the award was an honor for the family, especially for Avery.
"It was really nice. It made her feel good after all that happened," she said.