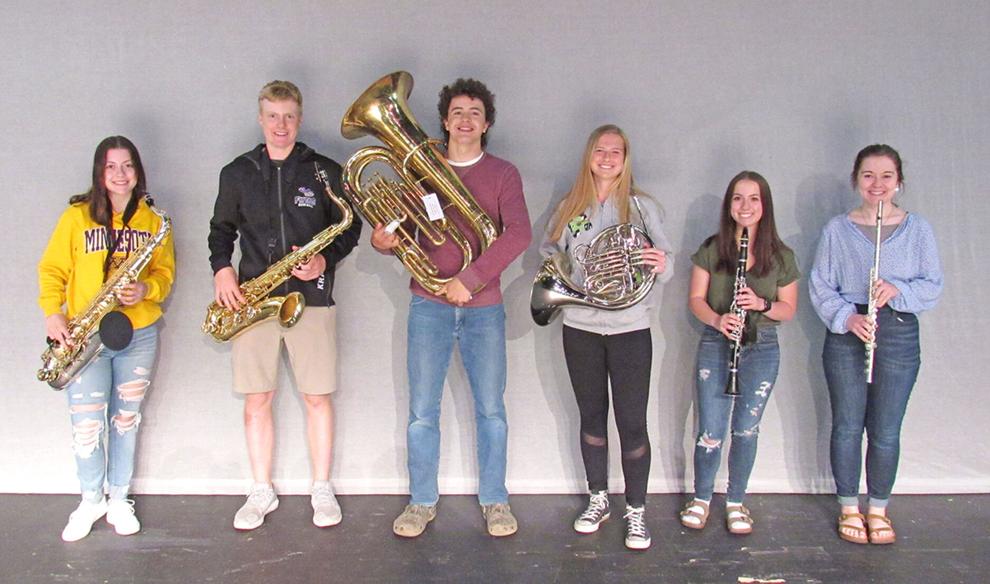 When six students at Little Falls Community High School (LFCHS) in Little Falls auditioned to earn a spot in the All-State band, held by the Minnesota Music Educators Association (MMEA), they crossed their fingers and hoped for the best.
    "I was really nervous about All-State because everyone there is really good," said Ellie Blair, who plays the tenor sax.
    LFCHS high school band teacher Todd Peterson it isn't unusual for larger schools to make it to All-State. Larger schools often have an advantage in that they are able to offer private instructor lessons. Many students also tend to specialize in one activity, such as music, rather than being involved in several activities, including sports — something Peterson finds more common in schools that are located in rural Minnesota.
    Auditioning for All-State was a new experience for all six students. However, four of them had auditioned for the state honor band last year.
    "So they kind of knew the process of what we need to do and how hard we have to practice," Peterson said.
    After having practiced vigorously and often, juggling their time with other activities they were involved in, the students' hard work paid off.
    Peterson said they recently received the news that all six students had been accepted.
    "It is incredible to have all six get All-State. You usually don't see a school the size of Little Falls take six," he said.
    MMEA's All-State program is considered the top program of its kind across the United States and helps develop high school musicians and school music programs. Every year, high school students, who are involved in high school bands, choir and orchestras, have the opportunity to audition for a spot in All-State.
    The students are given the music material to use about three or four months before auditions. A lot of hard work, sweat and sometimes tears are put into the effort to perfect the material. The students then go to their band teacher, who helps them record the audition. They can have as many takes as they want until they feel confident and satisfied with their audition. Ironically, many times it usually is one of the very first ones, Peterson said.
    Once the auditions have been submitted to MMEA, judges listen to the submissions and evaluate them on their overall musicianship and technique. The MMEA All-State Committee then chooses who makes the final cut, a total of 565 students, by considering scores and the MMEA's placement policies.
    As part of being chosen for All-State, the students attend a music camp in August to learn and develop advanced techniques as well as make music. The camp also includes a full schedule with a variety of recreation and social activities which gives the students an opportunity to relax and make new friends, Peterson said.
    Besides the concert that will be held in August, the All-State participants meet again in February 2022 to perform at Orchestra Hall in Minneapolis.
    Peterson said what makes the All-State program in Minnesota stand out compared to other states is that the students will have a chance to be a college kid for a week in the sense of learning music from a prestigious music teacher and live on campus in a dorm. What college the students will stay at differs from year to year.
    "The kids get to experience that college feel and also go to a camp to make music," he said.
    The love of music has been with the students for many years. For some longer than others. To Jonah Olson, music has simply been a way of life since he started playing the piano when he was five years old. As his interests expanded, he learned to play other instruments, such as acoustic and electric guitar, the mandolin and violin. In band, he plays the trumpet and tuba.
    "I'm also learning to play the chanter, so I can one day move up to the bagpipes," Olson said.
    Lilly Curtis plays the clarinet in band, but also knows how to play tenor saxophone and French horn. Curtis, who has played the clarinet for six years, said she was inspired to start playing after she heard friends play the instrument. As SpongeBob was one of her favorite shows as a kid, Squadward also played a small part in inspiring her to pick up the clarinet, as well, she said.
    "I love the sound of the clarinet and how versatile it is. The clarinet can fit in with and play so many different parts. It's super fun to play," Curtis said.
    Whenever there is a musical challenge, Maddy Ploof is not one to back out. While she plays flute in the Wind Symphony and it is her All-State instrument, she also plays tenor saxophone in a jazz band and the piano.
    "I enjoy challenging myself to grow as a musician," she said.
    Collin Kray said it was his older brother who inspired him to play the tenor saxophone. Initially, he had started playing the alto sax, but switched to tenor sax last year.
    "What I find the most enjoyable about playing the tenor is performing music for other people to enjoy," he said.
    Besides playing the French horn in band, Korrin Gwost also plays the violin.
    "I was inspired to play the French horn because of my fifth grade band teacher. She introduced me to the instrument and told me that it is a more difficult instrument to start on, but she believed I could do it with my five years of musical theory on the violin. After the first year on the horn, I loved the instrument and ended up sticking with it ever since," she said.
    All six students are very grateful and feel honored for the opportunities making it to All-State brings. It's going to be a fun time, they said.