Every year, with the exception of last year due to COVID-19, several organizations in Little Falls host a variety of Christmas tours. It is a fun way for visitors to learn more about the places and their history as well as to enjoy some good Christmas cheer.
    At the Linden Hill Historic Estate, located at 608 Highland Avenue in Little Falls, the Friends of Linden Hill is once again holding "Christmas on the Mansions," where visitors can tour the Weyerhaeuser and Musser mansions. The tours are held Mondays through Saturdays, from 1 p.m. to 7 p.m. and Sundays from 11 a.m. to 6 p.m., beginning Friday, Nov. 26 until Sunday, Dec. 5.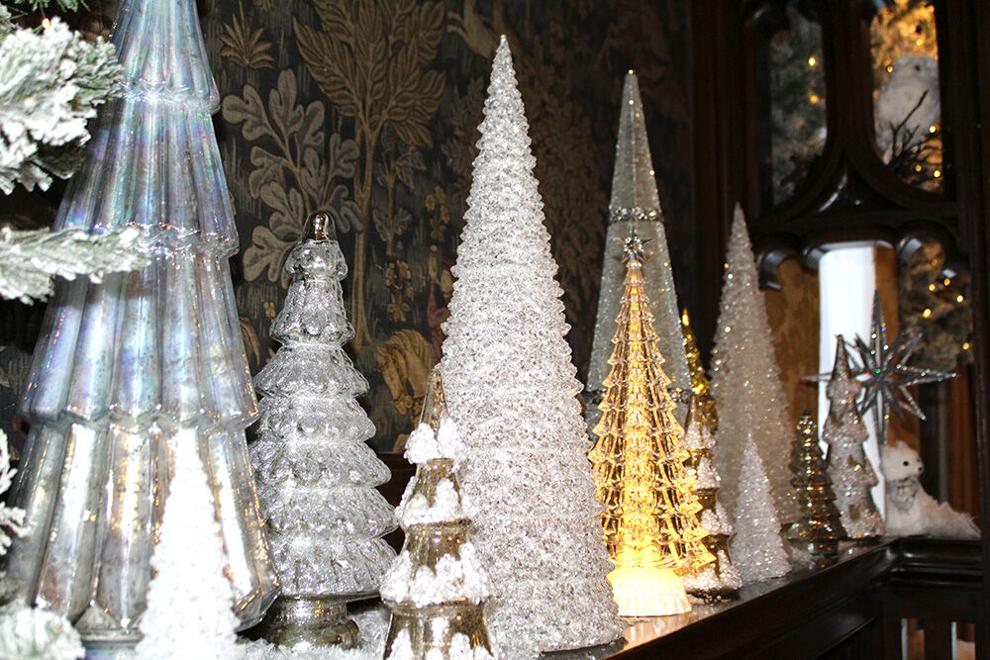 Tickets can be purchased at $15 for adults and $5 for youth age 12-17. Children age 11 and under are free.
    Angela Imdicke, assistant director with the Friends of Linden Hill, said that shoe covers will be available when entering the homes. Visitors are also welcome to have some fun and bring along a pair of festive socks or slippers to wear while they wander through the beautiful homes, Imdicke said.
    The tours of the mansions are self-guided and feature Christmas decorations in every room. While the green Weyerhaeuser mansion will be decorated in more traditional historic fashion, the white Musser mansion will feature all the glitz and glam of modern times.
    This year's theme is, "Believe."
    "We are sure that touring the mansions will bring out the magic of Christmas for visitors of all ages. We love to watch the wonder and awe on the faces of the visitors touring the homes. Some love to see all the decorations and many are thrilled by the idea of being inside the gorgeous homes," Imdicke said.
    Although the Weyerhaeuser mansion is available for the public to tour year-round, the only opportunity to see the Musser mansion is during the "Christmas at the Mansions" tours.
    "It is great to see friends and family taking photos and spending time together enjoying the holiday season. Many visitors return each year as a fun, festive tradition and to get ideas for decorating their own homes for the holiday," Imdicke said.
    A short walking distance from the Weyerhaeuser and Musser mansions is the historic Rosenmeier home, located at 606 First Street SE in Little Falls. It is also home to Visit Little Falls (formerly the Little Falls Convention and Visitors Bureau), which is open to the public all-year for residents and visitors to tour and find travel information for local Minnesota destinations.
    A favorite theme for many years for the Rosenmeier home has been, "The Nutcracker Suite." The home's other rooms are also theme different, each decorated by new community members.
    There are also self-guided tours and give visitors a chance to learn the house's history and the people who once lived there.
    "We encourage everyone to step back in time and visit the Rosenmeier home," said Executive Director Kris VonBerge.
    Visitors will also have the chance to take a crack at guessing how many nutcrackers they can find in the home. If the right number is guessed, the individual will then be entered into the final drawing on Dec. 5, at 6 p.m. on a Facebook live at Visit Little Falls for a chance to win gift certificates to local food, shopping and more.
    Cookies will be served to guests, along with a food truck in the parking lot with cider, hot chocolate and more.
In addition to the Rosenmeier home tours, Visit Little Falls also offers the Winter Wonderland self-guided driving tour of Christmas lights in the community. With the use of an app, which can be downloaded from www.littlefallsmn.com, it's a great way to see the community as well as a variety of Christmas decorations.
VonBerge said it is the second year Visit Little Falls is offering the tour. Residents or businesses who would like to be included in the tour to showcase their decorations, can visit www.littlefallsmn.com/events/winterwonderland and fill it out the application or call (320) 616-4959
    Winter Wonderland is also bridging the two sides of Little Falls together by lighting up the bridge and a lovely walking path into the Maple Island Park from the Little Falls Dam.
    "We are so thankful that our rural city on the Mississippi River is where we call home," VonBerge said.
    At the Minnesota Fishing Museum and Hall of Fame, located at 304 West Broadway in Little Falls, visitors will have the opportunity to see a wide variety of Christmas decorations as well as a chance to either buy them or win them.
    Executive Director Brenda Perlowski encourages people who come through the museum to bid or are interested in bidding on any item, to ask for a Christmas Tree Lane chip. It grants them re-entry to the event for free, so they won't have to pay twice, she said.
    In addition, the Minnesota Fishing Museum and Hall of Fame will be selling pull tabs and $20 raffle tickets during the event. The top prize is valued at $2,500 and the other prizes have at least a $500 value. Only 100 tickets will be sold.
    "It is our first raffle and we would like to make this part of our annual event," Perlowski said.
    The drawing will be held on Dec. 5, at 6 p.m. and people do not need to be present to win, Perlowski said.
    The tours at the Minnesota Fishing Museum and Hall of Fame are also self-guided with volunteers and staff ready to answer any questions. One thing visitors can expect, Perlowski said, is a Winter Wonderland filled with Christmas trees, wreaths, gift baskets and a multitude of lights.
    "The museum will be basically lit with Christmas lights. The setting offers a peaceful reflective atmosphere with Christmas music playing softly in the background and the traditional movies will be playing on our televisions," she said.
    Santa will make appearances on weekends, where people can have their photo taken with him, which will be available for purchase.
    The O-Fish-L Gift Shop will also be open for all to enjoy and to make a holiday purchase. The gift shop features a variety of items, such as snowmen, ornaments, clothing, caps, decor and more, Perlowski said.
    At the Charles Lindbergh House and Museum, located at 1620 Lindbergh Dr. South, in Little Falls, visitors will have a chance to get a glimpse into "Christmas on the Lindbergh Farm." In the 10 days after Thanksgiving Day, beginning Nov. 26, the house and museum will be open Fridays and Saturdays from 10 a.m. to 4 p.m. and on Sundays, from 11 a.m. to 4 p.m.
    Site Manager Kayla Stielow is excited for the event, as it allows visitors to step back in time with costumed interpreters and experience of holidays 100 years ago. The self-guided tour in the historic home also allows guests to participate in World War I era home-front activities, learn about the Lindbergh family as well as explore the museum.
    "After COVID, we are so excited to be back. We are balancing keeping our guests safe while offering a great holiday experience and look forward to celebrating this season with our community," Stielow said.