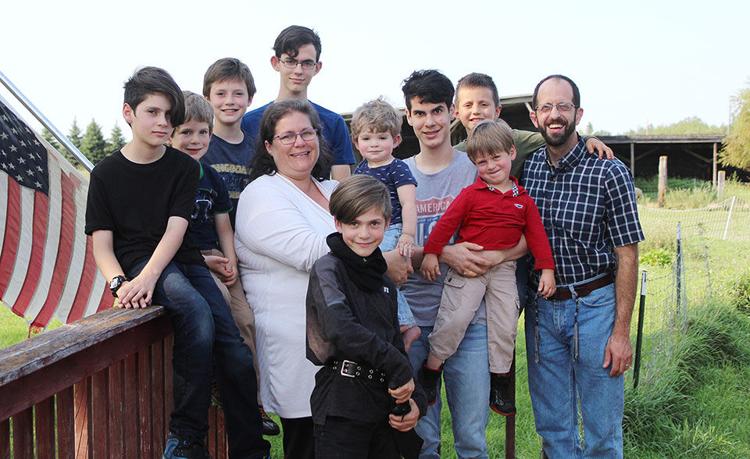 A journey of faith. That is how the life of Pastor Erez and Leanne Talshahar of Little Falls can best be described ever since they first met in 2004.
    "We had a lot of learning and growing to do before we were ready to do anything other than just being decent people. There was a lot of growth that had to be done. We had a family right away and the Lord gave us his heart to just trust him with the family," Leanne said.
    Today, they have nine children — Nathanael and David, who are 14-year-old twins, Marvin, 12, Nahum, 10, Judah, 9, Elijah, 8, Samuel, 6, Isaiah, 3, and Timothy, 16 months.
    At this time, the family, who founded the Altar at Bethel Church, is preparing to host outdoor worship services on their 10-acre property south of Little Falls. With a heart for Morrison County and the surrounding counties, they believe it can be the beginning to healing for many hurting souls and those who are struggling with various addictions.
    The worship services will be held, Saturday, Sept. 19 and Sunday, Sept. 20, from 10 a.m. to 8 p.m., at 14934 103rd Street, Little Falls.
    For more information, call (320) 360-8501.
    Since it is an outdoor service, visitors are encouraged to bring their own lawn chairs. The worship services will include music that ministers to the soul, uplifting messages of hope that address fear, anxiety and pain and prayer for healing.
    "It is a place of repentance where you can just be real. There is no condemnation from us. We all come from broken backgrounds," Leanne said.
    Erez said there are different forms of worship. It can be singing, crying out loudly, praying silently and more. It is a heart connection with God.
    "Worship can be messy. If you can't be messy before God with others, where are you going to be messy? You may as well be real with him, he already knows and he loves you," Erez said.
    One of the scriptures Erez and Leanne encourage people to hold on to is the promise given in Matthew 11:28-29a (The Passion Translation). It reads, "Are you weary, carrying a heavy burden? Then come to me [Jesus]. I will refresh your life, for am your oasis. Simply join your life with mine. Learn my ways and you'll discover that I'm gentle, humble, easy to please."
    Leanne said it was like a huge burden was lifted from her when she discovered and felt that she didn't have to be perfect; that she wad loved by God just the way she was.
    Although she grew up in a good home, Leanne said she struggled with the perceived pressure to get great grades, to excel in all areas of her life, to know more and to do better.
    "I was a perfectionist all over the place and I was driving myself crazy and probably the people around me. I was so terrified of failing to the point it was almost crippling," she said.
    Eventually, the heavy burden led to a serious identity crisis.
    "My life sort of just crumbled and the Lord showed me that I didn't have to try. I was just loved," she said.
    Erez served a combat engineer in the United States Army (from 1999 to 2005) when life as he knew it came to a crossroads in 2003.
    "I came out of sex addiction, compulsive spending, was a horrible person and was ready to commit suicide and I said, 'God, take my life before I do,'" he said.
    Not long after, he encountered a minister's daughter who told him he simply just needed to get up and go to chapel.
    "I went to chapel and I got something I had never gotten before in my life. I said, 'That's what I want; what Jesus gave on the cross; blessing and persecution, I'll take it all,'" he said.
    When he was water baptized, an outward declaration of his new faith, he felt as if something came off of his face. Everything around him just seemed to be brighter, he said.
    "The Lord just started working with me, taking me to different places," he said.
    The Lord also showed him that he was his provider. Unemployed and walking the streets to find a job, Erez recalls the time he found $2.12 out of the blue. Hungry and broke, it was the exact amount to buy two hamburgers at a fast food restaurant across the street, he said.
    "I just thanked the Lord. It was enough for that moment. We have so many stories of how God has provided for us," he said.
    The year, 2004, was an eventful year for Erez. Besides meeting Leanne, his father, Shalom Tal Shahar, died, Feb. 10, 2004.
    "I had the privilege of sharing with my dad about Jesus and two days later, he died. I know he is with the Lord. I am certain of that," Erez said.
    Six months later, his brother, Sefi Tal Shahar committed suicide. Another six months later, his grandfather, Moshe Levy, died.
    Erez and Leanne married March 12, 2005. With a heart for mission work, they both knew God was calling them to Israel. Although Erez grew up in Florida since he was a young boy, he was born and raised in Israel during his early years.
    Leanne said while they knew God was calling them to Israel, they had not anticipated the journey that would take them there and eventually back to the United States.
    "We assumed we'd get married and just go to Israel. That was kind of the plan," she said.
    However, despite the fact that they advanced through the interview process with one missionary organization to go and people said it was pretty much a done deal that far into the process, they were ultimately denied. Since they already had children, the organization was concerned how they would care for another child if Leanne became pregnant. They told them God would.
    "They couldn't understand that. We parted ways and God told us that we would have a family grassroots ministry," Leanne said.
    As the years went by, Leanne and Erez felt God calling them that they would be heading into the wilderness. They knew it meant a time of great challenge, but in one, they would grow stronger in their faith and learn to rely on the Lord for their needs. It eventually led them to Sugarcreek, Ohio.
    There, they were able to minister to a lot of former as well as Amish people. It was also with the help of an Amish midwife, Leanne was able to give birth to Elijah naturally, although all her previous births had been caesarean births. The same midwife also prayed fervently when Leanne gave birth to Samuel in 2014 in a friend's finished basement in Blaine with Erez delivering the baby.
    "She was calling me, but I could answer because I had a baby in my hand. She left a voicemail and said, 'I am with you in spirit,' and the baby dropped, time stamped," he said.
    The family and their children made it to Israel in 2013. Initially, they thought they would remain there. However, God called them back to the United States six months later.
    While the couple was in Israel, Erez' grandmother, Shoshana Tal Shahar died. Later, the Talshahars learned she had left Erez an inheritance. It was with that they were able to make a down payment on the 10-acre property south of Little Falls.
    Last year, the family founded the Altar at Bethel Church. The name was inspired by the Genesis 35:1 scripture where God directs Jacob to go to Bethel, dwell there and to build an altar.
    "By that time, we had moved 40 times in three years, so when he told us to dwell somewhere, I was thrilled. I knew he was taking us to a place we could stay still for a while," Leanne said.
    Since they first met in 2004, God has taken them on a journey they had never anticipated. One of growth that has knitted their family even closer, both to one another and to God.