Telling a story. That's what choosing and creating reflection stones and monuments at Little Falls Granite Works in Little Falls is all about.
    "We are basically story-tellers. That is what we do and we just happen to use stone as the medium to tell it," said Don Calhoun, owner and director of customer care.
    Calhoun said since his father, Ray Calhoun, along with Ron Nagel and Howard Garry, purchased the business in 1963, the industry has evolved tremendously.
    "My dad started after the second World War. I am second generation and I have been doing this for 41 years. If my dad was placed back in this business today, he wouldn't recognize it. It's insane how much technology has changed," he said.
    Back in the day, what could be done with grave stones was limited. Usually the stone only contained the name and the dates the person was born and died. The carving and sandblasting were also done by hand. Now, with laser and precision graphic carving designs just about anything can be made, including sculpting the stone into a variety of shapes.
    "The sky is pretty much the limit. If they have an idea, we will try to make it happen," said Raven Hokus, memorial graphic designer.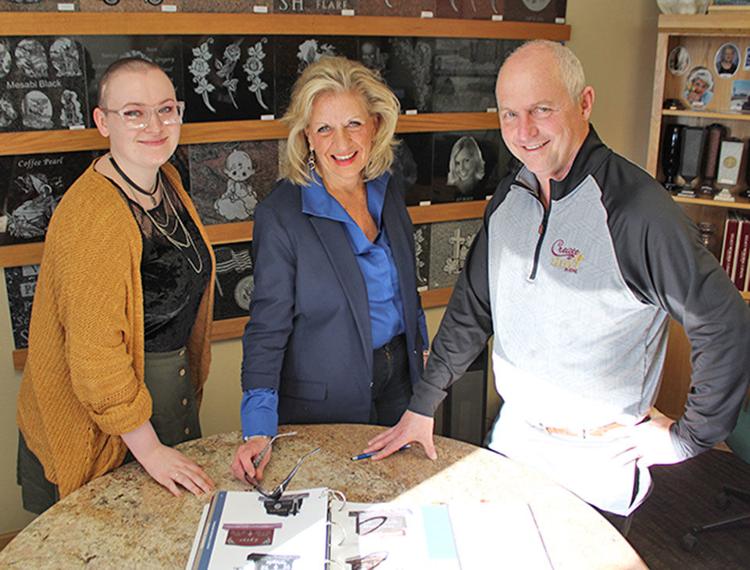 Calhoun said about 20% of their customers preplan their monuments. Although many people, especially men, avoid thinking about their own mortality, let alone prepare, pre-planning a monument is a way to ease their loved ones from a financial and emotional burden.
    Choosing a monument for someone can be quite difficult especially in the midst of grieving. It's also not unusual for loved ones to question if the deceased would have liked their choice. But once people make the decision to pre-plan, the process can be outright exciting as well as relieving, he said.
    "The woman will outlive the husband 80% of the time and it is a man's way to take the burden off of his wife and children, but men don't like the subject of death," Calhoun said.
    "It's easier for the family if they already have that in place. That is basically why they come in so the family doesn't have to deal with it once they do pass," said Karen Anderson.
    The process of selecting a monument usually begins with a visit with Anderson or one of the other sales people. Although she is works in sales, Anderson's role is more of a counselor and a consultant, Calhoun said. She listens to the customers' needs, wants and ideas. Whenever someone has difficulty voicing what they are looking for, she has a way of connecting with them and understanding their vision.
    "It is telling a story, thinking back on their life and putting together something that will reflect their life," she said.
    To help tell the story, customers are asked to complete a story guide. It is especially a useful tool when the customer is uncertain what all there is to think about.
    The first step includes filling out vital information, such as family and given name, date of birth and death, wedding date, children's names and epitaph. Information about what cemetery, section and lot the person will be buried at is also needed. Any special regulations the cemetery may have are also noted.
    The monument can reflect areas that were important to the individual, such as their faith and beliefs, accomplishments and goals, family heritage, character and traits, social and civic contributions, interests and hobbies and work.
    "They are expressions of love. Things that speak of how your life is meaningful, what gives you purpose. That can also be done through design and symbolism," Calhoun said.
    Examples are designs on monuments that are related to fishing for those who loves to fish or music notes and instruments for those who are passionate about music. A common theme among farmers is a tractor, such as John Deere, Calhoun said.
    One monument in the book of products and services offered at Little Falls Granite Works tell the story of Phillip and Lauretta Harris of Warba. Childhood friends who eventually became lifelong sweethearts, the two married on Phillip's farm in May 1952. The monument their children chose shows a background image of the farm, their farm and branding logo and a photo of the two their children treasured.
    Other details to decide when ordering a monument or reflection stone are wording and lettering, design elements, granite color, shape and finish, style and size.
    Anderson said as cremation is becoming more popular, many opt for a reflection stone that can be displayed in their home or in the garden.
    Sometimes reflection stones are also created before loved ones have died — something that many grandchildren appreciate to have of their grandparents and even more so after they pass, Calhoun said.
    Anderson works closely with Memorial Graphic Designer Raven Hokus, who along with two other graphic designers, create different designs for the customers to choose from. In addition, they also work with several workers with backgrounds in architecture. At times, they inspire each other.
    "Everybody has their talent," Hokus said.
    There are several granite colors a customers can choose from. For some, where the granite comes from makes a personal difference. While Mesabi Black is from Minnesota, Wausau from Wisconsin, Georgia gray from Georgia and Missouri Red from Missouri, Bethel White is from Vermont, Anthony Black from California, Mountain Red from Texas and Salisbury Pink from North Carolina. Carnelian is, on the other hands, from South Dakota and Jet Mist from Virginia.
    "There are so many different options," Anderson said.