Olivia Stockham is leading Big Lake volleyball to its best season in 20 years. The team shares a lead for the Mississippi 8 Conference with one conference game to play. It would be the first time since 2001 they at least shared a piece of the regular season title.
But it doesn't come without hard work and determination. Stockham plays three sports and works outside of school, that's a full plate for a student.
A self proclaimed procrastinator, she can struggle with time management, but it hasn't hampered her to this point. She uses her time in school wisely to get her work done, but after school can be a whirlwind. But she has gotten used to it.
She puts a lot of pressure on herself and is extremely self motivated, something you have to be as a student athlete.
Besides volleyball, Stockham plays basketball and runs track. Basketball used to actually be Stockham's main sport. She has always loved basketball since she was little. She also enjoys running track, but basketball has always been a big thing for her.
Stockham's older brother and sister played basketball so she was always around the sport, same as volleyball. Her older siblings have had a large impact on her life, especially when it comes to sports.
"We're a pretty tight family," Stockham said. "We're always together and we always do stuff together and activities and stuff like that," Stockham added.
Even now they remain a tight-knit group. Now married, McKayla, Olivia's older sister, brings her children and husband along to watch Olivia and Ruby, her younger sister's, volleyball matches. There's always a Stockham fan super-section cheering them on.
The outside hitter has been playing volleyball for a long time, and she was inspired by her older sister to pick up the sport. Stockham started playing volleyball in fifth grade after spending her time watching her sister play and spending time in the gym with her.
Olivia Stockham thought volleyball looked like fun and having looked up to her sister and her sister's teammates, she decided to start playing herself. Stockham always participated in camps when she was younger so she has always been around the sport.
"My mom would always drag me along to her tournaments and her games. Me and my other little sister, we would always get dragged along and we would always have a volleyball playing on the sidelines. We were constantly in the gym," said Stockham.
Stockham's father is also a huge support system for her. He instills confidence and motivation into her. He is always learning the sport of volleyball and tries his best to keep her on the right track. He is very involved and he cares a lot about her and her future, and it means the world to her.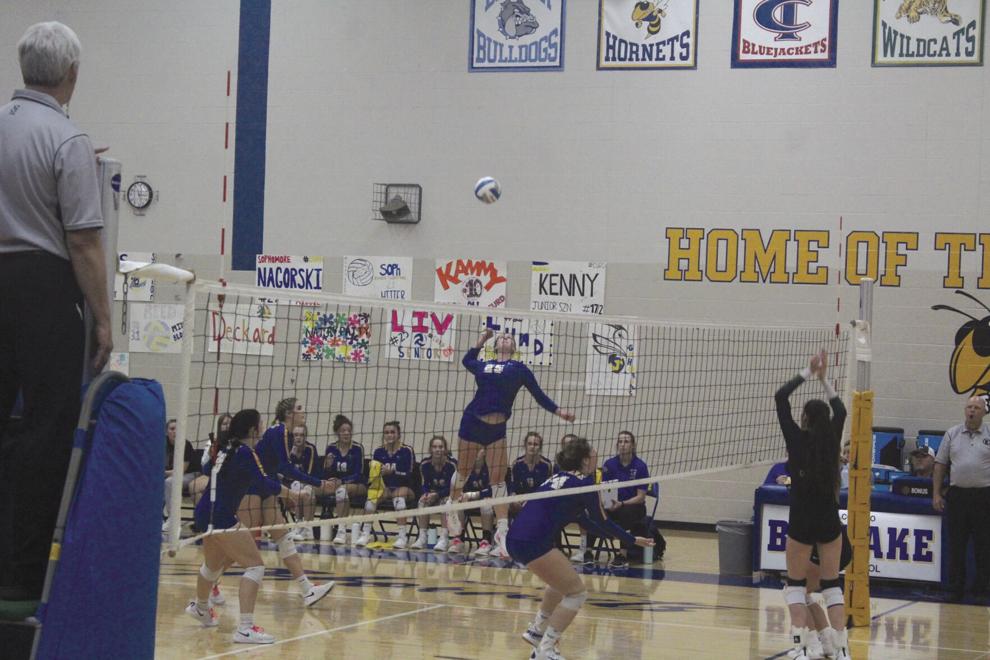 Leading Big Lake with 123 kills and second on the team with 135 digs, not only is she a force on the court, she is a leader on and off it as well.
"I think a really big thing is leadership," mentioned Stockham. "I learned a lot of leadership, especially from volleyball, and that I can bring that with me to basketball and be a leader on the court in basketball. Even track, being someone that the rest of the team can come to. I think leadership and communication are really big things," added Stockham.
Those are skills that being a three sport athlete helps develop.
Head Coach Alisha Brust mentioned how much of a leader Stockham is and how the people around Stockham look up to her, "she is someone that others on her team look to for guidance when they struggle, and has been a big part of the success of the program the past few years. She does a great job of balancing everything life brings, with school, work, and being a dedicated athlete. She understands the value of hard work and has a great future ahead of her and she heads off to college next year."
Having played high school volleyball since seventh grade she has always been moved up, so she was looking up to the older girls she was always around. While she was a freshman, the seniors were her idols. Even though they were her teammates, she admired them deeply and wanted to be just like them. They taught her how to lead and credits them with teaching her how to be that person for her younger peers.
"They taught me how to lead. I think I became a leader by example to the younger ones, just because I've been playing at the varsity level for a long time. So I think they would look up to me and I tried to embrace that role on the court and being somebody they can look to and come for advice if they need help," said Stockham on her growing into a leader.
Being a leader requires communication. And communication is key to any team that wants to win and be successful, something Stockham knows quite well. Communicating brings energy and if you don't have energy then you don't play well. Talking and being loud helps the Hornets stay excited and focused and has led them to having the year they are currently enjoying.
Before matches the team will come together in the locker room and do some visualization. They gather for about ten minutes visualizing various concepts and parts of the game before hitting the court, something that wasn't done in previous seasons. Stockham thinks that has helped the team get in the right headspace before the game.
Now in her senior year, Stockham has become a versatile athlete on the court with a diverse skill set. She's able to pass, set, or hit. She's played every position on the floor and that really comes in handy for her team. She is able to do whatever it is she is called on to do to help her team win, and this year they have won a lot.
Even though she can do it all, she loves playing on the outside. She loves the chance to hit or pass, helping out in all facets of the game.
Big Lake volleyball hasn't had a lot of recent success in their history, but that has changed this season. Stockham relishes the chance to make history for the Hornets. The entire team is hyped at their opportunity to be the first Hornets team in 20 years to take home the Mississippi 8 title.
The Hornets are playing with a high level of confidence and they have their eyes set on clinching a berth in the state tournament.
According to Stockham, they admittedly didn't look great during camp before the start of the season, but once the season started, they began to win. The turning point was when Big Lake took down their biggest rivals in Monticello early in September.
"We got to our first game and we just started winning. We kept winning and we beat Monticello. That was a huge thing for us. That was insane," said Stockham. "Once we got that win that's when it was like, wow. People were saying we could go to state this year, but it feels real now. It feels like something we can actually accomplish," added Stockham.
There was a lot of energy in the gym the night Big Lake took down Monticello on the road across the Mississippi River. It was a battle that went the distance. Big Lake won the first set 25-18 before going back and forth splitting the next three sets. It came down to the fifth and final set, where the Hornets were able to take it 15-12. The student section stormed the court after their victory celebrating with the team. Their smiles could have lit up the night time sky.
Stockham was of course a big part of that victory finishing with 13 kills and 20 digs.
They continued to win ever since, owning two separate four game winning streaks and never losing back to back matches. With a record of 12-5, 5-1 in the conference, the sky's the limit for Stockham and Hornets volleyball. Their eyes are on the prize, a Mississippi 8 conference title and a berth in the state tournament. With Stockham on their side, the sky is in reach for this Big Lake Hornets squad.