Dozens of Swan River Montessori students took to the sidewalks outside the Monticello Community Center hoping to catch the attention of City leaders.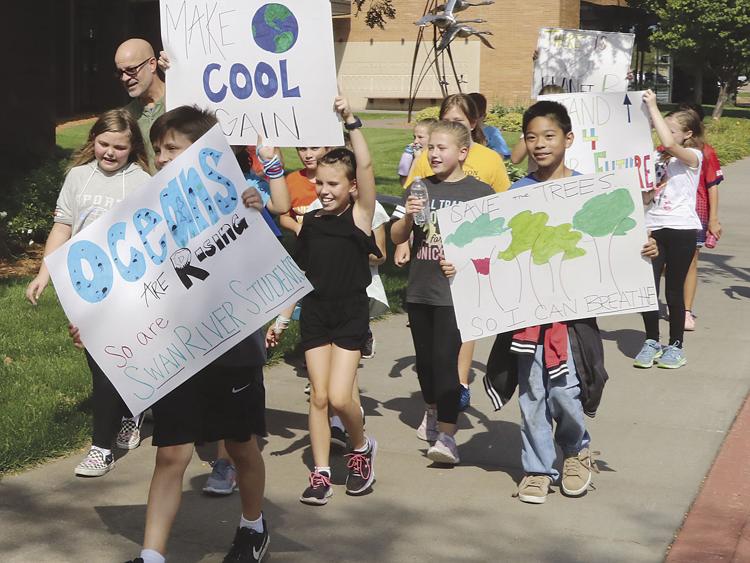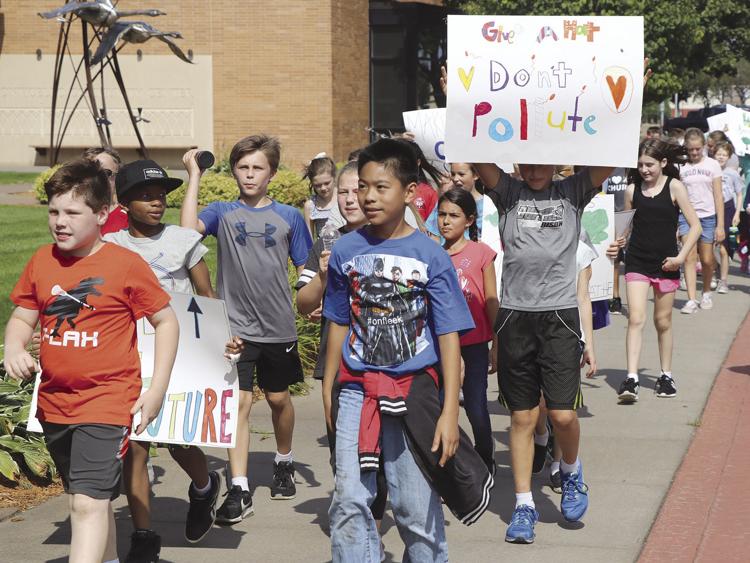 The students were striking in support of climate change and local government policies that more closely protect the environment.
Carrying signs such as "Oceans are Rising- so are Swan River Students" and "Make the Earth 'cool' again," the students chanted and marched on the sidewalk in front of the community center during a school-sanctioned break from their classrooms.
As the students made their way back and forth along the Walnut Street sidewalk, students could be heard chanting phrases such as, "Save our climate", "Give a hoot. Don't pollute" and  "Save our trees. So we can breathe," passersby honked their horns in a sign of support for the students.
Swan River 4th, 5th and 6th graders took to the streets, in part, because of Swan River's status as a charter school. As a charter school, Swan River is authorized by the Audubon Center of the North Woods. For that reason, part of the school's curriculum focuses on environmental studies.
In the past, students have discussed deforestation, coral reefs, food chains, and Minnesota biomes. One area of focus this year is environmental stewardship., said Swan River environmental educator Bill Anderson.
The Sept. 20 student strike was in conjunction with Youth Strike 4 Climate, an international effort to raise awareness of environmental issues. Organizers of the Sept. 20 student strikes reported that over 4 million people participated in strikes worldwide. 
Why was the event held Sept. 20? Last Friday was the kick-off of Climate Change Week throughout the world, Anderson explained.
"In order to get our students to think of themselves as having an actual say in how their environment looks in say, 20 years, I thought finding someone closer to their age that's passionate about trying to make a difference would be a great place to begin the discussion on environmental stewardship.  
That brought Anderson and the Swan River students to the story of 16-year-old Greta Thunberg of Sweden.
Greta, in August 2018, who skipped classes at her school and staged a protest in front of the Swedish parliament holding a sign that read "School strike for the climate". Anderson said by using Greta's story, Swan River could hopefully teach its students about being stewards of the environment.
From a visual standpoint, the Swan River students took their brief protest very seriously.
After the student strike, and before leaving school Friday, Anderson had the students look at pictures of students- and adults- making statements similar to the one they made at the Monticello Community Center.
But what was the after-affect?
Anderson said this week he and the student participants will debrief and discuss the student strike and why they did it in more detail.
"I want to find out if what we did on Friday had any affect on them over the weekend," Anderson said.
"Was it just a day to be heard at school regarding climate change or did they actually make changes in whatever small way each of them can to help curb global warming," he asked.  
Swan River students were part of an effort that had a much larger showing in St. Paul at the Minnesota State Capitol, where thousands of students from across Minnesota skipped school to rally for action at the state and federal level to combat climate change. The 6,000 estimated participants in the student-led strike were part of an effort that coincided with rallies around the state, but in Baudette, Bemidji, Center City, Duluth, Grand Marais, Grand Rapids, Mankato, Moose Lake, Morris, Rochester, St. Cloud, St. Peter, St. Joseph, Virginia, Willmar and Winona, according to Minnesota Public Radio.
In Monticello, it is hoped that the Swan River students will have an impact on the community.
"Granted, we're only 4th, 5th and 6th graders, but we always talk about what size of a carbon footprint they want to leave behind," Anderson said.