Kelly Lillback had a vision five years ago when she purchased the building that houses her Live Laugh & Bloom floral shop.
"I though about donating my wall to a muralist," Lillback said.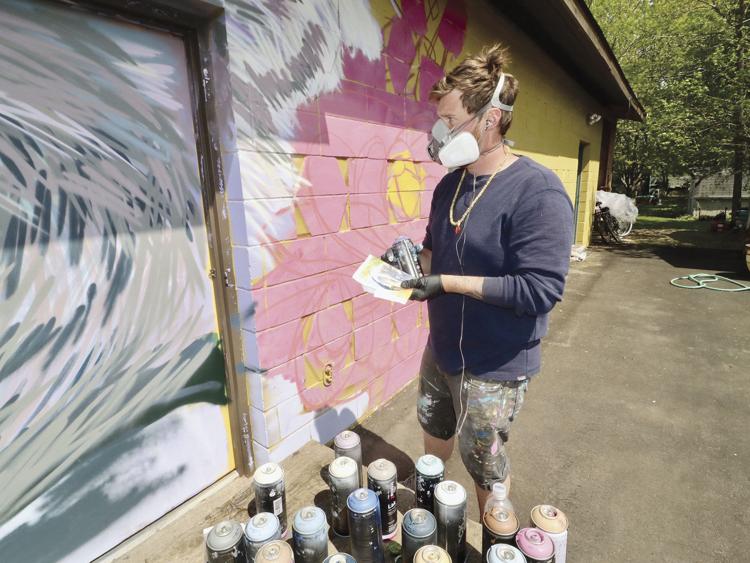 The Monticello florist was aware that her shop and a mural could catch the eyes of commuters coming to Monticello or leaving the city along the Great Mississippi River.
Fast forward to 2019 when the Monticello Arts Initiative (Monti Arts) secured a grant from the Central MN Arts Board to fund the creation of a downtown mural.
When Monticello arts consultant Sue Seeger solicited property owners who were willing to be home of a downtown mural, Kelly Lillback was at the front of the line.
"I applied right away, even though I was on vacation," Lillback recalled.
Lilliback had just one stipulation when it came to adding a mural to the south side of her building at 108 Cedar Street.
"I wanted the mural to focus on flowers or botanicals and invite people to the riverfront," she said.
As the idea of a mural percolated in Monticello, a young artist with roots in the Highland Park neighborhood of St. Paul was looking for a community arts project in his home state of Minnesota.
Matt Litwin is a graduate of the School of the Art Institute of Chicago. While in Chicago, he worked on mural projects, including a project in an Italian section of West Chicago.
Through his art, Litwin was helping clean up a rough neighborhood of Chicago. 
"I was painting over gang graffiti," he said.
The locals referred to him as Limpio, the Italian word for "clean".
He took on the persona of Limpio, and named his art business Limpio Designs.
Limpio Designs has also painted in Buenos Aires and has been inspired by the people of Argentina, Brazil, Uruguay, Thailand, Canada, and the United States.
Fresh off a residency in Muncie, Indiana where he and friend Victoria Eidelsztein created numerous temporary murals celebrating the city and its neighborhoods, Litwin applied for a travel grant through Minnesota State Arts Board with the goal of traveling through Minnesota and telling the story of about 10 communities through mural art.
When he wasn't awarded the grant Litwin turned to Craigslist making himself available for a large-scale project.
That's where Monti Arts' Sue Seeger learned of Limpio Designs.
Seeger reached out to the artist and invited him to Monticello and the wall at Live Laugh & Bloom.
Growing up in St. Paul, Matt Litwin says he always enjoyed art. As a child, he took art classes and developed an interest in animation art.
"I made a lot of flipbooks when I was little," he said.
He got into graffiti art after walking around St. Paul and seeing "canvases" on abandon places around town.
The book "Graffiti World" is what really inspired Litwin.
It was through the book that he was introduced to creating art through spray-painting.
"That was something I hadn't seen before," he said.
Litwin eventually traded his paint brushes for cans of spray paint.
A unique art form was born.
As a street artist, Litwin says his goal is to create artwork that celebrates the natural ecosystems and animals and invites them into the public spaces.
That's exactly what Limpio Designs did with its Monticello mural at Live Laugh & Bloom.
Armed with 23 separate cans of spray paint, Litwin took the paint and used the motions of his arms to create a paint brush's equivalent of a paint stroke on the wall.
Emerging from the layers of paint strokes came a work of art..
The centerpiece of the Limpio design is a great blue heron, a bird native to Minnesota. Serving as a backdrop to the Great Blue Heron are beautiful flowers in bright, vibrant colors that help fill the entire south wall of Live Laugh & Bloom.
The mural took about five days to complete.
Building owner Kelly Lillback was excited by the finished project.
"I really love it. I am really impressed," Lillback said.
"He worked with the spray paint and created a masterpiece," she said.
Lillback said her new piece of art has already turned heads and attracted people to the wall.
"It's inviting and is another one of those things that makes our town a little different," she said.