Veterans can be drawn to organizations that focus on camaraderie, service projects and peace efforts. Rotary clubs match this focus, and now there is the very first Rotary Club of Minnesota Veterans.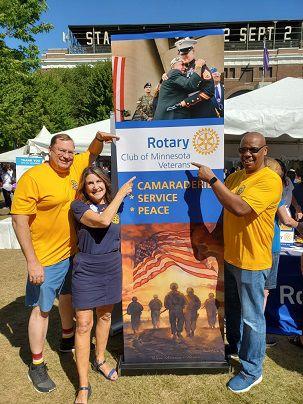 The club meets 7-8 p.m. on the second and fourth Thursday of each month at St. Peter's Lutheran, 5421 France Ave. S., Edina. Individuals are encouraged to come as a guest. The Rotary Club of Edina has approved $3,667 in scholarship grants for veterans who cannot afford the club dues.
The charter members are veterans already connected to other veterans' organizations.
"They wanted to join and leverage their networks," said Tom Gump, District 5950 Governor-Elect and club initiator. "The club appealed to a doctor from the Veteran Affairs, a radio host from a veterans' radio program, members from Trust Vets, a board member of the Eagle Group of Minnesota Veterans, Inc., the executive director of a nonprofit group dedicated to eliminating veterans' homelessness, a board member of the Minnesota Assistance Council for Veterans and military nurses."
This the first veterans' Rotary club in the world and is unique in a state that doesn't have any active duty bases. Minnesota, does, however, have Army and Air Force National Guard and Reserve units from all branches, representing approximately 18,500 service members.
For more information, contact Gump at tagump@gmail.com. For more information about Rotary International, visit rotary.org.