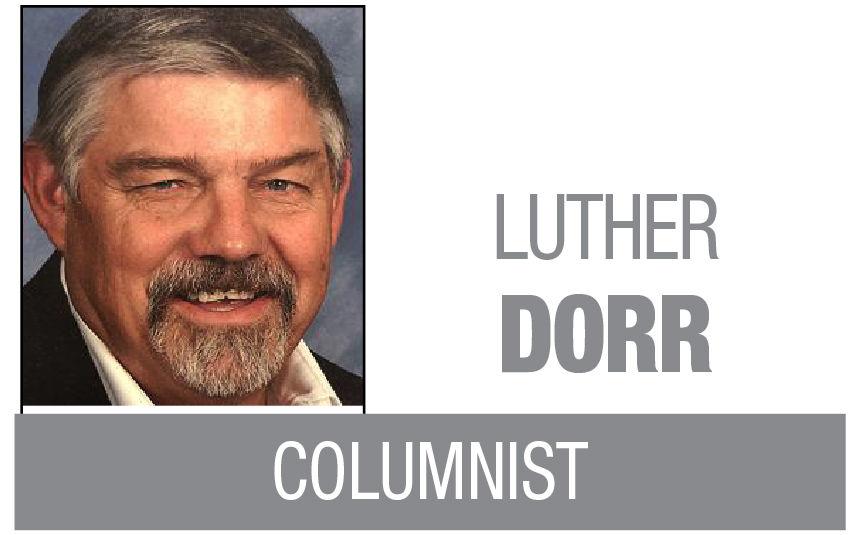 When I attend the annual Christmas program at a country church next Sunday it's a given that my thoughts will go back to more than 60 years ago when I was a part of the children's Christmas program there for three years. And there's a good chance I'll think of all that went on at Christmastime during the 1950s, as well as the days before Christmas Eve and the program that night.
It's also a given that I will wish I could have just one more Christmas Eve like the ones of the 1950s when our family of nine was together.
Our family, like many in those years, didn't have any extra money lying around. But we had each other and we always had a family Christmas, unlike this year when the pandemic will  probably keep families apart that have normally spent the holidays together. 
God may be the only one who knows how our parents found any money to buy presents for me and my six sisters. But they always did. Even though we resided in a Lutheran parsonage, we weren't above searching out the few places where those presents might be hidden.  But our parents knew that and used a little imagination. For example, I found out one year by accident that the chicken coop was one of those hiding places, as was a pile of snow.
During all the excitement leading up to Christmas, however, we had to learn songs and "pieces" for the program at church, as well as taking our turns caroling to shut-ins in the countryside and some in the faraway (14 miles) town of Princeton. A couple cars would go bouncing over those frozen country gravel roads and soon we'd be at someone's house. We'd have to say "no" to the cookies and milk because we had to move on to another house. One year we went from house to house riding on a sleigh pulled by a team of horses.
I close my eyes today and easily remember the excitement of the day of Christmas Eve. Besides the last-minute running around and wrapping of gifts, sometimes in a room with a closed door (it was hard to keep secrets in a family of nine), there were preparations for that night. 
There was the service at church and my sisters had to get dressed up in dresses, no less, for that service and they had to get their hair fixed.That was quite an undertaking in a house with only one bathroom. 
When it came time for the service we were momentarily chagrined if we stumbled over a piece we had to recite in front of a packed house. We were convinced that the pastor's kids were always assigned the longest recitations. But it wasn't so bad if you forgot a word or two during a song because there were others who would cover for you.
When the service was over we knew we would get that brown sack of candy, nuts and fruit. It was a reason to get through the service after being up front in church with my hair combed and a tie laboriously tied after instructions from my father, as far back as age 10.
But, as my thoughts drift back to those nights of more than 60 years ago, what I will think of the most are the programs we had for our parents at home on Christmas Eve after the church service.
We rehearsed in the days preceding, both in words and music. The trumpet playing fell to me, the wayward son, while my sisters, all younger than me, played the piano. We would all sing, down to the littlest sister who was only a couple years old, and we all had words to memorize.
Our parents would sit on the sofa and we would turn off the lights and do our program for them by candlelight. The memory today of six sisters lined up, in the best dress each one had, is a vivid one, that memory supported today by a yellowing picture, taken with a tiny Brownie camera, that shows all seven of us raising our voices in song for our parents.
We were no doubt amateurish, and we might have stumbled over a few words, but, being the oldest, I knew by the looks on their faces, and perhaps by watery eyes of our mother, that they were proud of what we had dreamed up for them.
The melody and words of "Silent Night," which the seven of us siblings from Minnesota, California, Arizona, Indiana and Wisconsin are doing together virtually this year for our family Facebook page, ended our program back there in the '50s and then there was a short silence before the candles were doused and lights turned back on. 
We couldn't wait to get to opening our presents, presents that impressed us even though it was only one present per kid, often from a page of the Sears Roebuck or Montgomery Ward catalogs. And  then later a cranberry dessert with a sauce so rich that it would probably be banned in 2020 by the fitness police.
Our parents are no longer here so I can admit, back in those supposedly all-knowing ways of a teenager, not wanting to do those programs. But how I wish now that we could do one more, even at our advanced ages, and see the looks on their faces. I think there's a lesson there.
 I remember well the words of Union-Eagle publisher Elmer Andersen three decades ago as he suggested that Christmas was more than a time of religious significance. "On the whole," he wrote,"it is a wonderful time for people everywhere, of whatever faith, or none at all. Christmas brings families and friends together in expressions of remembrance, love and appreciation."
Christmas can be whatever you want it to be. I see it as a time for love and understanding. Here's hoping that's what each one of you can find this Christmas season as you make your own memories, memories that really do last a lifetime.