Security shift leaders at Xcel Energy's Monticello nuclear power plant will be returning to work on Monday, Sept. 9.
The United Security Professionals Local 2 has come to a 3-year agreement with G4S, the firm that provides security workers at the power plant under contract to XCel Energy. The agreement was reached early Friday, Sept. 6.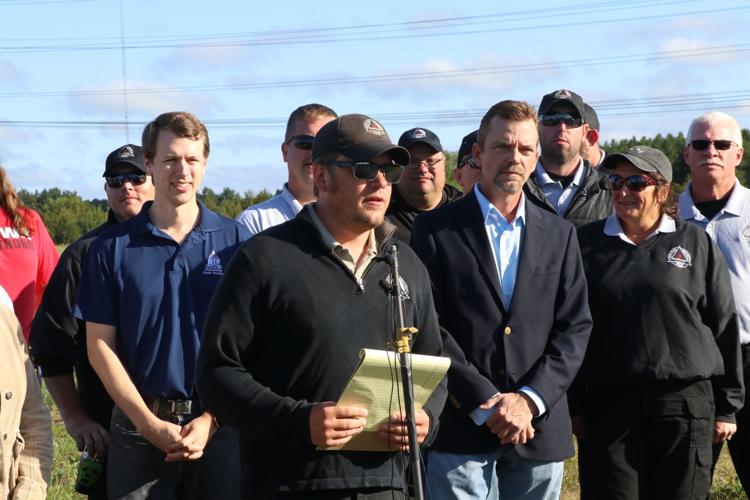 The workers were locked out by their employer, G4S at 12:01 a.m. on September 1.
According to Local 2 President Josh Haider, members of Local 2 and G4S have a temporary 16-day agreement in place that will allow the 25-30 union members to vote on the proposed 3-year contract in the next  two weeks.
The agreement was announced at 8:10 a.m., about 45 minutes before a Local 2 press conference where area lawmakers were scheduled to support the security supervisors employed by Xcel Energy security subcontractor G4S.
Instead, the press conference was a celebratory affair where union members announced they would be returning to their jobs at 5:40 a.m. Monday, Sept. 9 with their insurance benefits intact. Insurance was the main sticking point in contract negotiations between Local 2 members and G4S. Local 2 President Josh Haider said G4S was looking to switch to an inferior insurance plan while changing its contributions to that plan. Local 2 leadership learned that G4S sought to cut its contributions to the employee insurance program nearly in half, Haider said. 
According to Haider the agreement with G4S not only keeps the insurance plan in place, but included a 2.5 percent cost of living increase. G4S also agreed to increase contributions to the supervisors' 401K plan and agreed to compensate the worker $1,000 for the days they were locked out.
"What we got wasn't the moon," Haider said. "Where we ended up is in the middle, which is where we should be."
And with that, Local 2 members were ready to return to their security posts.
"We are ready to roll up our sleeves and get back to work," Haider said at the Friday, Sept. 6 press conference.
September 6 was not only a big day for the small union of security supervisors, but it was a big day for organized labor as a whole," Haider said.
According to Haider, about 100 members of the International Brotherhood of Electrical Workers, the largest union at the Monticello nuclear power plant, refused to cross the Local 2 picket line during the lockout.
"That was very important to our effort," Haider said. "We had the support of unions that had no dog in our fight."
He also gave a shout-out to his union's members.
"They had the courage to stand up for what was theirs- fair wages and health insurance," he said. "We're coming out of this with a good deal."
Security worker Randy Sand, a 40-year-veteran at the nuclear power plant, said he had never experienced a work stoppage during his four decades of working at the plant.
"It was daunting," Sand said.
"It was stressful for us, but what do you do? We pressed on," Sand said.
"We found strength in our fellow members and the community. Like anything traumatic, we found a way to get through," he said.
Four area lawmakers were scheduled to attend the press conference prior to the contract agreement being announced in order to offer their support to the locked-out workers.
On Sept. 6, Sen. Bruce Anderson (R-Buffalo), Rep. Marion O'Neill (R-Maple Lake). Sen. Andrew Mathews (R-Milaca) and Rep. Shane Mekeland (R-Clear Lake) were on hand to support union members in reaching a contract agreement.
Mathews said he wondered in Local 2's contract struggles were due, in part, to a growing trend among businesses to push more of the costs related to healthcare onto consumers and their families.
"I was glad (the workers) were able to push back and get a deal that works for them," Mathews said.
O'Neill said she was "Very grateful" that Local 2 and G4S settled their contract dispute so the Xcel Energy plant could continue on with its operations.
She also took the opportunity to discuss the fact that Minnesota is the only state in the nation to assess a fee, or tax, on the storage of spent fuel rods generated by nuclear power plabnts and noted that the plants at Monticello and at Prairie Island near Red Wing were assessed fees of $32.5 million. She said its imperative that that the State takes a look at its policies regarding those fees in order to keep nuclear power afforable.
Anderson said he was very proud of Josh Haider and his team for what they accomplished for their union members.
"We're very proud and very hopeful that this will continue," Anderson said, noting that the agreement was not only for the benefit of the security supervisors, but for Wright County, the State, and the Nation.
Reach Jeff Hage at jeff.hage@ecm-inc.com