What is your most lasting memory of childhood? Going to the park to conquer that giant slide? Maybe biking to a nearby lake or swimming pool so you could cool off during a stifling summer day?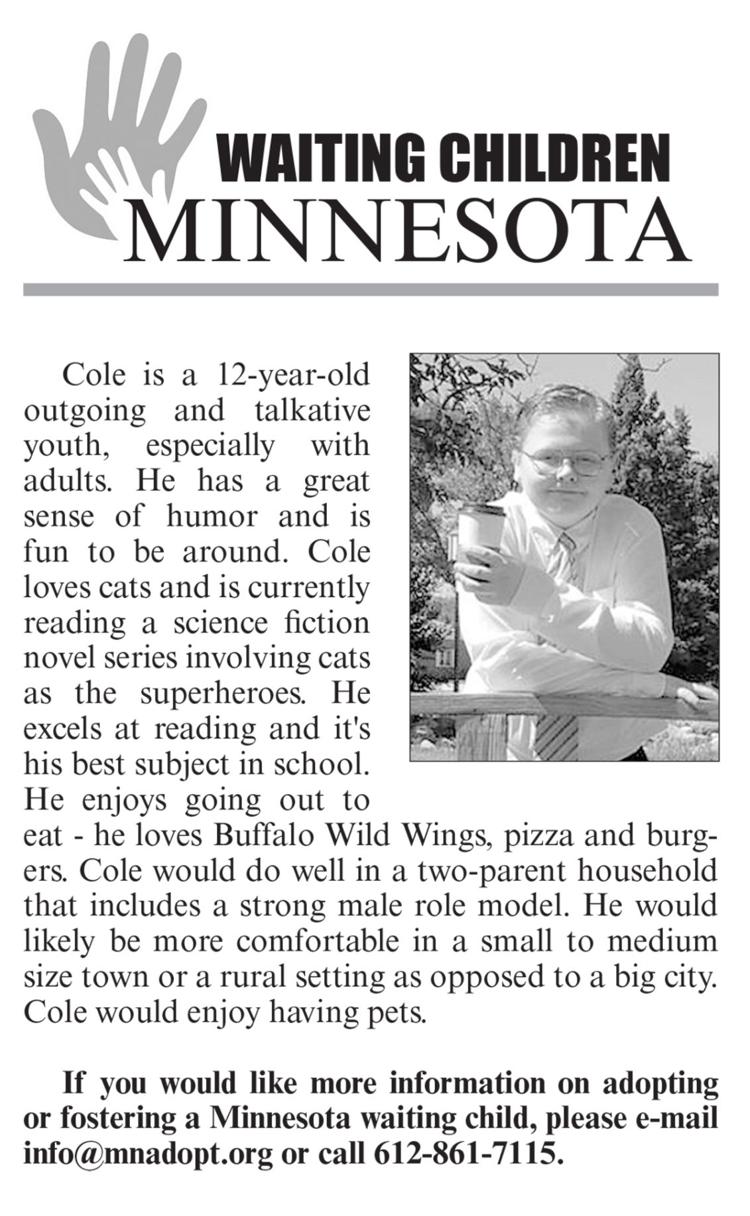 If you were like most kids, it did not involve a fear of where your next meal was coming from or whether your mom or dad would even recognize you because of their meth addiction.
Tonight, when most of us are settling in for a comfortable evening of sleep, there will be hundreds of Minnesota children who are unsure where they might be living in the next month. They are the waiting children of Minnesota who are under the guardianship of the state because their own parents are unable to adequately care for them or those same families are a threat to their safety.
According to the Department of Human Services, on an average day in 2018 there were 10,050 Minnesota kids in foster care. Although 1,268 foster children were adopted last year, there are currently 905 foster children still waiting to be adopted.  
Imagine the fear and pain many of those kids are experiencing every day, wondering why they don't have a permanent family to love and support them, perhaps believing they are somehow to blame for their situation.
Minnesotans have a long history of volunteerism and helping others in their moments of pain. If ever there were a time of need, this is it. These are our children, our potential leaders of tomorrow, and they are desperate for our help.
In 2018 alone, roughly 6,700 kids and young adults entered out-of-home placement, many because of parental drug abuse (32%), allegations of neglect (23%) or physical abuse (10%).
Starting this month, Adams Publishing Group of East Central Minnesota, the parent company of this newspaper, will feature a child who is waiting to be adopted. We will run a brief description of the child, along with a photo, and a short outline of their likes and hobbies. Known as Waiting Children Minnesota, we will be working with MN ADOPT, which is dedicated to supporting and sustaining families who adopt Minnesota's waiting children by providing online resources and referrals to therapeutic and crisis services, support groups, adoption information and comprehensive training opportunities. MN ADOPT has been contracted by the Department of Human Services since 1982 to help find homes for kids in waiting.
Why should we care? Mostly because many of the kids in waiting have been traumatized by situations at home that have left deep scars. An estimated 59% of the kids are siblings who need to be adopted together. Thirty-two percent are kids between the ages of 6-11. More than 40% are between the ages of 12-18. Sixty-four percent have a documented special need, including physical, mental, emotional or behavioral disability.  In short, these are children who need our help.
It's our hope that there are willing families who can provide the adoptive embrace of love and stability that many of these kids have never known. Your kindness can change a life forever. The kids are waiting.
Our first installment features 12-year-old Cole.