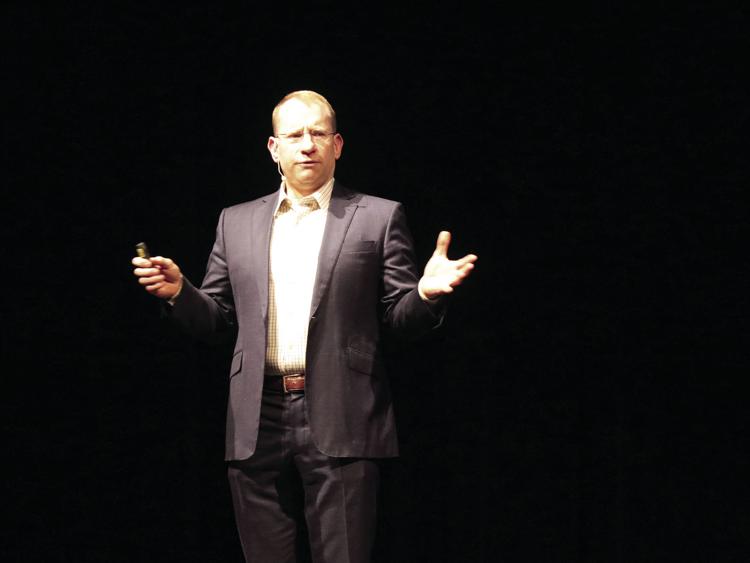 "I am sorry. We failed you."
And with those words, Dr. Chris Johnson began telling a Wright County audience how and why medical professionals have had a crucial role in the nation's opioid crisis.
In late March the Wright County Department of Public Health, in conjunction with the Mentorship, Education & Drug Awareness Coalition of Wright County (M.E.A.D.A.) and the Howard Lake-Waverly FFA hosted Understanding Opioids: A Community Conversation. The keynote speaker was Johnson, a resident physician in the Emergency Room at Hennepin County Medical Center and chairman of the Minnesota Department of Human Services' Opioid Prescribing Work Group,
Johnson said his eyes were opened to an opioid crisis after completing his residency at Hennepin County Medical Center in 2003. "I saw a lot of problems with opiates and heroin while at Hennepin County Medical Center," Johnson said.
But in 2003, when he saw some of the same opiate and heroin use trends as a graduate resident at Methodist Hospital in St. Louis Park, he realized tis was more than just an inner-city drug program.
"When I saw an opioid problem at the affluent suburban hospital in St. Louis Park, I knew there was a bigger problem," Johnson said.
Johnson says he began investigating the roots of the opioid crisis way back in the early 2000s.
What he says he found was that the opioid crisis didn't come about by accident.
"It arose from an agenda," Johnson said.
It was an agenda of large pharmaceutical companies that used doctors to prescribe drugs such as Oxycodone that, in effect, left millions of Americans addicted to opiates.
The result: The United States was left in the midst of a drug overdose crisis.
According to figures provided by Johnson, The United States is home to about four percent of the world population. But the United States consumes 30 percent of the world's opioid pain medications and accounts for 27 percent of the world's opiate overdose deaths.
Over 50,000 Americans die each year from using opioids that include overdoses of Oxycodone, heroin, and fentanyl,  according to information provided by Johnson.
Johnson says the medical industry is responsible for causing the current opioid crisis.
"My profession did this to you - the medical industry failed you," Johnson said.
Johnson said that in the last 20 years, the number of opioid prescriptions tripled, from 70 million to more than 220 million per year.
And overdose deaths continue to climb, as well.
The Centers for Disease Control and Prevention reported that nationally, there were 70,000 overdose deaths in 2017. 
At home in Minnesota, there were 395 opioid or heroin-related deaths in the state of Minnesota in 2016. That same year, there were more than 3.5 million opioid prescriptions written in Minnesota.
How has the medical profession played a role in the rise of opioid addictions and opioid deaths?
Johnson says that over the past two decades, pharmaceutical companies used a multi-prong approach to market their painkillers to the medical profession and then get buy-in from federal regulators.
"Pharms," as Johnson calls the pharmaceutical companies that manufacture the addictive drugs, targeted physicians, patients, and regulators.
"They had one master playbook," Johnson said of the pharmaceutical companies.
The first tactic of the pharmaceutical companies was to target pain specialists and primary care doctors, Johnson said.
They did this by using academic leaders who told doctors that pain was an untreated epidemic and could be safely treated, Johnson said. The academic leaders peppered doctors with untested theories published in medical journals and presented at symposiums that suggested painkillers were not addictive. In addition, millions of dollars were paid to doctors and clinics in gifts and free trips to these symposiums, Johnson said.
The second tactic of the big pharmaceutical companies, Johnson says, was to target primary care physicians and patients directly.
With the introduction of oxycontin in 1996, the drug companies began making billions of dollars on back and joint pain. 
There were advertisements for Oxy in magazines and on television. There was a coupon program that provided patients with free Oxy," Johnson said.
Patients were being convinced through advertising that pain was part of something "that's called life," Johnson said. These patients went to their doctors looking for every-day relief of their pain, and were prescribed these drugs by physicians who were told that the drugs were safe by the pharmaceutical companies, Johnson said.
"Big Pharm's" third tactic was influencing regulators, Johnson said.
In the early 1990s, Johnson explained, pharmaceutical companies began to infiltrate the federal government, pushing for the passage of the 1992 Prescription Drug User Fee Act. 
The act allowed the FDA to collect fees from drug manufacturers to fund the new drug approval process.
"The FDA is the pharmaceutical companies' No. 1 client," Johnson said. "Today, fifty percent of the FDA's budget now comes from the drug industry," Johnson said.
Another problem when it comes to feeding the opioid crisis is with hospitals and doctors themselves.
There is pressure for hospitals and doctors to do well on patient surveys- and one question on these surveys, according to Johnson, deal with the hospital or doctor's ability to rellieve a patient's pain.
"Hospitals want high survey scores," Johnson said, because high survey scores can lead to marketing opportunities and higher profits, he said. 
In conclusion, John says there is a lot of work to do to reduce the number of people addicted to painkillers and dying from overdoses. 
First, the public must understand that to the human brain, all opioids act like heroin — they bind the same receptors. 
"Three of four users of heroin began with opiate pills," Johnson said.
"Opioids are a nerve-blocker that makes people feel good. They release dopamine, which is seen as a reward in the system of the brain, Johnson said.
Opioids, Johnson said, carry a risk and can slow breathing or stop breathing.
Second, people who have reoccurring pain should not get opioids. 
"Life is a cycle and can be in a 'world of suck'," Johnson said.
When meds don't work, it can lead to a life of misery, he said.
Third, a major overhaul is needed in health care, starting with publicly funding the FDA and removing the industry apron strings.
And finally, the goal should be to alleviate misery and restore hope," he said.
Learn more about Dr. Chris Johnson and his work in helping people understand the opioid crisis by going online to www.endtheopioidcrisis.com.
Reach Jeff Hage at jeff.hage@ecm-inc.com