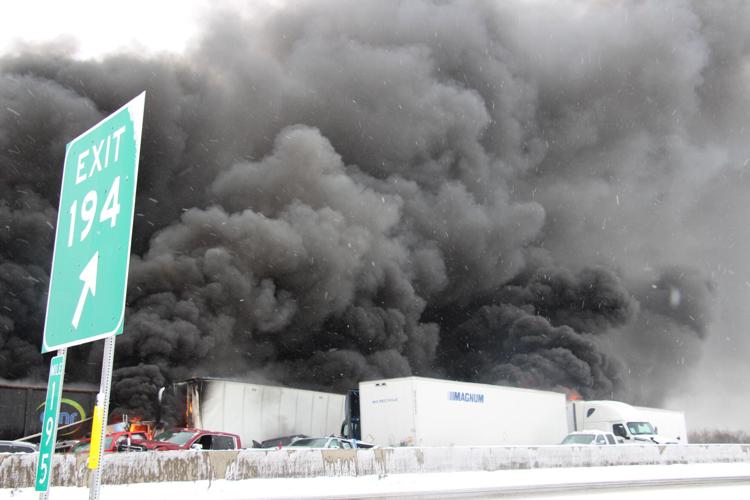 A fiery, 29-vehicle pile-up on Interstate 94 in Monticello resulted in sections of the highway being closed for more than nine hours on Thursday, Nov. 12.
Nine people were injured and transported by ambulance to area hospitals as a result of the multiple crashes - the first of which was reported at 9:15 a.m., according to Sgt. Jesse Grabow with the Minnesota State Patrol. The injured were treated for minor injuries, he said.
Half of the 29 vehicles involved in the incident were semis, Grabow said.
Several drivers left the scene before first responders arrived. The State Patrol is asking for drivers who left the scene or anyone with information regarding the incident to contact the Minnesota State Patrol St. Cloud District Office at 320-223-6666.
Burnt vehicles, tires, and debris littered the highway as clean-up efforts continued into the early evening hours November 12. What appeared to be a large industrial back hoe was on the highway picking up the debris and putting it into refuse containers.
The Interstate was closed from Albertvilleto Monticello as the Monticello Fire Department and other emergency services providers worked to put out multiple vehicle fires and clean up the scene.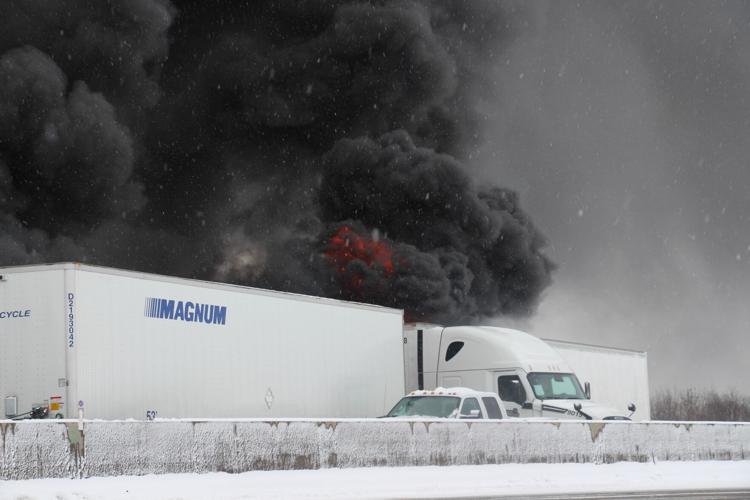 The Minnesota Department of transportation announced the closure at about 10:30 a.m. Thursday. The eastbound lanes of the interstate were closed for about four hours and reopened at 1:30 p.m. Thursday. The westbound lanes of I-94 opened shortly before 7 p.m. Thursday evening.
At 9:10 a.m., Thursday morning the State Patrol reported that it was investigating a large crash on I-94 at Fenning Avenue, which is the County Road 18/39 overpass. As a result of the crashes, multiple vehicle fires were reported that sent plumes of dark, black smoke into the air that could be viewed for miles.
In addition,  a  semi jackknifed and blocked westbound I-94 near mile post 198 in the Monticello area. At 10:40 a.m. Thursday, the jackknifed semi had been removed from the westbound traffic lanes of I-94.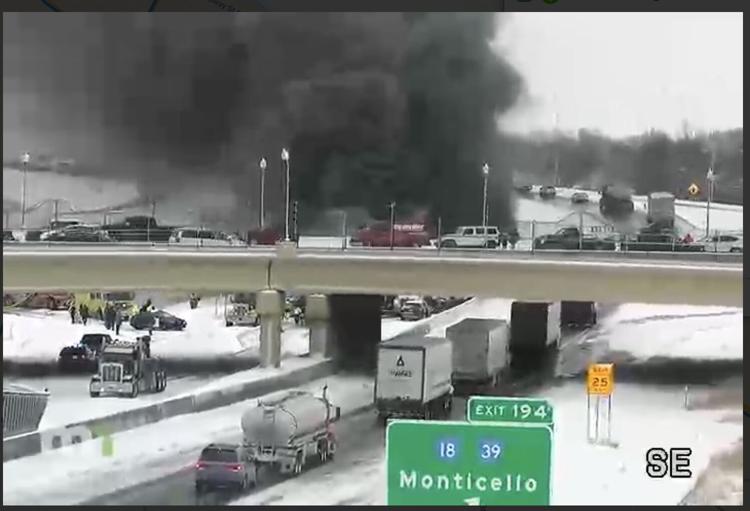 At 9:49 am MnDOT was reporting a 67 minute delay heading westbound on I-94. The delay had improved to 56 minutes as of 10:34 a.m. At 11:04 a.m., the delay on westbound I-94 was being reported at 50 minutes, according to MnDOT.
The Minnesota Department of public Safety's Homeland Security and Emergency Management office stated in a Twitter post that a rare snow squall passed through Monticello at the time of the crashes and pushed a heavy band of snow through the area that caused limited visibility along the I-94 corridor near Monticello. The conditions made for "treacherous" travel conditions, the agency stated.
The State Patrol's Grabow stated that at the time of the traffic incidents, I-94 in the Monticello area was covered in ice and snow.