Big Lake was one of the region's fastest growing communities during the past decade, while Monticello kept pace with growth in the region.
But it Monticello's neighbor, Otsego, which is turning heads as the township-turned-city emerged as one of the fastest growing communities in the State.
Big Lake had the second-greatest increwase in population in Sherburne County behind Zimmerman, according to data recently released by the U.S. Census Bureau following the 2020 Census.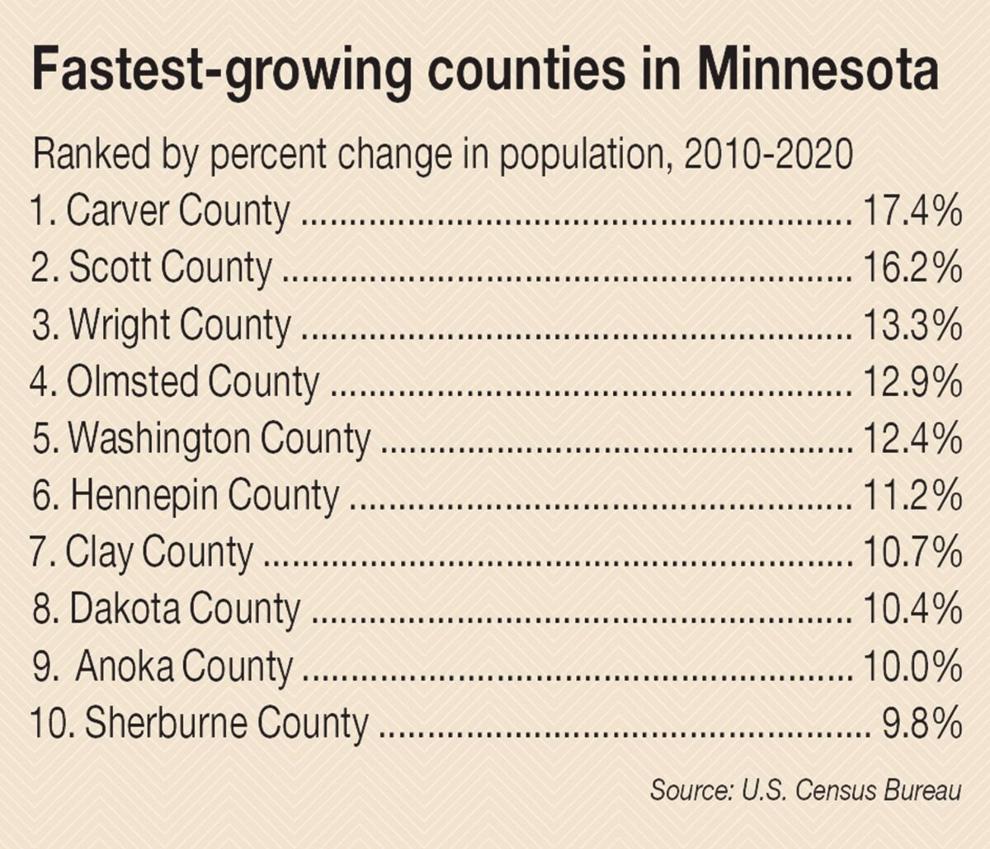 Big Lake grew from 10,060 people in 2010 to 11,686 in 2020, according to the U.S. Census Bureau. That's a population increase of 16 percent over the 10-year period.
Zimmerman grew 18 percent, from 5,228 people in 2010 to 6,189 people in 2020. Elk River is the largest city in Sherburne County and has grown to 25, 835 residents, the U.S. Census Bureau reports.
Sherburne County's population grew 9.8 percent over the past decade, according to census data.
In Monticello, the city's population grew 13 percent over the past decade. In 2010, Monticello's population was 12,759, according to U.S. Census Bureau data. The 2020 census shows that the city's population grew to 14,455 over the past decade.
Monticello's population firmly cements the city as the fourth largest city in Wright County. Buffalo is third with 16,670 residents, St. Michael second with 18,235 residents, and Otsego holding down a new position as Wright County's largest city with 19,966 residents. Otsego's population grew 47 percent during the past decade. 
Big Lake Mayor Paul Knier says a number of factors are driving the growth in his city, which, like Monticello, enjoys the proximity to both the Twin Cities metro area and St. Cloud.
Big Lake's population growth can be attributed to the fact that the city is a incredible place to live, work, and raise a family, Knier said. 
"Not only are we one of the safest places in the state, we provide a quality of life that's second to none," Knier said.
"From our natural resources like our beautiful lakes to our fantastic parks and trail system, there is no shortage of things to enjoy," he said.
Big Lake should only see its population grow in the future, with many housing developments and apartment complexes in the construction or planning stages.
In Monticello, the city's growth was close to stagnant in the first half of the past decade, Mayor Lloyd Hilgart said.
That changed in the past few years with an uptick in the construction of single and multi-family home construction.
"We're in line with everyone else, Hilgart said in comparing Monticello's growth to many of its neighboring cities.
"But we're going to see more growth in the next few years," Hilgart said.
That includes the construction of a lot more single-family homes than Monticello has been used to, he said.
"We've got some good things coming," Hilgart said.
But for the time-being, details need to be under wraps.
New census figures released recently show that Otsego's population climbed 47% in the last decade, from 13,571 in 2010 to 19,966 in 2020 — an increase of 6,395.
Mayor Jessica Stockamp said Otsego has also had willing landowners who have sold to developers and those developers are offering multiple housing options in varying price ranges. Otsego has a large amount of land within its borders, with working farms and large rural lots in the center of the city and urban development closer to Interstate 94 and Highway 101, she said.
Other factors like tax rates, schools and parks play a role, too. Stockamp said the city has a vast park system with new parks built within the last 20 years and more than 39 miles of trails.
Wright County posted a 13.3% population gain between 2010 and 2020 and its population is now 141,337, up from 124,700 a decade ago, according to the U.S. Census Bureau.
County Administrator Lee Kelly said Wright County has been a growth county for 40 years, with the growth predominately centered along the Interstate 94 corridor.
"The combination of young families feeling the security of small city living and three major traffic corridors to make a daily commute possible (I-94, Highway 12 and Highway 55) have played a significant role in why Wright County has been and will continue to grow," he said.
Just as communities like Anoka in the 1990s and Lakeville in the 2000s, Wright County is seeing young families with a desire to move away from the larger metro areas, he said. Kelly believes that's because there is peace of mind in smaller communities and a "small town feel" as well as access to better schools, lakes and a robust parks system, while still offering proximity to the Twin Cities for those who work there.
Fewer than 40 percent of working adults who live in Wright County actually work in Wright County, he said, citing data from Wright County Economic Development. 
Meanwhile, the growth is expected to continue.
Kelly said it's estimated that by 2040, there will be four cities in Wright County with a population of 30,000 or more: Otsego, St. Michael, Buffalo and Monticello.
"That belief is based on how the cities are laid out and the family farms on the fringes of cities being sold to developers that can add hundreds of people to a single development," he said.
The Wright County Recorder's Office reported a record number of new plats in 2020, breaking a record set in 2019, and it's on pace to break that record again in 2021, which will only add more homes and more people that call Wright County home, Kelly said.
Sherburne County is also among the fastest-growing counties in the state, according to the U.S. Census Bureau.
While Wright County ranked No. 3 out of Minnesota's 87 counties, Sherburne was No. 10, with a 9.8 percent rate of growth. 
Sherburne's population grew from 88,499 to 97,183 between 2010 and 2020.
Some area cities have seen especially vigorous growth. 
Rogers and Dayton, for instance, both posted 55 percent population gains in the last decade.
Rogers' population grew from 8,597 in 2010 to 13,295 in 2020, a gain of 4,698. Dayton's population went from 4,671 to 7,262, a 2,591 increase.
Elk River saw a population increase of 12 percent in the last 10 years. Its population went from 22,974 to 25,835, a gain of 2,861.