Neighbors decorate "Shirley's Tree" to honor health care workers
On the afternoon of Nov. 27, Jenny LaBelle pulled out of the driveway of her home on Galen Drive in Wyoming to begin her half-hour trek to work.
And that's when Operation Shirley's Tree swung into action.
LaBelle serves as a cardiac telemetry nurse at M Health Fairview St. John's Hospital in Maplewood. As a tribute to her – and as an homage to health care workers everywhere – LaBelle's neighbors on Galen Drive decided to decorate what LaBelle calls "Shirley's Tree," a large fir rooted right on the property line between the LaBelle family house and that of the late Shirley Toronto, who passed away in October 2019.
"Jenny always told me that it really filled her soul when she drove onto the street and would see the tree lit," said Shirley's daughter, Therese Toronto. "So we decided we were really going to make it shine.
"And I know she always kidded her husband by saying, 'I've always wanted a star on top.' In years past we could only decorate the tree so high. So this year we decided that, whatever it took, we were going to put a star on that tree."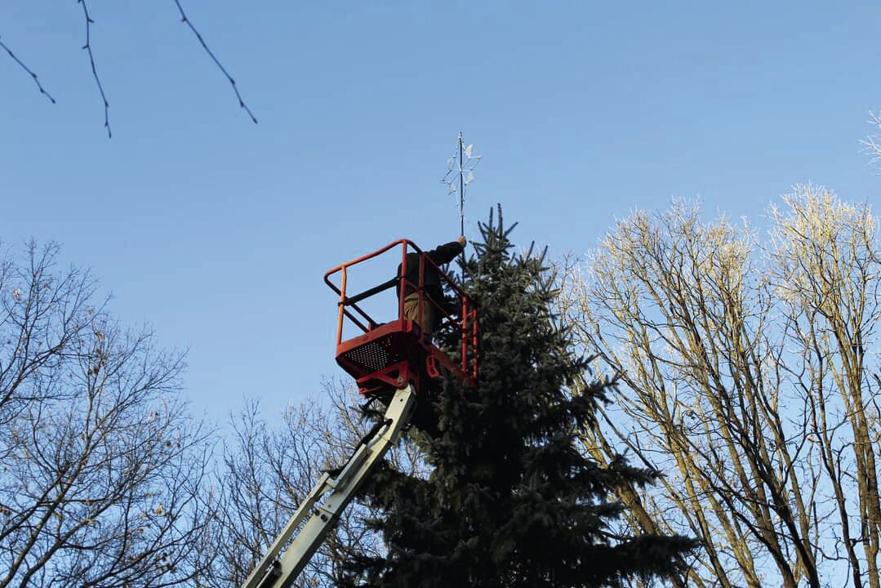 Toronto said it was not hard to get LaBelle's neighbors involved in the tribute.
"When we talked to the neighbors about it, they got very excited," she said. "They all wanted to know what they could do, whether it was decorate or donate money. We had 10 families in the area that we talked to, and everyone was excited to do this."
So as soon as LaBelle drove out of sight, the neighbors got to work. They rented a cherry picker, and they strung around the tree a number of lights they had ordered especially for this year. They also purchased a star, and the group placed it on top of the tree.
LaBelle's hospital shift on Friday, Nov. 27 – the day after Thanksgiving – was a difficult one.
"It was one of the hardest I've had since the pandemic began," she said. "It was a physically and emotionally draining day. I didn't use the bathroom, and I didn't eat dinner; I just couldn't leave my patients alone during that shift."
A half hour of overtime that day meant she would not reach Galen Drive until well past midnight.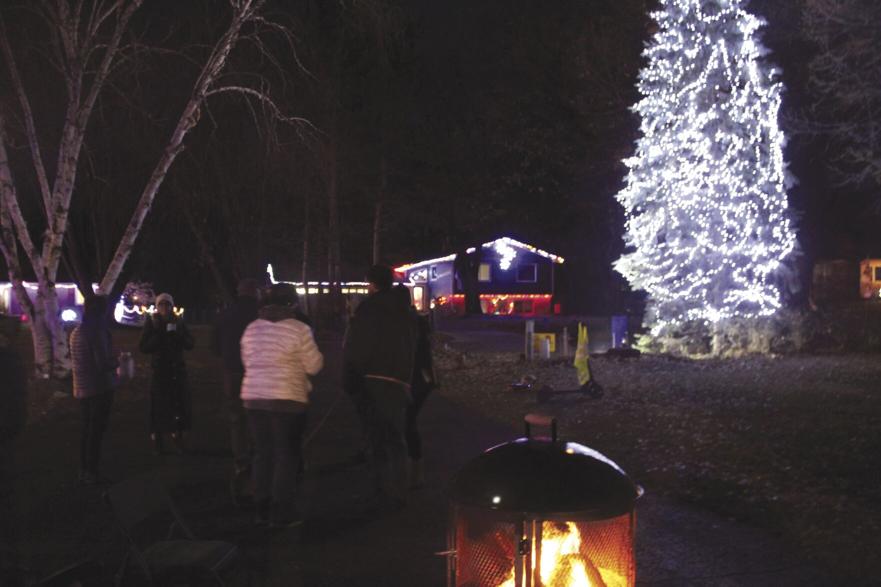 "We didn't care, because that gave us a little more time as neighbors to talk and interact," Toronto said. "It was healing for all of us to do something 'normal.' We had our masks on, talking and enjoying some hot chocolate."
As the crowd of roughly 25 neighbors shared hot chocolate and warmed themselves besides a fire, they saw a pair of car lights turn onto the street.
"I drove down the north end of Galen, and I just saw this glow as I came up the hill," LaBelle said. "I actually stopped my car before I got to my house. I looked up, and I realized they lit up Shirley's Tree. I thought right away that I should take a picture of that tree, but I was almost home, so I decided to park in my driveway.
"As I pulled into my driveway, I had to hit the brakes – all of my neighbors were in my driveway."
Toronto said what happened next made all of the work worth it.
"Jenny got out of her van, and she just stood there," Toronto said. "Her eyes were full of tears."
The tears, LaBelle said, were of joy for neighbors and friends who appreciate her work.
"After the kind of night I had, to come home and have my neighborhood 'family' standing there just brought me to tears," she said. "I wanted to hug them all – but I couldn't do that!
"Our neighborhood is a special place. It's been a wonderful place to raise my four children. This year has been really hard, because we haven't been able to be close to each of our neighbors."
Toronto said LaBelle's response was thanks enough.
"We saw one of our neighbors was struggling, so we tried to do something that lifted her spirits," Toronto said. "And I think it worked."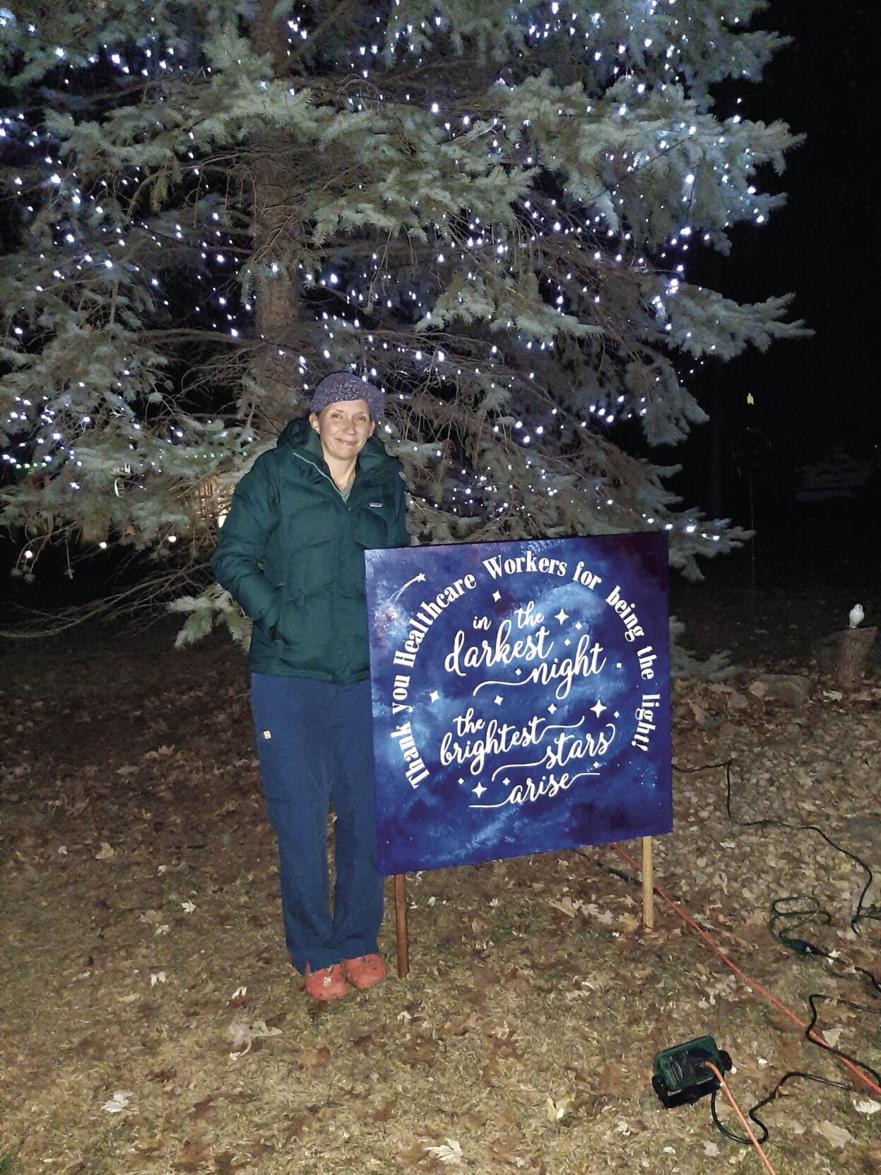 Besides the lights and the star that made Shirley's Tree glow, there was one other decoration on LaBelle's front lawn.
One neighbor painted a sign that includes the words, "In the darkest night, the brightest stars arise" printed inside a circle which reads, "Thank you Healthcare Workers for being the light!"
"It was our way to support Jenny – but we also wanted to support health care workers everywhere," Toronto said. "And we did it as a symbol, to show people that we think that there still is hope."
That tribute touched LaBelle, because it showed an appreciation of what health care workers everywhere are enduring as they tend to the ill during this period where COVID-19 makes that work more difficult.
"I shared the pictures with as many people at work as I could," LaBelle said. "Many of them were brought to tears by it.
"And it refueled a lot of us. We were hitting some really hard lows, just trying to keep up and do the best we can. And that takes an emotional toll. When my co-workers saw the photos, they realized we're not alone, and that a lot of people care for and appreciate the work we're doing."
The lows have not gone away for LaBelle and her family. Earlier this month, her husband, Erik, was diagnosed with COVID-19 and just left isolation last week, while 14-year-old daughter Cecilia became ill roughly a week later. That forced the entire family – which also includes daughters Alicya (16), Lucia (12) and Julia (9) – to stay home in quarantine.
"This has been frustrating, because I feel well and I want to be working and helping others," Jenny LaBelle said. "But I know that I need to quarantine for the safety of others. It's the responsible thing to do, the right thing to do.
"COVID-19 is a serious thing. I've seen what it does to people, and to families. This is our chance to stand up and help make things better."
She's grateful for her neighbors, and for their thoughtfulness towards her and other health care workers.
"I love my neighbors, and this reminds me that I'm blessed to live here."
The best part, at least in LaBelle's eyes, is that she can look out the front window of her home and gaze upon a reminder of the friendship and love that surrounds her in these difficult times.
"I look out that window every night," she said. "It welcomes me home from work. In fact, sometimes I drive home from the south end of Galen just to see it from a different view. And I can sit in my living room and see it – it's so bright, it leaves a glow in my living room."
It's the perfect thing, she says, to keep her going in the darkest of days, literally and figuratively.
"It just makes me happy. It's beautiful, and it's hope. It's Christmas."