Hometown ninja competes on reality show
Abbey Steffl and her daughter Molly have overcome a lot of obstacles in life. Both were born with cleft palate and have had multiple corrective surgeries. Then in 2018, Molly was diagnosed with alopecia, an auto-immune disorder that causes hair loss. This year, however, Abbey, a Scandia-native and 1999 graduate of Forest Lake Area High School, had the chance to overcome a completely new obstacle — or obstacles — by competing on this season of NBC's "American Ninja Warrior."
"I never saw this coming. If you would've said three years ago this is what I'd be doing, this is where I'd be sitting, it blows my mind. It's a good thing," Abbey said. 
Abbey's journey to "American Ninja Warrior" came through a more unusual circumstance: her daughter's diagnosis of alopecia.
'You're like Kevin Bull'
If the multiple surgeries from fixing a cleft palate were difficult for Molly, so was the bullying and teasing. The stress and anxiety from being bullied triggered in Molly the beginning of her journey with alopecia. In Molly's case, it began as patchy spots on her scalp, which Abbey was able to cover up through careful hair styling, but that fall Molly lost all of her hair in the span of five days. Molly felt scared to go to school because of the bullying and teasing she might experience, so Abbey went to Molly's teacher and asked if she could speak to the class. During that talk, one classmate raised her hand and said, "You're like Kevin Bull on 'American Ninja Warrior.'" They immediately went home and looked up information about him. Bull also has alopecia and has made it part of his platform on the show.
"She's been through a lot with [cleft palate] too. That's totally separate, and that's consumed some difficult times too, so that was something we could always relate to with each other. In this case, she couldn't say 'You went through that too, right, Mom?' — which made me feel very helpless," Abbey said. "When that kid said 'Kevin Bull,' it was very empowering." 
When Molly and Abbey pulled up an episode that Bull was featured on, it became an emotional connecting experience.
"I cried," Molly said. "It felt so cool to finally know that other people are like me and they have my thing that I have, and that other people can actually relate to me." 
After watching some episodes of the show with her family, Abbey, who was already a CrossFit elite competitor, was told by her children she should apply for the show. 
"Which seems crazy. It was not on my radar at all," she said. "But I had a fitness background and I had nothing to lose, and this show was about sharing and lifting people up." 
Around the same time, Abbey also learned of the Children's Alopecia Project, a camp that is run at different locations around the country throughout the year for kids with the auto-immune disease. Abbey signed up to bring Molly to a camp in April 2019 in California, where one of the camp's mentors happened to be Kevin Bull. In a twist of fate, he would end up being Molly's mentor at that camp. Wanting to reach out prior to the camp, Abbey sent a message to Bull over Instagram. 
"I just said you've had such an impact on my daughter's life. There are people on the couch who are watching you. I still get choked up. It was a painful time. I wanted to shave my head, and Molly said, 'What good is that going to do us?' But you'd do anything for your child," Abbey said. "I told Kevin thank you and that I applied to be on the show, but it was like, 'Haha, like anything's going to come from that.'"
Not long after that, Abbey got the call: Producers wanted her to fly out to Tacoma to compete over Mother's Day weekend, just four months after her first day training at a local ninja course. That season, she fell on her second obstacle, and her run never aired. 
"I always tell people, the show is 'Ninja Warrior.' I was a warrior, I was there for Molly, but I was not a ninja. There's some technique I didn't have," Abbey said. 
It was during that time on the show that producers met Molly and quickly fell in love with her personality and story. They decided to feature Molly and her story as a part of Bull's cheering squad on the sidelines, which aired on Aug. 26, 2019. And that's where Abbey intended her time on "American Ninja Warrior" to end, chalking up her time on the show as a unique experience that brought Molly the connections she needed. 
"I thought, OK, I did my thing. I got Molly out there. I did what I was meant to. I'm done," she said. Yet her kids kept telling her she needed to try once more. "One thing led to another, and because I'm a competitor, I pulled myself up from my wallows and I decided maybe I could apply again."
Different season, closer bonds
The pandemic has upended a lot of industries, one of the biggest being the entertainment industry, but the executive producers of "America's Ninja Warrior" decided to continue to produce a show this year in an altered way.
"Their theme is 'Together we rise,' so it's about giving hope and positivity to America and being in touch with these very sensitive and difficult stories at a critical time," Abbey said.
Instead of filming in cities all around the country, then finishing in Las Vegas, the whole show was filmed from St. Louis in a nine-day span, and instead of having roughly 600 competitors, they only chose 150, who would remain sequestered around the hotel area and receive frequent COVID-19 testing. It was in mid-June when Abbey got the call that she had been chosen as one of the 150.
"It's not something I took lightly. It was a tremendous honor," she said. 
Abbey, her husband and her two kids drove down to St. Louis. Because audiences were scratched as a part of the filming process, Abbey's family was not able to be with her and cheer her on the sidelines, so they left to go back home.
"The whole car ride, I was crying," Molly said.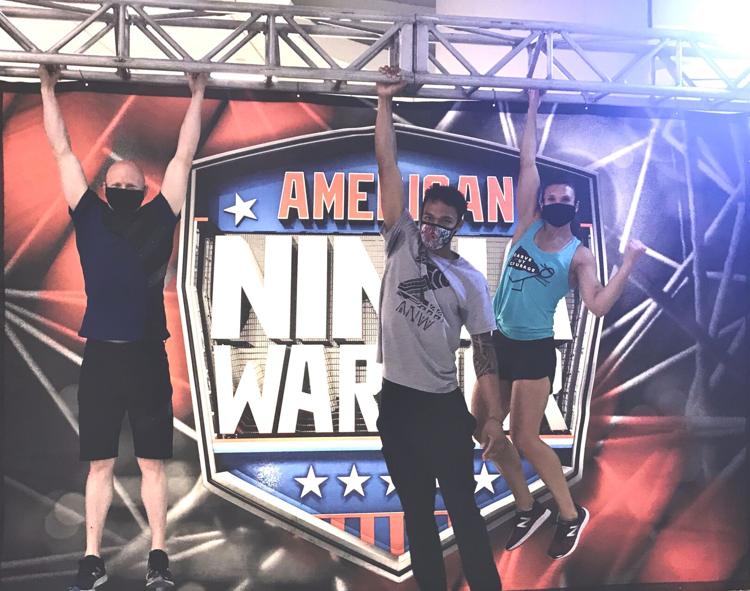 To boost the competitor's spirits and to help create a supportive atmosphere in a stressful environment, producers created teams within the group of competitors to cheer for one another, and in yet another twist of fate, Abbey was placed with Bull and an Iowa-based rookie named Isaiah Barney. 
"They were incredible, and I am so thankful and I feel so lucky that they were my teammates," she said. "I feel like that was meant to be."
She said that compared to the previous time she had competed, the competitors really got to be close, which she attributed to that quality time with her teammates. Abbey's team spent time together training, visiting the St. Louis arch (a rare moment to escape the filming bubble), and learning a haka, a ceremonial chant and dance historically used by the Māori people of New Zealand, and now widely used by rugby teams.
"Speaking in Maori, for me, it did not come natural. I had seen them, but that was a real bonding experience," Abbey said. They bonded together so well, she said, that the producers thought they had all known each other for years. 
It wasn't just the time she had with her teammates that made her time on the show so  special, either. 
"The ninjas that I met from my show and producers I worked with, they're tremendous human beings. They're incredible and as genuine and real as they appear to be when you see them on the screen," she said.
Overcoming the obstacles
"It's overwhelming, exciting, strange," Abbey said of competing on the show. "It's extremely stressful, but a joyful thing — something you say yes to and you're all in, and then you go, 'Oh, my gosh, what did I just do?'" 
Trying to focus on the ninja course over the nerves, she said, proved one of the biggest challenges.
"People watch on a couch and think 'I could do that.' It's the couch effect. I thought the same thing, but when you're on that stage, the emotion and those feelings, they take you to a different place and a different level. When your knees are trembling and you're shaking, getting through that is a feat in itself," Abbey said. Add into that the filming experience and no audience, and Abbey said it was hard to overcome. 
But for Abbey, competing and overcoming literal obstacles was more than just trying to prove her strength, but about representing Molly's story and trying to lead her kids by example. 
"My reason for training and trying to do better is because I want to show my kids strength through adversity. … It was extremely stressful, but it was a good thing and a beautiful thing. This is a celebration of some really tough stuff we've been through in life and we're continuing to go through. Standing on that stage, it's a celebration of those obstacles in life. I get to do something exciting and fun. I wanted to hit that buzzer, but regardless of how that run went, it was a celebration."
"I was so proud of her," Molly said of her mom.
"I feel like it's meant to be, and I tried to lean into that. What Molly has taught me, and something we say over and over again, is you can't choose what happens in life, but you can choose how you react," Abbey said. 
"American Ninja Warrior" premiers its 12th season on Sept. 7 at 7 p.m. on NBC.
Carving out courage
Last year, after being featured on "American Ninja Warrior," Molly was asked to receive an award from the Professional Bull Riders when they stopped in Minnesota and give an inspirational speech. So the petite girl with no hair on her head stood up and talked about courage.
"She gave a talk to all of these super burly cowboys," Abbey said with a little chuckle. "She gave a talk to them before their ride, and she said, 'Carve out courage.'" It was a phrase that Abbey noticed Molly had said in some of her other speeches and interviews, as well. 
"She kept using it, and it just felt like this whole experience — one piece led to another in such a way that I couldn't deny it was meant to be. 'Carve out courage' was meant to be bigger."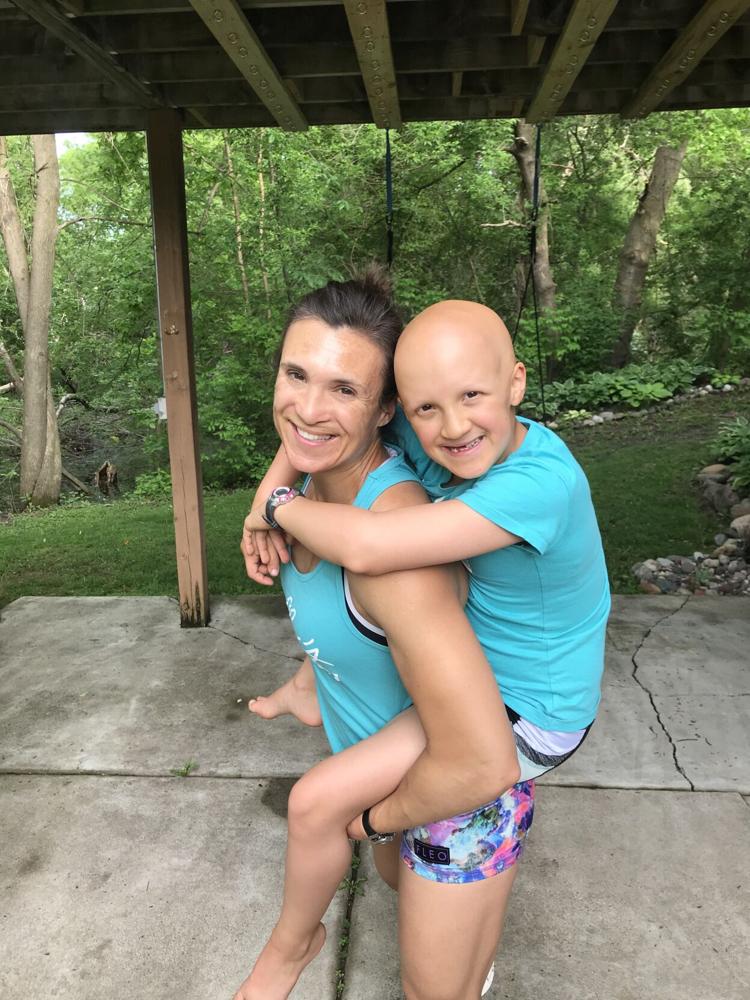 So Abbey, along with Molly, founded the Carve Out Courage nonprofit, which seeks to foster resilience in youth, inspire kids in kindergarten through 12th grade, and award children for overcoming obstacles through courage and positive attitudes. The organization also seeks to financially and otherwise support the Children's Alopecia Project and Camp Erin. More information on Carve Out Courage can be found at carveoutcourage.org.