The evening of Jan. 22, 1947, was a crisp cold night, but it was warm inside the Melody Ballroom. The room was crowded with dancers and spectators waiting for intermission ceremonies.
The Forest Lake Jaycees, under president Art Perrault, sponsored the Forest Lake Fire Queen Contest. The six lovely candidates were Dorothy Daninger, Charlotte Halbohn, Rosalyn Reeder, Alice Richards, Gloria Sanderude and Mary Voelker.
A special envoy of the St. Paul Winter Carnival, Paul Villaume, crowned Rosalyn Reeder as Forest Lake's Fire Queen. Charlotte Halbohn was chosen as an alternate. Queen Rosalyn represented Forest Lake at the Court of Vulcanus Rex, Fire King.
The following year, the winner of the contest also participated in the St. Paul Winter Carnival and the Minneapolis Aquatennial as a visiting queen. Coronation night was a night of strain, glamour, fun and anticipation as original staged productions were incorporated with the coronation.
The queen participated in many local functions. For instance, she shot the starting gun for the V.F.W. Ice Fishing Contest and had her own float in the Fourth of July parade. As a visiting queen in year-round parades, she was vulnerable to shiver in weather 20 degrees below zero and to suffer the threat of sunburn during the Minneapolis Aquatennial Parade.
Forest Lake queens shared the thrill of meeting movie and TV stars and other celebrities. As they represented Forest Lake with queenly grace at all of these functions, area queens made the community proud of its young women.
'Presenting Miss Forest Lake'
Through the years, the following girls heard this phrase: "Presenting Miss Forest Lake." In 1948, Lorna Jeans was chosen queen. In 1949, Iva Alm had an extremely busy reign, since she also reigned as Forest Lake Jubilee Queen and Territorial Queen for Washington and Ramsey counties. Other queens were Jo Ann Houle in 1950, Mary Lou Handrum in 1951, Bette Owens in 1952, Mary Jo McGrath in 1953, Joyce Miles 1954, Betty Broadbent in 1955, Gloria Wenzel in 1956, Beverly Anderson in 1957 and Judy Erickson in 1958.
After this, the contest changed its location from the Melody Ballroom to the school auditorium. The format completely changed and permitted the girls to become eligible to compete for the Miss Minnesota contest. Our contest prepared her for the requirements. At first, the Miss Minnesota contest included formal gown and talent categories. Two years later, the girls had to appear in a swimsuit segment. Perhaps the hardest part of all was answering tricky questions by the master of ceremonies.
The girls from Scandia, Wyoming and Chisago City were also invited to join local girls in the competition. Under this new format, reigning queens were Diane Thurnbeck 1959, Carol Anderson 1960, Jo Ann Worth 1961 and Mary Mills 1962. Mary had an exciting year as runner-up to the Queen of Snows at the St. Paul Winter Carnival. The Prince of West Wind was her escort during the year.
Other queens were Sandee Marier in 1963, Nancy Wyandt in 1964, Dianne Johnson in 1965, Linda Martinson in 1966, Donna Mesich in 1967, Linda Hennen in 1968, Cindy Vadner in 1969, Judy Pfingston in 1970, Jennifer Rife in 1971 and Leslie Kroenlein in 1972. Leslie did not complete her reign and Denise Tetrault, first runner-up, took her place.
Denise Tetrault undoubtedly held the title of "Miss Forest Lake Area" longer than any queen in our history, since there was a period of inactivity and lack of interest in staging another pageant. Denise represented Forest Lake occasionally at functions during her seven-year reign, until Darla La Roque was crowned in 1979. With a group of nine candidates, the Jaycees renewed the contest as a gala evening coronation at the Forest Hills Country Club. The last reigning queen, Donna Kroska in 1980, also received her crown at Forest Hills Country Club.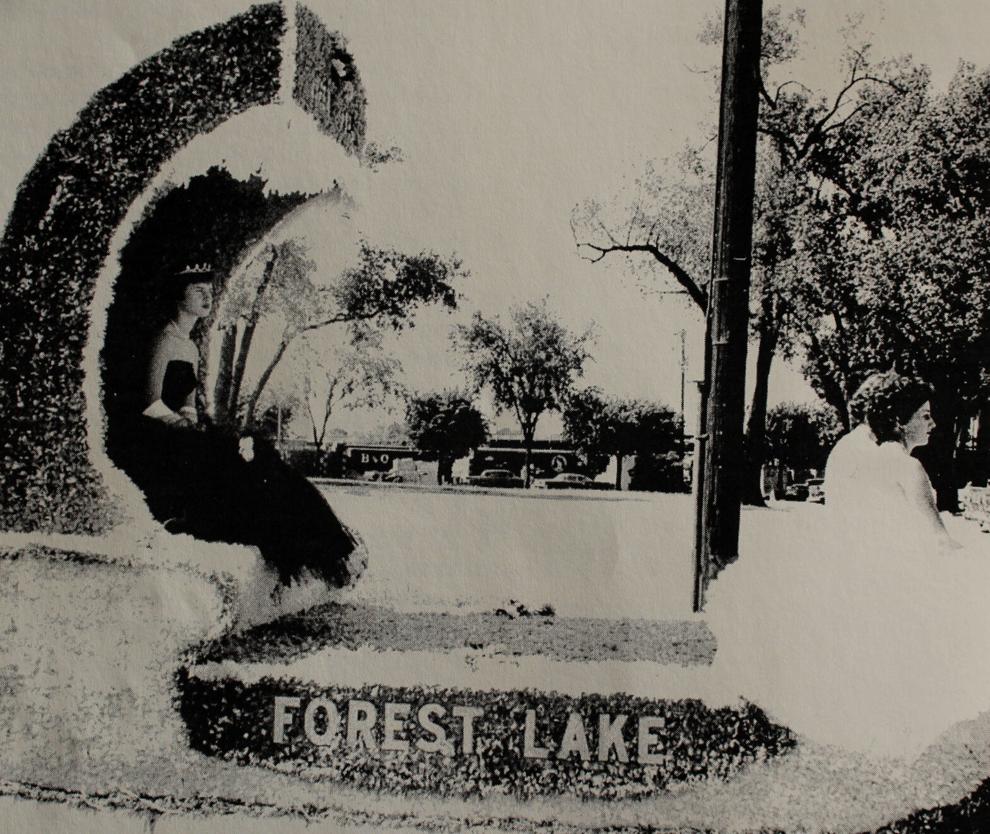 A tremendous amount of work by directors and volunteers went into staging these extremely well-done pageants. After 15 years of devotion to the coronations, candidates offered Darlene and Bill Bergeron a big hand and vote of thanks.
In 1972, a winning name was selected from a goldfish bowl from a group of little girls ages 3-6. The winner was 5-year-old Wendy Morehead. Because the hour was late, sleepy Wendy yawned as she was crowned, something her parents Bill and Cathy Morehead will never forget. The first contest led to the contests held through 1993 for different age groups.
In 1993, a centennial queen was set to be crowned along with a king, the winner of the beard-growing contest. They would reign over the centennial festivities from June 24 to July 5, 1993.
All Elsie Vogel material is excerpted from her book, "Reflections of Forest Lake." Vogel was a former columnist at The Forest Lake Times.