Many Forest Lake men soon found that they needed to organize a fire department to protect the buildings in this growing community. No longer would water bucket brigades, a hand pumper and a hose cart suffice. The men held their first meeting in a room above the white-framed fire hall, near our present city hall complex.
Fireman Craig Moen has preserved a book he found with minutes of the firemen's meetings from 1922 to 1938. Excerpts from this book tell a story about the civic-minded men, their problems and their fun, as they volunteered to become members of the Forest Lake Fire Department.
On June 5, 1922, Mayor W.J. Simmons called the meeting to order. There were 28 charter members: Fred Leuzinger, J.B. Weisser, Dr. C.D. Larson, A.R. Lake, George Simmons, Frank Weisser, Fred Stille, C. Trueblood, Theodore Meline, George Sprain, Rueb Engler, Nathan Meline, Henry Twetten, Cosy Hoekstra, W.W. Johnson, Ray Van Syoc, Art Anderson Lester Struble, Bill Nickelson, Bill Enquist, Ben Peterson, Lawrence Simmons, Hector Pepin, Joe Boehm, Ed Schmidt, Fred Carpenter, Rollin Johnson and Tom Rolseth, who was appointed fire chief and held that position until 1941.
At the next meeting, the men appointed an Entertainment Committee to raise funds for equipment. Milton Bickel was chairman. Milton planned for the first firemen's dance, from which the department realized a profit of $92.05. This started a tradition that lasted for 50 years. The volunteer firefighters also had a serious side, as they bought and renovated a Dodge chemical truck. In 1923, they installed a siren on the water tower.
These preparations, once in place, were important, since they soon were called upon to fight a serious fire.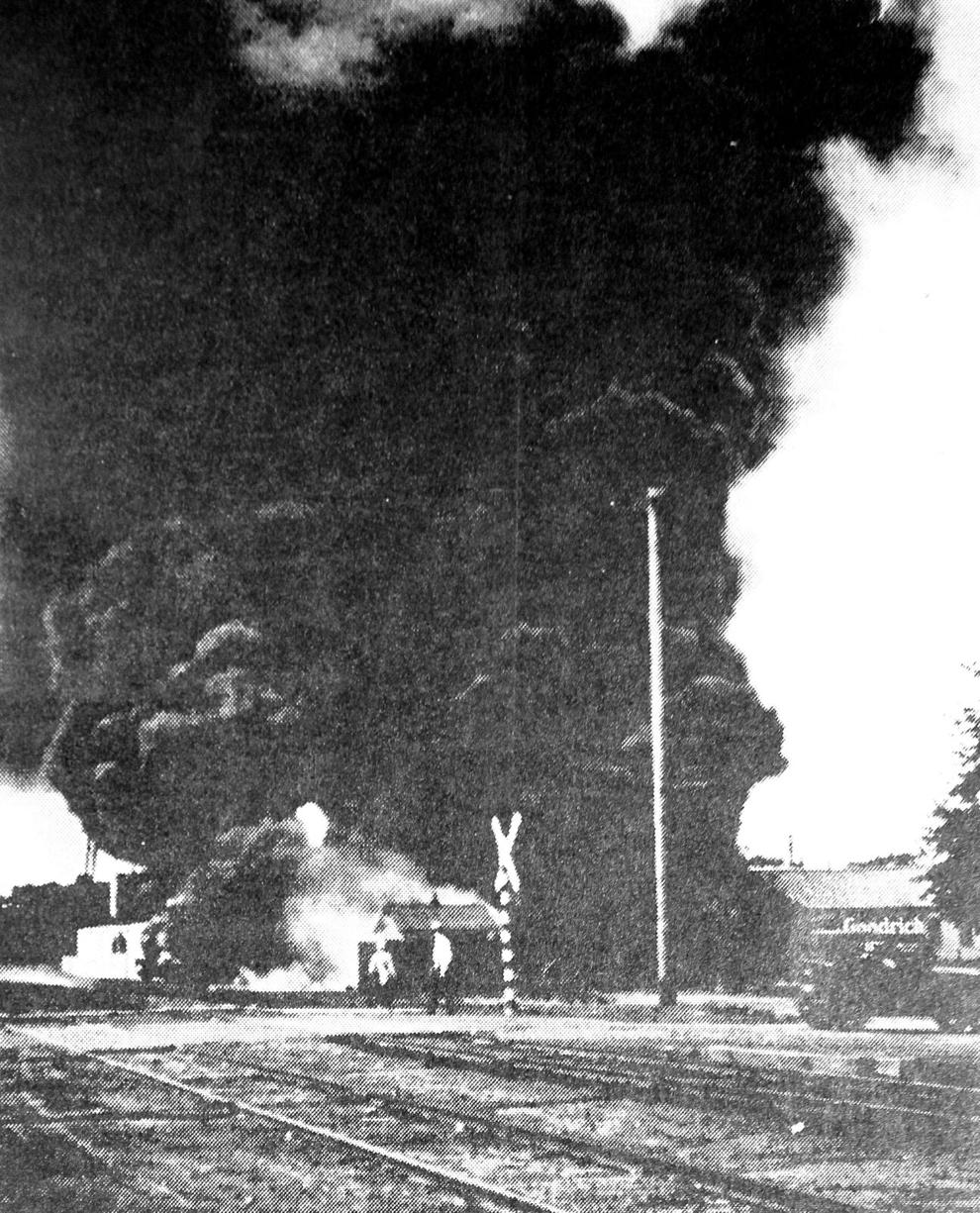 The hottest explosion and fire in the history of the department occurred on the afternoon of June 30, 1923. As gasoline was being unloaded from a railroad car to storage tanks, it seeped out onto the ground. When J. Frank Carpenter shut off the motor, it set off a spark, and exploded.
The firemen fought this fire with the Dodge fire truck and a hose cart. If the other storage tanks had exploded, the whole side of town could have been destroyed. A warning whistle kept blowing from one of the tanks. It took the bravery of fireman Rueb Engler to shut off the valve. The firemen sprayed him with water as he braved the intense heat.
J. Frank Carpenter died as a result of the fire, which occurred one year after the department was organized. The Carpenter Oil Company was destroyed by the explosion of 5,300 gallons of gas, 1,500 gallons of kerosene and 4,000 gallons of lubrication oils.
All Elsie Vogel material is excerpted from her book, "Reflections of Forest Lake." Vogel was a former columnist at The Forest Lake Times.