Neil Bauer focused on community policing
Until college, Wyoming's new public safety director, Neil Bauer, thought his future career would be following in his family's footsteps into residential construction until he worked alongside off-duty police officers in asset protection at Dayton's in St. Paul in college.
"[I] got to know these officers throughout that process and really started realizing that, you know, what a cool job it was to have," Bauer said, a Woodbury native.
With that glimpse of what a law enforcement career could look like, he switched gears and changed his major, graduating with a criminal justice and sociology degree from the University of St. Thomas.
"It felt like it was something that you were doing something different every day," he said regarding the prospect of a law enforcement career.
He became a chief security officer at the Woodbury Police Department in 1999. He officially became an officer in the same department in 2000, where he'd spend the rest of his career before his move to Wyoming. He spent some of that time getting his master's degree in police leadership again from St. Thomas, and later his doctorate degree in education, all from the University of St. Thomas. He also received his EMT paramedic diploma from Century College, as well. He left Woodbury on Wednesday, Dec. 15, as a sergeant in the department.
"It was really cool to be involved in the community I grew up in," Bauer said.
Throughout his time as a Woodbury police officer, he returned to school and received his masters in police leadership in 2003, and he received a doctorate in organization development in 2019.
Although no one in his family had been in law enforcement, he never second-guessed if it was a good career for him.
"It seemed like a good fit. It always was and always has been the people. That was always the connection for me," Bauer said.
His work at the Woodbury Police Department is highlighted, he says, by two things: his work with the training program for incoming officers, and his work in co-developing a multicultural advisory committee in 2019.
"I was really wanting our department to take the next steps with doing community engagement differently. … The next step beyond just talking with a cop," Bauer said.
He looked at this advisory committee as a way for the community and police department to build a collaborative relationship with one another and include underrepresented voices in the conversation.
The first committee, composed of individuals already seeking involvement, got together and started asking themselves, "Who's missing from the group?" and "Who are the ones that … may not feel comfortable reaching out to law enforcement, and how do we need to connect with them?" according to Bauer.
In response, the department advertised this committee to the community as a way to get involved and engage in in-depth conversations.
"Some of it was a information push from us to say, 'Here's how law enforcement works,' but also information coming from the community as well," Bauer said.
Because both Bauer and his wife worked as officers for the Woodbury Police Department, nepotism protocols precluded him to receive any further promotions there. In addition, he and his wife worked opposite shifts to stay within the protocols. So, though it meant he'd be leaving his hometown's police department, when he saw the opening for the position in Wyoming, he felt like it was time for a shot at change.
"Leaving Woodbury was hard; it's where I've been for 22 years, and I have great relationships there, and that part of it was difficult," Bauer said.
He was approved by the Wyoming City Council on Nov. 16 as the new public safety director and said he felt that it was a perfect match from the beginning of the interview process.
"Throughout the entire process, … I never thought, 'I don't know if this is going to be a good fit,'" Bauer said, about his introduction to the Wyoming Police Department and community.
Bauer is filling the role of Public Safety Director Paul Hoppe, who announced his retirement in September.
"[Hoppe] really did some incredible things over the years to really take the department for what it was and make it a very contemporary department," Bauer said.
Bauer knows it'll take some time to learn more about the office and community.
"My first priority is to really get to understand how things work here, internally. … There's also the community aspect of it that I need to understand as well," Bauer said, adding that he expects to take at least the first three to six months to get acclimated to the new staff and community he serves.
Although Bauer has only been working in Wyoming for a short time, he has already drawn parallels between Wyoming's growth potential and that of Woodbury's growth.
He believes he'll fill the public safety officer position well because of his past experiences being a part of a police department in an expanding city.
"I think there's really cool opportunities as the city grows too, and I've been through those growing pains," Bauer said.
His ability to adapt and reassess systems or protocols has been an asset throughout his time in Woodbury when he assumed the leadership role for the field training program in 2007. He started the first academy for the department, in which trainees would spend two weeks going through department-specific training. He would work with trainees, at differing skill levels, to troubleshoot any challenges they came up against in firearm training, use of force training, simulated traffic stops and pursuits or issues with multitasking.
"There's so many different things that come up and it's the problem solving of those things that was really fun," Bauer said.
He said he liked the challenge of trying to cultivate a program that would ensure success for their new officers and wanted them to be prepared for the possibilities that can happen when on the job.
"I know that I did the best I could with the group in making sure they were prepared for a long career," Bauer said.
Bauer is excited to transition into his new role in the city of Wyoming and to continue to evolve through new processes to improve.
"I'm coming at this with an open mind. ... I want to be perceived and I want to make sure that people know that I can be flexible," he said.
While off duty, he is looking forward to spending more time at home in Hudson, Wisconsin, with his wife, Natalie, three daughters, ages 15, 7 and 4 and three dogs, one of which he plans to introduce to the department.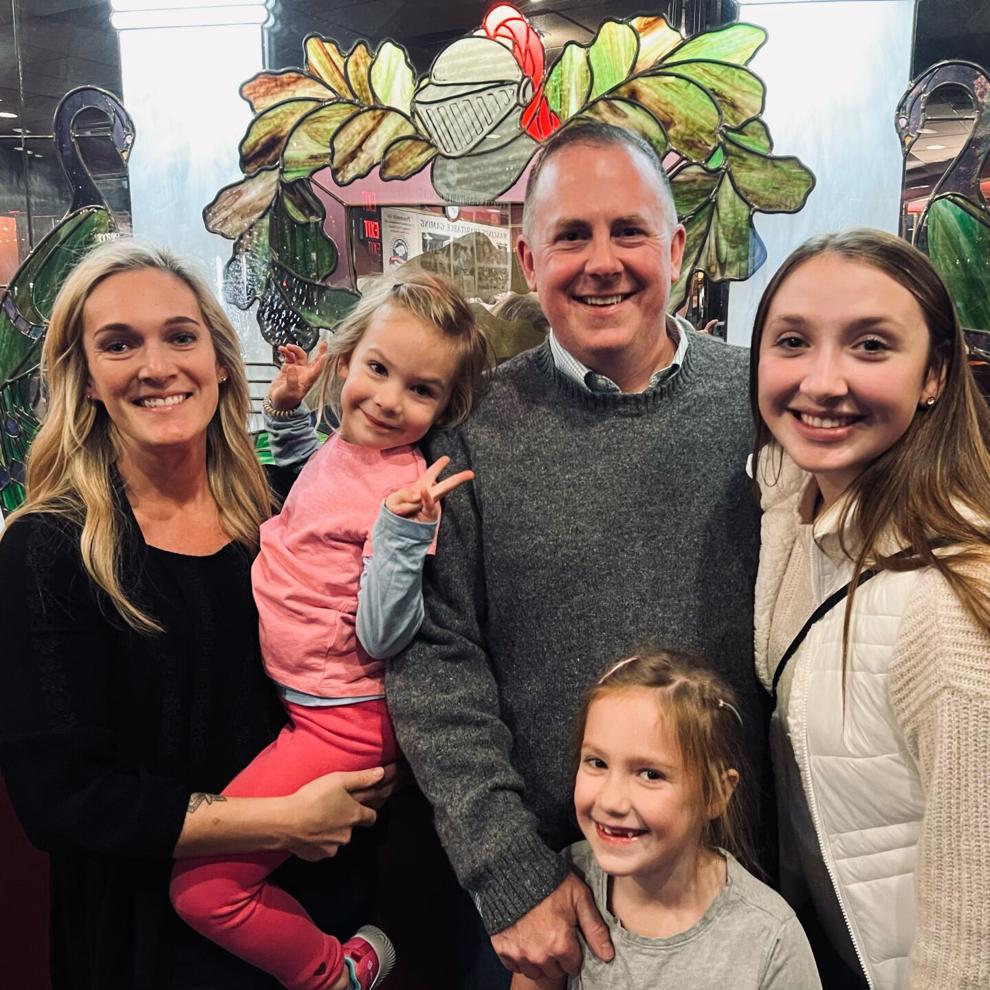 "I'll bring him into work here. And he hates people, but that's OK, we'll figure it out," Bauer joked about his French bulldog his wife referred to as his "purse dog," as compared to their German shepherd and Belgian Malinois.
The transition will give him more time to be around his family.
"I am grateful that we get along so well and really like spending time together. So it's nice to be able to look forward to that," he said.
The Bauers own a camper that they pack up and use for camping trips with favorites being Yellowstone National Park and Estes Park. They also go places locally, including their family favorite, Interstate State Park.
Additionally, Bauer remains connected to his familial roots in construction. Bauer is building a cabin for his family on a piece of property in Wisconsin, just purchased last year. It's become, he said, his primary hobby while off duty.
"I still need to do it somehow," he said.
He added his construction background will be especially helpful as the city moves forward with its plans for a new public safety department.
"It's super exciting to be able to contribute on the front-end of this process," he said.
Bauer's excited to get going in his new role.
"This is a great next challenge," he said.