"Every film needs a hook." That's what CIA operative Vivan (Tiffany Haddish) tells Nicolas Cage. And if there ever was a hook, it's Nicolas Cage playing — well — Nicolas Cage in the action comedy "The Unbearable Weight of Massive Talent." A movie about a fictional version of Nicolas Cage finding himself, struggling with the weight of being a talent nobody in Hollywood seems to want, and how he finds himself as an actor and father is about as absurd as you can imagine. And, for as strange as it is, the hook worked.
Swimming in self-deprecating humor, the shtick worked for Cage, who also produced the movie. For better or for worse, whatever your opinions are on the famous actor — which are about as polarized as American politics — the pandering to preconceptions of him worked, and in a much bigger way that made the movie more than a meta action comedy.
Nicolas; the character, finds out he didn't get the part in the film he wanted — again. He's living in a hotel after a divorce and a strained-at-best relationship with his daughter. With piling amounts of debt, and no job in sight, he tells his manager Richard Fink (Neil Patrick Harris) he's retiring, and takes a paying gig to attend the birthday party for Javi Gutierrez (Pedro Pascal), a wealthy Spanish businessman and Nicolas Cage fan, himself. Once Cage gets over his annoyance at Gutierrez, he finds a bromance like no other, a kindred spirit who encourages Nicolas's propensity towards acting, despite his newly retired status. Then Nicolas is roped by the CIA into spying on his new bosom buddy, who is suspected of kidnapping, which has geopolitical stakes.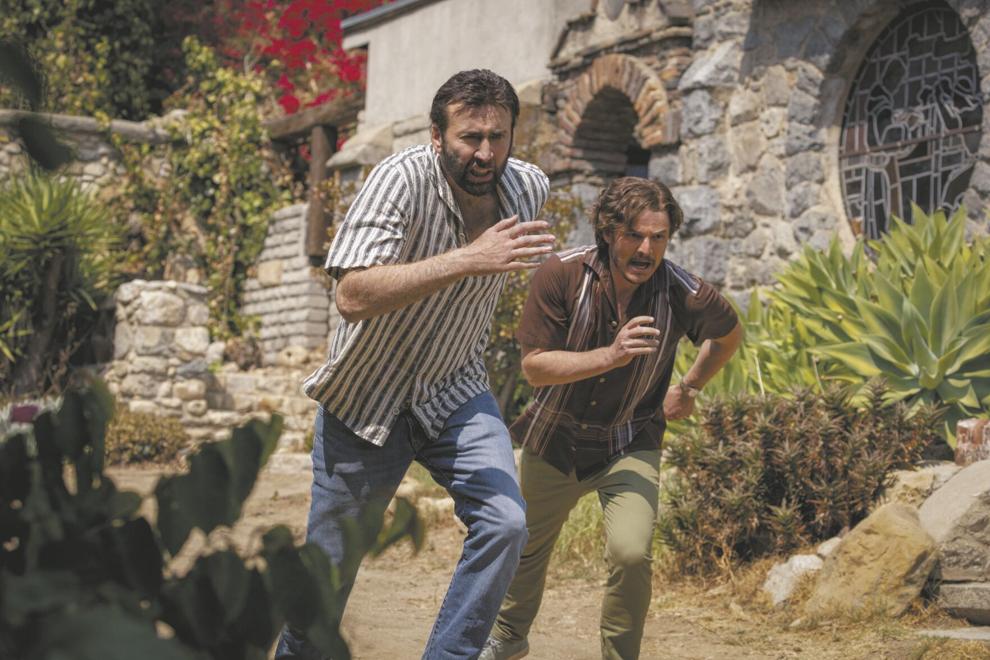 The film's many nods to the past works of Cage fits the hook for dedicated Cage fans, but one not need to have watched any of the films to get any sort of enjoyment out of it. Even the premise of Cage playing himself as a past-his-prime actor doesn't need to be present to make the movie a laughing fest.
Outside of the novelty that we know Cage plays some alternate reality of himself, what makes the movie work has nothing to do with that at all. Early on, it seems like it's an extended spoof by SNL or a YouTube. The proclivity of using Cage's celebrity as a shtick could've been overplayed, a constant barrage of self-depreciating humor that grows old with every "Face/Off" quote. Instead, writer and director Tom Gormican didn't let it drive the movie, but used it as a spark to drive what is actually a worthy plot: a down-on-his-luck actor seemingly past his prime finding purpose, peace and contentment outside of just his work and celebrity. And as a side-kick, the underrated Pascal brilliantly plays the goofy love-struck tender-hearted millionaire with dreams of having his script adapted to the screen, and the pair's chemistry becomes one of the best bromances we've seen on screen in a long time.
The bulk of the movie is spent with Nicolas and Javi acting out adventure (and, at one point, partaking in some illegal drugs and driving) for the sake of creating their movie. Half the movie is the two adults playing pretend, jumping off cliffs while pretending bad men were going to get them, and trying to scale walls racing away because their cover was blown. And as strange as it could be watching two grown men acting like 10-year-olds using the (expansive and beautiful backyard) as their imagination's playground, it worked. The pair's uniquely odd but close-knit friendship was the highlight of the film.
There are parts that didn't work, for sure. Namely, the CIA plot, which felt contrived and left many details to fall through the cracks, but it was never really the central plot, anyway. It was merely the vehicle that drove Nicolas to become a better man. And for as much screen time as his cinematic ex-wife Olivia (Sharon Horgan) and daughter Addy (Lilly Sheen) got, they weren't given nearly enough, as they were hardly there to do more than express annoyance and frustration at the husband and father he had been. Tiffany Haddish was sadly underutilized, as well.
At the end of the day, whether you love or loathe Cage doesn't seem to matter here. What matters is you can enjoy a famous actor willing to slug themself over and over for a good humorous bit, and the rest will take care of itself.