A new homeowner turns 75-year-old door into the perfect gift 
When Ben and Jessica Hildre were looking for a home in Forest Lake, they knew they wanted to stay away from the cookie-cutter house models and find a home with character and a history. 
The couple, who both are St. Francis-natives, found that special house in October 2018 along North Shore Trail on Forest Lake. Little did the couple know just how much history that house had and how one door would turn into a special connection. 
Something unique caught their eye when they looked at the house: an "R" carved into the door of what is now a closet in the upper-floor bedroom.
"When we bought the house, I was so curious, what did that mean?" Ben recalled. The room was given to their daughter Haiden, now 7. 
"I thought it stood for rainbows," Haiden said. 
Ben and Jessica did some online research about the area, hoping to come up with an idea of what it could mean, but found nothing and guessed it was a name. They were right, but they wouldn't know it for a little more a year later.
In January, the couple and their kids joined other neighbors on the lake for a bonfire and fun on the ice.
"An older couple came walking up and introduced themselves," Ben said. 
That couple was Rudy and Mary Olson, who live less than a mile away from the Hildres also along North Shore Trail. 
"He said, 'I used to live here in the '40s and '50s. This is my family's land. I grew up here,'" Ben said.
Ben had a sense the man just wanted to get to know the new family who lived in that house, especially since a couple of years prior, the owner at the time was originally planning on tearing it down to build a bigger house on the lot before he changed his mind and sold it.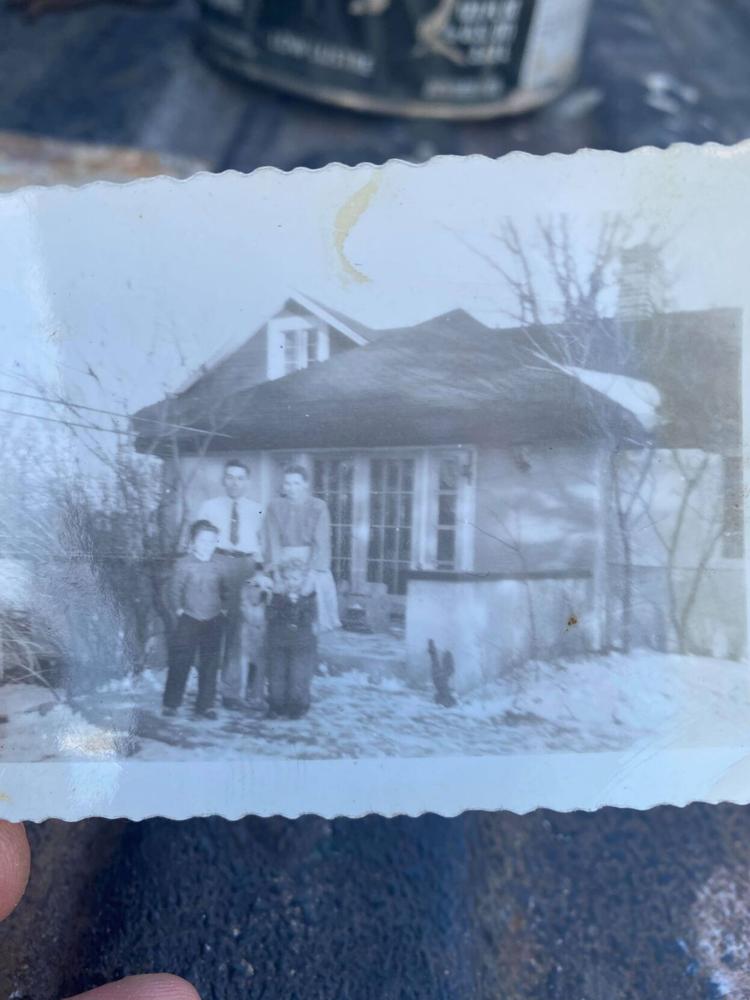 "I think Rudy liked the fact that he saw the family there like us and said 'It's so great. You're going to love living here like how I did growing up,'" Ben said. 
Then Rudy asked a question that clicked with Ben.
"He said, 'Is my 'R' still up on the door?' and I'm like 'What?' and then all the sudden it connects," Ben said. 
The doorway that now leads to Haiden's closet was Rudy's old room. Rudy's parents, who moved into the house in 1945 when Rudy was 2 years old, carved the "R" into the door so they could keep an eye on their toddler, and the door stayed through its other owners — some of whom have stayed along North Shore Trail.
"It was a 75-year-old door. It was amazing it was still there," Rudy said.
Rudy discussed the house a bit more with the family, then he and Mary continued walking by.
"After we parted ways that night and I thought 'I got to get that door back to him,'" Ben said. "It's something from his childhood, especially something from that era; I know it'd mean a lot to me if I had something like that."
But Ben wasn't able to get his phone number and didn't catch his full name. Without contact information or a last name to track him down, Ben had hoped to just run into him, assuming he lived nearby. Then the pandemic hit and the stay-at-home orders that followed, and the opportunity to connect with Rudy once again got lost.
Then a chance meeting in August between a friend of Ben's led to that connection: His friend Kyle bid on a job for Rudy, who asked for recommendations for painters in the area. Ben, who owns his own painting business, was Kyle's suggestion for Rudy.
"We connected, and I thought, well, even if I don't get the job, I'm giving the door back," Ben said. 
"I thought it was a good gesture," Jessica said. 
Ben got the job and decided to wait until the job was finished to present the door.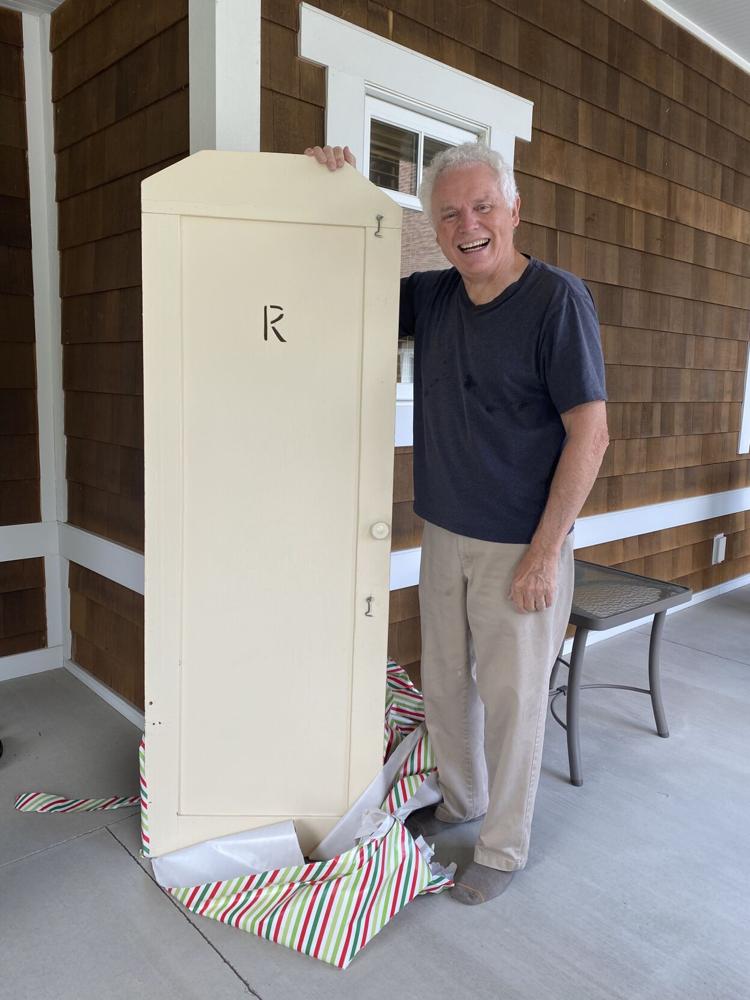 "That's when I had the idea to wrap it up and give it to him and wanted to capture his reaction," Ben added.
On his last day, just before he left after all final transactions were made, Ben presented Rudy the door, wrapped in wrapping paper.
"You could tell he was thinking 'Is this what I think it is?'" Ben said.
Then the wrapping paper came off. 
Rudy said in an interview with Kare11: "Is that what I think it is? That's the door. That's my door."  
"It was a genuine reaction," Ben said. 
"It was fun," Rudy said. "It has a lot of fun memories, and it was a great thing."
"It was a fun experience," Mary remarked.
Ben was just as touched by the connection. 
"It's hard to pin the exact feeling. It makes me happy that I made somebody else's day with a small gesture like that. It means a lot to me," he said.
Rudy said he has no specific plans yet for what he's going to do with his childhood door in his current home, but said he has a few ideas.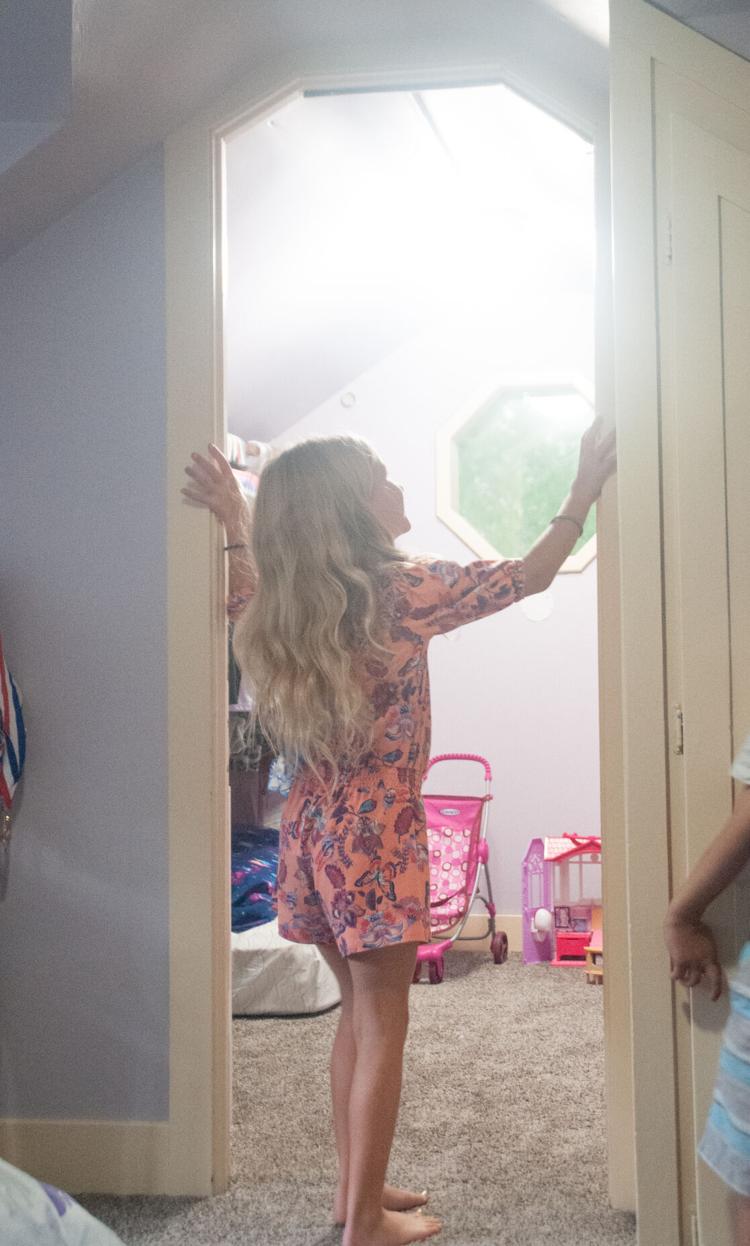 The memories that transpired in and around those walls have been shared with the newest owners by Rudy and other previous owners, some of whom still live along the lake. They're stories about how the stained glass window ended up in the wall, or childhood memories of hanging from the beams in a bedroom or where the kids would have to shovel coal into the heater, and, of course, the story of the "R" carved into the door. Those are the stories that Jessica and Ben say make the house mean much more to them than living in a newer home.
"It just makes me more attached to it, knowing the background," Jessica said. 
"Not a lot of people can own history," Ben added.
Now it's time for a new family to add their own history to the house, and Haiden knows exactly what she wants to add. Her one request for when she gets a new door to her closet installed: an "H" carved into the door, just like Rudy's.