Raway reaches title match at 195
For Forest Lake senior Derrick Cardinal, everything came down to the ultimate tiebreaker.
Cardinal was locked in a tight struggle with Lakeville North's Zach Hanson in the championship match of the Class 3A 132-pound bracket at the state tournament hosted by St. Michael-Albertville on Thursday, March 25 . The battle was tied at 2-2 as it ground through three overtimes.
What was at stake? Not just this year's title, but Cardinal's chance to be considered among the best wrestlers in Minnesota high school wrestling history as a four-time state champion.
"He was wrestling the perfect match against me," Cardinal said of Hanson. "I was getting a little frustrated, because I couldn't get to my offense. But I put it in my head that eventually something positive would happen, and that came in the ultimate tiebreaker.
"It was a little stressful, but I always knew I had the choice [in the tiebreaker] – and that, if I chose down, I could get away in 30 seconds and win the match."
And that is exactly what Cardinal did to claim a 3-2 victory and become just the 29th wrestler in Minnesota state wrestling history to win four individual high school titles.
"You wouldn't hear this from Derrick, but he has a banged-up knee, and his back is really hurting," Forest Lake coach Joe Kunshier said. "Hanson wrestled a very safe, conservative match, but I was never worried. … I don't think there was ever a doubt Derrick would escape in that fourth tiebreaker. He wasn't going to be denied that fourth title."
After winning the title, Cardinal bowed to the emotions swirling in his head.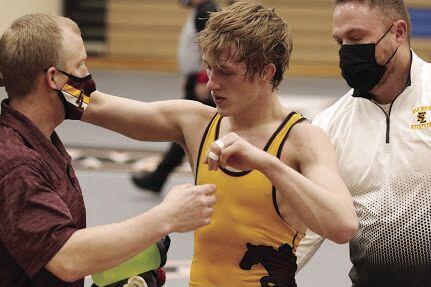 "It felt unreal that I had won my fourth state title," he said. "And it hit me hard that it was my last match as a Ranger, wearing that Forest Lake singlet. I just wanted to cherish the moment a little bit; I hugged my dad [assistant coach Tim Cardinal], and I hugged Coach Kunshier."
Cardinal deserves extra credit for this fourth title, as he dropped to 132 pounds to set up the possibility of wrestling two of the state's best: Hanson and four-time championship Reid Ballantyne of Stillwater.
"He could have stayed at 138 and won the state championship," Kunshier said. "But he wanted that duel with a four-time state champ. Reid unfortunately was injured and had to drop out, but that's the kind of kid Derrick is. He has never shied away from a challenge. He wanted to win a fourth state title, and he wanted to beat a four-time titlist to do it.
"So it was great to see him take a breath and hug his dad and I. You could tell he was taking in the moment, absorbing what he did."
Cardinal, who will wrestle collegiately at South Dakota State University next year, finished his senior year with a 41-1 record after posting a 13-3 major decision over Will Bents of Woodbury in the opening round, then besting Colton Bornholdt of New Prague 13-5 in the semifinals of the state meet. 
"Derrick is the pinnacle of what Forest Lake wrestling is about," Kunshier said. "Derrick stayed in the program, and he was the rock. He felt Forest Lake had everything it needed to create a four-time state champion – whether it was the coaching, the facilities, the practice partners, the support from the community and the booster club.
"It was a once-in-a-lifetime opportunity for a coach like myself to be able to experience working with him."
Since the state tournament, Cardinal said he has thought more about his accomplishments at Forest Lake, a legacy that includes not just four state titles, but also 240 victories – the most not just for a wrestler at Forest Lake, but for any wrestler in Class 4A Section 7.
"I've been blessed to have the opportunity to do everything and break these records," he said. "I remember in seventh grade, when Kunshier allowed me to wrestle at 106 even though I only weighed 91 pounds. There was a tournament – at St. Michael's, believe it or not – where I had a rough day where I got pinned twice.
"But Kunshier gave me a chance, and he believed in me. That helped me believe I could do big things at Forest Lake. It means a lot to me that I started my wrestling career at Forest Lake, and I got to win the state title for the fourth time wearing a Ranger singlet."
Raway reaches championship match
Cardinal was not the only Forest Lake wrestler who set himself up for a potential title as fellow senior Tyler Raway advanced to the championship match at 195 pounds.
While Raway dropped a 6-3 decision to Roman Rogotzke of Stillwater in that title match, he finished the season with a 36-3 record and placed in the state tournament for the second year in a row.
"Tyler shouldn't consider himself to be second fiddle to anybody," Kunshier said. "He and Derrick are two of the best leaders we've ever had in the room. I don't think Derrick would be where he is without Tyler being his equal, standing by his side and pushing him."
Raway opened the tournament by pinning Aidan Wayne of Osseo at the 2:54 mark in his first match, then claim a 1-0 victory over Joey Johnson of Shakopee in the semifinals.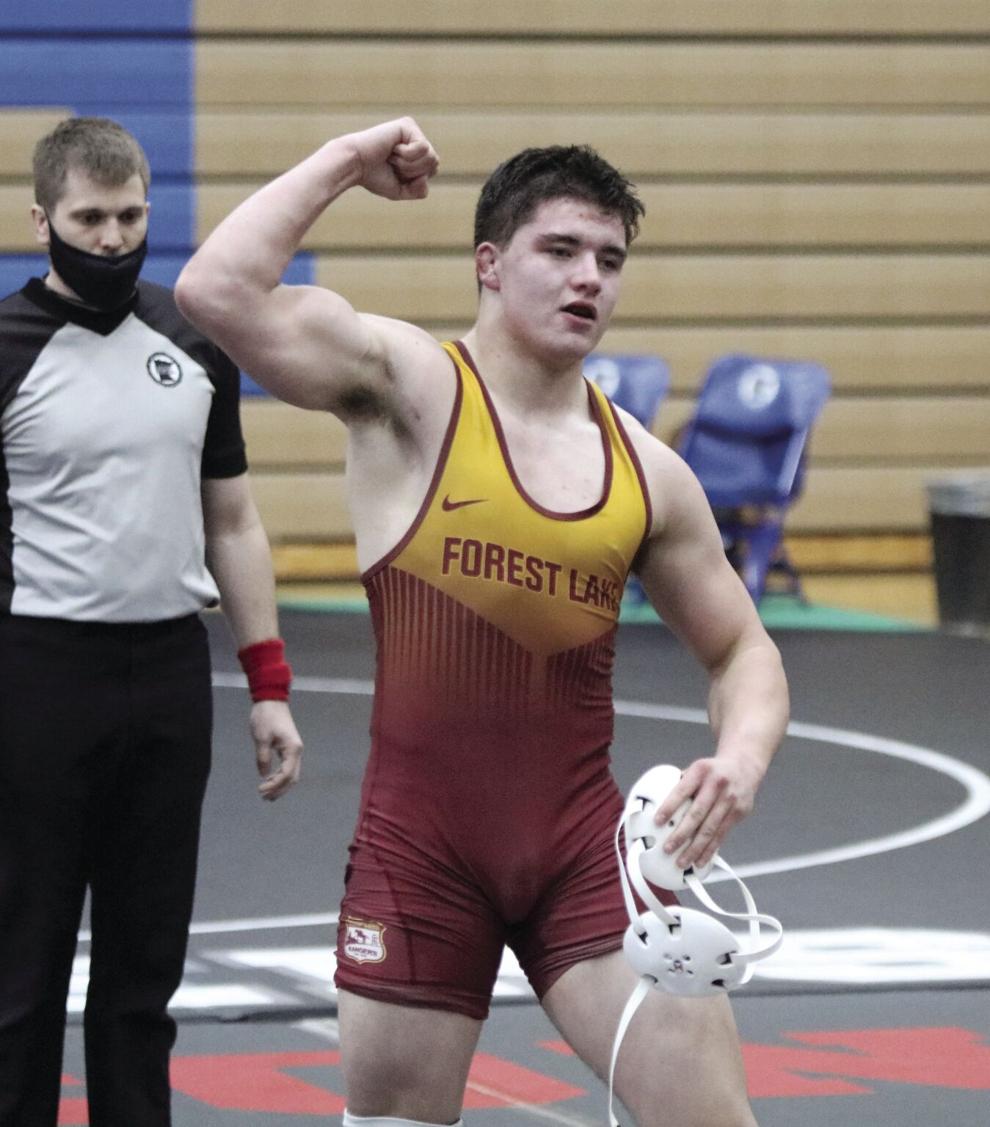 "The win over Johnson was a signature win," Kunshier said. "Tyler was tenacious and kept after the kid. He forced the referees to make a stalling call, and that is extremely rare in a match at that level. But it was that obvious that Tyler was working hard and deserved the call."
That lifted Raway into the title match against Rogotzke, the top seed in the tournament.
"I wrestled his younger brother at last year's state tournament, but I think it has been about five years since I wrestled Roman," Raway said. "I know he has a different style – he likes to go for big moves – so I tried to stay basic. I was a little disappointed [I did not win]. But at the same time, he's a stud, and I wrestled as well as I could."
Kunshier agreed that Raway wrestled well, adding: "He forced Rogotzke to wrestle. He kept the match close and gave himself a chance to win. If you would have told me before the season began that Tyler would be in the state title match, I would have said, 'Of course he is.' There was only one better wrestler in the state – and that means Tyler is better than a lot of kids around the state."
Raway said he would not allow a loss in his final match to cloud the view of a fine senior season.
"Looking back, just being able to have a season like this – because of COVID-19 making it uncertain we would even have a season, then the late start – I'm just grateful that we had a season," he said. "Losing in the championship match still stings, but I think it will fuel me in my college career. It was a weird year, but I just tried to make the best of it."
Kunshier said Raway's contributions to the Forest Lake program have come both on and off the mat.
"He won 145 matches in his career, and that's huge," Kunshier said. "Tyler is a great kid, a great leader. To have his resolve, his attitude, in the room every day is something I'll remember. He's going to hang a picture on the wall for being a state finalist, and that's a huge thing in our program."
And Cardinal agreed that Raway, who will wrestle collegiately at Augsburg University, deserved praise for both a fine senior season and exemplary career at Forest Lake.
"I love Tyler – since eighth grade we've been close, and we've been the team captains the last two years," Cardinal said. "In the past few years he really stepped up to be a team leader right beside me. He came to practice every day and worked hard, and pushed me at times when I was down. 
"I was excited to see him make the finals. He shouldn't feel as if he's in my shadow at all."
Aho places at state again
Sophomore Jacob Aho finished fourth in the state meet at 113 pounds, marking the second straight season he placed at that event. He pinned J.T. Hausen of Faribault in his opening match before losing to Caleb Thoennes of St. Michael-Albertville by a narrow 4-3 count in the semis.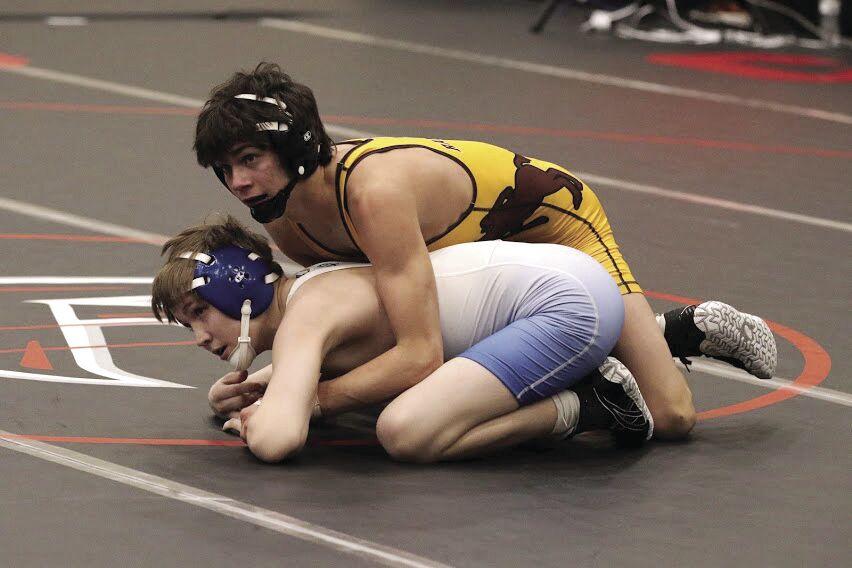 "He definitely had the potential to make it to the finals, and I thought the match with Thoennes was a winnable match," Kunshier said. "Jake is so athletic, and so strong and dynamic, he is in every match he wrestles."
In the match for third place, Aho dropped an 11-6 decision to Alex Braun of Woodbury to finish the season with a 25-3 record.
"I take responsibility for the loss in this match," Kunshier said. "Jake had beaten the kid earlier in the season, but he wanted to assert his dominance. Instead he got caught early and gave up back points, and it's hard to come back against high-level kids when you give up back points."
Aho finished the season with a 26-5 record despite missing time because of an injury, and Kunshier thinks the sophomore can take another step forward next season.
"The kids that he lost to are year-round wrestlers, and Jake tends to just wrestle during the season," Kunshier said. "I think the key for him is to go out and do some wrestling in the spring and summer and train for the season. I think he's scary-good, knowing he mostly trains during the season and minimally outside the season.
"He's a great kid and hard worker; he placed sixth last year and fourth this year, so he's progressing in the right direction."
Freshman Parker Lyden received no favors in his first state tournament appearance, losing his first match at 106 pounds to top seed and eventual champ Alan Koehler of Prior Lake before falling to Blake Beissel of Hastings to finish the season with a 28-14 record.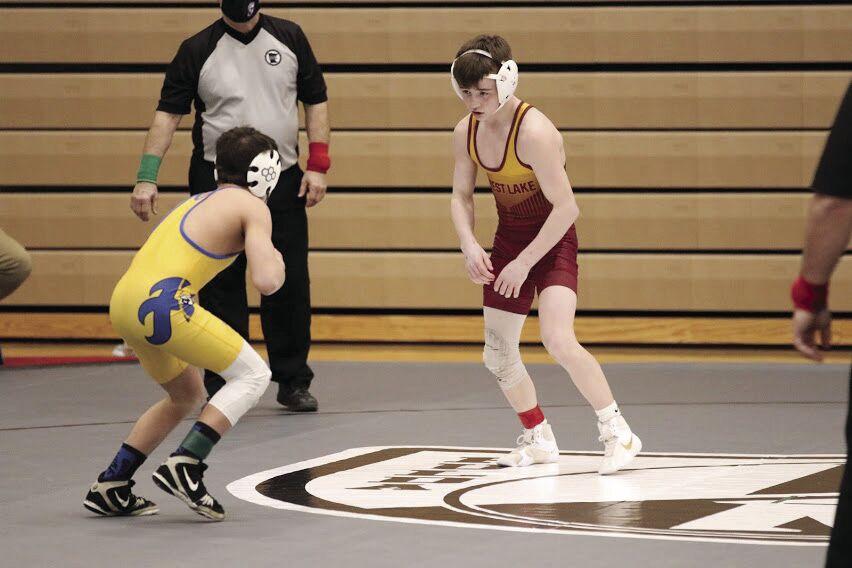 "Going against the No. 1 seed right away was tough, and his draw in the second round happened to be a guy who beat him earlier in the season," Kunshier said. "It was just one of those things. He was a bubble kid to make the state tournament, so to get that experience puts him in front of kids who stayed home. ... Getting there will make him hungry to get back there as he moves forward with his career. Parker has a great attitude and is a year-round wrestler who is committed to the sport."