Chief says current fire department model can't last forever
Forest Lake and Columbus firefighters have been answering more and more calls over the last several years. Forest Lake Fire Chief Al Newman said that if those increases continue, the city will eventually have to reevaluate the way the Fire Department works.
"We kind of align our staffing with our ability to provide our service," he said. "If we continue to have these call counts, these increases, it's not going to be enough."
In 2014, the Forest Lake Fire Department, which serves both Forest Lake and Columbus, had 359 calls for service, a statistic that itself was above the previous year's numbers by about 10%. Five years later, at the end of 2019, the department fielded 536 calls – an increase of 49.3% over 2014 and about 10% higher than 2018, when the department had 487 calls. Newman said a variety of factors contribute to the fluctuating numbers from year to year, but he had a couple of clues as to why calls have been on an upswing.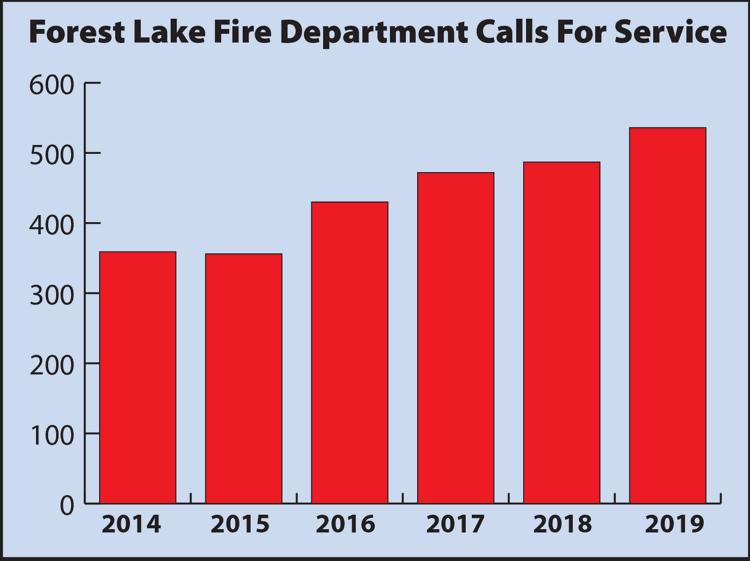 What happened in 2019?
Though the mandate to fight fire is right there in the name, firefighters are often called on to perform tasks well beyond putting out burning buildings and saving occupants from harm. In fact, in 2019, only 34 of the department's calls – 6.3% – were labeled as structure fires, and half of those were mutual aid responses to fires outside of Forest Lake and Columbus. Though a new policy of automatically calling mutual aid from surrounding departments for structure fires was instituted in 2019 and likely resulted in Forest Lake firefighters going to a few more structure fires than they would have in previous years, Newman said the biggest contributor the rise in 2019 was a special event: the construction on and around the Interstate 35 freeway. 
While the freeway was under reconstruction, the Fire Department had a mutual aid agreement with the Lino Lakes Fire Department to respond to all vehicle crashes on the freeway between Broadway in Forest Lake and Lake Drive in Lino Lakes. Under normal road conditions, the Fire Department would only respond to freeway crashes in its own service area and only if those crashes required firefighter assistance – for example, crashes with multiple injuries or a situation in which the department's vehicle extrication tools are needed. Because public safety responders could never be sure how long it would take to get to a crash during the construction, however, the decision was made for both Fire Departments to respond automatically. 
"A lot of times, you don't know [the situation] until you get an officer on to the scene," Newman said.
Overall, the department had 46 calls (8.6% of the total call volume) in 2019 that were attributable to freeway construction, though it's possible firefighters would have responded to some of those calls anyway. Other big contributors in 2019 were fire alarms (either alarms from services or calls about potential fires, at 103, or 19.2%), medical calls (usually only for full arrest scenarios or by request, at 91, or 17%) downed power lines or other electrical issues (39, 7.3%), gas leaks (29, 5.4%), carbon monoxide alarms, or vehicle fires (both at 28 calls, or 5.2% each). Two big contributors to calls in previous years have been grass fire season or patches of dangerous weather, but Newman said neither was a real factor in 2019. Even the summer tornado only resulted in two calls for the department.
"Although there was a lot of damage, people didn't call 911 for whatever reason," Newman mused.
Long-term issues
While 2019 had its unique factors contributing to an increased call load, Newman said the department's calls still would have risen without the freeway construction, just not as drastically. He believes two issues are key to the ongoing rise: an aging existing population and the overall population growth in the area. As 2020 begins, the area – and the nation as a whole – is due for an official population update with the undertaking of the U.S. Census, and Newman believes local gains in elderly and overall population will be significant. He pointed to the construction of Cherrywood Pointe and several recent apartment buildings like Lighthouse Lofts or Arbor Ridge as evidence that people are being "add[ed] to the scenario."
Through this period of growth – really, Newman estimated, for the last couple of decade – the Forest Lake Fire Department's staffing goals have remained mostly the same. Though the chief is full-time and the city of Forest Lake now employs a few staff members who work on building issues but who can remain on call for fire response as the situation dictates, the majority of the two cities' firefighters are paid on-call, and the Fire Department generally attempts to keep that number of firefighters at 32. However, if the city continues its growth trends, there will come a day when that model will no longer be feasible.
"There will be a point where we will need to run full-time fire," Newman said, referring to the model of employing a staff of full-time firefighters as opposed to the paid on-call model. "[I] don't know where that is at this point."
Logistics of change
At issue, Newman explained, is the fact that the paid on-call model is not infinitely expandable. Besides the fact that an initiative to add more firefighters could eventually run up against diminishing interest or availability – firefighters must undergo rigorous training and live within a few minutes of one of the department's two fire halls – Newman said adding more people would ultimately become prohibitively expensive. Between insurance, training and equipment, he estimated, adding one new firefighter costs the department $15,000 to $20,000.
Fluctuating experience levels are also a factor. Not counting Joe Houle, who has been with the department for about six decades, the average amount of service time for Forest Lake Fire Department's firefighters sat at 9.65 years at the end of 2019. Three of the department's current firefighters are in their early 60s and have served as firefighters for close to 20 years (and in one firefighter's case, more than 30). If they retire, that average will drop. Newman said experience is a huge advantage in fighting fire, and adding a bunch of new paid on-call firefighters to keep up with increased calls won't be as helpful as having steady hands who already know how to do the job.
"Where you really start to see that trend into full-time staffing is where you start to see [problems] with recruitment and training of firefighters," he said. "That's a big problem with a lot of communities right now."
Newman pointed out that some communities of Forest Lake's size – roughly 20,000 people according to 2018 census estimates – already have full-time fire departments. He's not making any recommendations just yet, but he said the department and both member cities need to be mindful of their communities' future so the right decisions can be made at the right time.
"I think that as you increase in fire runs, you have to evaluate every year what the organization looks like," he said.