Cheryl Schultz attended her first National Law Enforcement Candlelight Vigil in 2003 with her 8-year-old son.
Her husband died the previous year while in the line of duty. His last act of service was pulling a drowning boy from a river. He saved the boy but did not make it himself, bringing an end to his watch on Aug. 17, 2002.
It was at the vigil during the ceremonial lighting and passing of candles that Schultz says forever connected her to all the other spouses there to remember their loved ones who died in the line of duty.
"As I lit the candle, the flame transferred to another candle," she told more than 30,000 people on May 13 at the 30th Annual Candlelight Vigil this year. "Our lives are connected in this 'Blue family.' "
Schultz is now the president of Concerns of Police Survivors, a national nonprofit aimed at rebuilding the shattered lives of survivors and co-workers affected by line-of-duty death.
There were 129 officers who died in the line of duty in 2017, including an officer for the Wayzata Police Department.
Shawn Matthews and her 9-year-old son Wyatt were there for the first time to remember officer William A. Matthews, who was killed in the line of duty by a distracted driver.
Among the many police honor guards in attendance to make this experience flow smoothly as possible for first-time families like William Matthews' surviving family and department was the Elk River Police Honor Guard. They were also there to represent the Minnesota flag as all 50 states, the District of Columbia, U.S. territories, federal, corrections, railroad, and military police agencies came together to honor fallen peace officers during National Police Week. The weeklong event was capped off in part by the 37th annual National Peace Officers' Memorial Service on May 15.
The Elk River honor guard has hoped to capture this assignment for years, and they learned several months before the trip this would be the year. There was plenty of planning and communications with D.C. Police, Prince George County and the National Law Enforcement Memorial Association, according to Elk River Police Honor Guard member Andrew Zabee.
Detective Sgt. Joe Gacke, Zabee, Special Services Sgt. Dan Block, Patrol Sgt. Brian Boos, Juvenile Detective Jeff Garcia and officers Joe Firkus, Jesse Smith and Don Birdsall make up the Elk River Police Honor Guard that traveled to D.C. last month. Some of the members stopped by the Star News recently to share some of the highlights of their trip.
The group flew out on May 11 and, with no assignments planned for that day, toured the National Law Enforcement Memorial and other sites in plain clothes.
The group's first full day of duty was May 12, when they participated in survivor escorts and pickups. Honor guards from around the country were given the task of welcoming the families and groups of the fallen.
"You are given cards from the commanding staff for certain times and gates and then you accept the family, officer partners, anyone who lost an officer with that group," Gacke said, noting the groups were as small as six people and as large as 60.
"Our job was to escort them to get their badge, carry their bags and escort them to their shuttle or bus or whatever the case may be to get them to their next destination," Gacke said.
Zabee said it was an honor and he felt good about escorting various groups. Among Elk River's assignments was to greet the group from Wayzata, which included Shawn, Wyatt, Chief of Wayzata Police Mike Risvold and another half dozen or more officers.
"They're definitely getting the treatment they deserve," Zabee said. "Even starting with the airlines in Minneapolis, they had a cordon and escort prior to flying out."
Being able to be there for the Matthews family struck a big chord with officer Jesse Smith.
"I know it meant a lot to them that we were out there," Smith said. "It was good to be there for them."
The Matthews group flew with a family from Iowa headed to D.C. for the same reason. The Elk River guard was joined by secret service agents to greet to the two groups.
"We were part of their cordon when they arrived at their gate in Washington," Gacke said. "The thinking is when they get off of the plane they should feel supported by local law enforcement."
Once they escorted groups through the airport to baggage pickups and their motor coach, they were escorted via motorcycle units to their hotels.
The goal is to make sure they're not alone in their travels, Zabee said.
On May 13, the Elk River group would work the candlelight vigil at the National Mall, sponsored by the National Law Enforcement Officers Memorial.
Gacke noted there were several special speakers, including John Ashcroft, a former U.S. Attorney General who's now chairman of the board of directors of the National Law Enforcement Officers Memorial Fund. This nonprofit organization was established in 1984 to tell the story of American law enforcement, promote officer safety and honor those who serve and sacrifice.
Ashcroft, serving in a voluntary capacity as chairman, has been a longtime supporter of the Memorial Fund, having assisted the organization for the past decade in its campaign to build the National Law Enforcement Museum that is set to open in October in Washington, D.C.
Attorney General Jeff Sessions also spoke, Gacke said.
The Elk River Police Honor Guard was part of a cordon assisting surviving families get seated in a VIP area.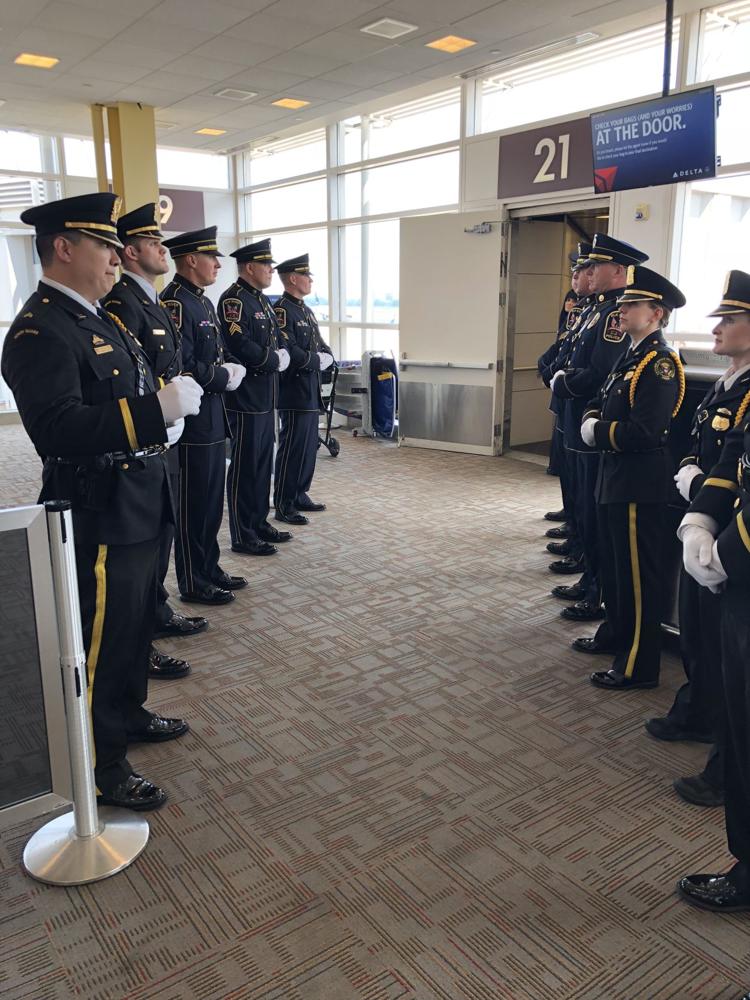 "We formed a cordon with 50 to 100 honor guards, Zabee said.
"The families were escorted by us while we were all at attention at the National Mall."
This year there were 360 names identified to be added to the wall, a combination of those killed this past year and another 231 discovered through research, bringing the total to more than 21,000.
The National Law Enforcement Officers Memorial was dedicated on Oct. 15, 1991, honoring federal, state and local law enforcement officers who have died in the line of duty..
The wall started with more than 12,500 names when it was first erected. A final roll call for all of those names was done. It took 24 hours to complete.
Each year a final roll call of all those who have died in the line of duty within the past calendar year is read.
The Elk River Police Honor Guard on May 14 watched honor guards from across the United States and beyond do drills and post and retire colors as well as perform inspections.
"Our purpose in viewing these competitions was to learn something from these teams that are really dialed in," Gacke said. "A few teams are essentially full time. That's all they do is travel and serve as honor guards."
Most of the details honor guard performed were 8 to 10 hours per day in wool uniforms in 90 degree heat and 80- to 85-percent humidity, not including travel from and back to the hotel, including later that day when the group stood watch for the fallen at the National Law Enforcement Memorial.
The Elk River group was the department from Minnesota selected to represent the Minnesota flag. Sgt. Block took part in the ceremony that kicked off the Standing of the Guard before rotations would begin and last for a full day.
That kickoff included a representative from all 50 states, territories and some of federal agencies.
"There were close to 60 of us divided in two groups. We marched around carrying the flag of each respective state or union on either side of the reflecting pool," Block said. "We would stop and we marched in and presented respective flags in a ceremony.
"It was very emotional, almost like being at a funeral. It was very humbling."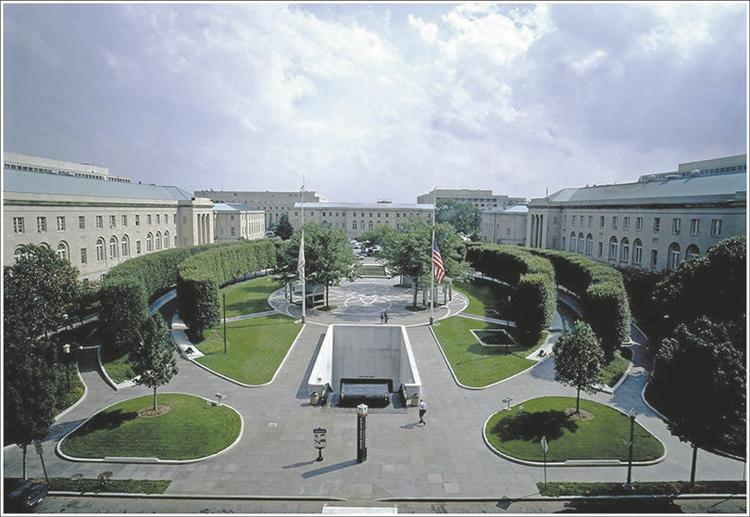 Elk River Police participate annually in the memorial program held in St. Paul, but that is dwarfed by the one in Washington, D.C.
"This was on such a grander scale," Zabee said. "Just taking all that in was something in and of itself."
Gacke said he was amazed by the support Elk River officers received while in D.C.
"Here in Elk River we have always enjoyed tremendous community support at the Police Department," he said. "I was moved at the unbelievable support we received when we were there. People came up to us from all types backgrounds the entire time thanking us for what we do. That is something I will never forget."
Officer Jeff Garcia said the purpose of the honor guard — honoring the families of the fallen — was one of the reasons he joined the honor guard.
"We do that here by going to funerals and our annual event," he said. "This is nationwide."
He said it's profound when a person becomes a police officer and they swear to abide by the laws of the United States.
"But when you get together and you see all these families that have gone through this, that really got me," he said.
Garcia said he was taken by the families who walked around during the memorial program with placards.
"Knowing that family has lost a member, (be it a spouse or a police department), was moving," Garcia said.
For Zabee, who has been out for Police Week on his own, the vigil is always the most profound of all the experiences, he said.
"I don't know what it is — the roll call of names, the lighting of the candles, the whole ceremony and how well it's done, the 30,000 to 40,000 candles — that always gets me," he said.
May 15 was the actual Law Enforcement Memorial Day, and the service took place on the Capitol grounds. This was by far the longest and hottest day, topping out at 94 degrees.
The Elk River group was part of a cordon that President Donald Trump, Vice President Mike Pence, Attorney General Sessions and other dignitaries passed by within feet.
There was another roll call: Shawn Matthews and Wyatt presented a rose. The Elk River Police Honor guard was there to render a salute and represent Minnesota as they walked by.
"Being on that cordon when they come out of the tunnel, you can see it's very scary and sad for them," Gacke said. "This is their first time doing something like this."
May 16 was a travel day, but before they left, they met Sen. Tina Smith and had coffee and conversation at the U.S. Capitol.
"This was a once-in-a-lifetime experience, being out there with the whole group," Smith said.