Kids and families will soon be jumping for joy – and for free – thanks to a generous contribution from The Bank of Elk River.
At the May 28 Otsego City Council meeting, representatives from the bank presented a check for $6,000 to help cover the costs of the inflatables rented for the city's annual Otsego Prairie Festival.
"This year, there was a need we identified with the festival to make all of the family entertainment free for everybody," said Ross Demant, the director of the parks and recreation department. "This contribution is really a huge asset to help us with that."
Demant and the council members thanked the bank for its continued commitment to the community, both financially and in volunteer hours. In the last eight years, the bank has donated nearly $38,000, in addition to countless hours helping out at various events.
"They've been huge from day one in helping us get things established and provide free recreation for the residents of Otsego," Demant said.
The Boy Scouts were also recognized at the council meeting for their assistance during the Easter festivities at Prairie Park. The Boy Scouts are instrumental at numerous events throughout the year, providing much needed assistance at the city's Halloween event, as well. "They are always a tremendous help," Demant said before handing out certificates of appreciation. "We wouldn't be able to do it without them."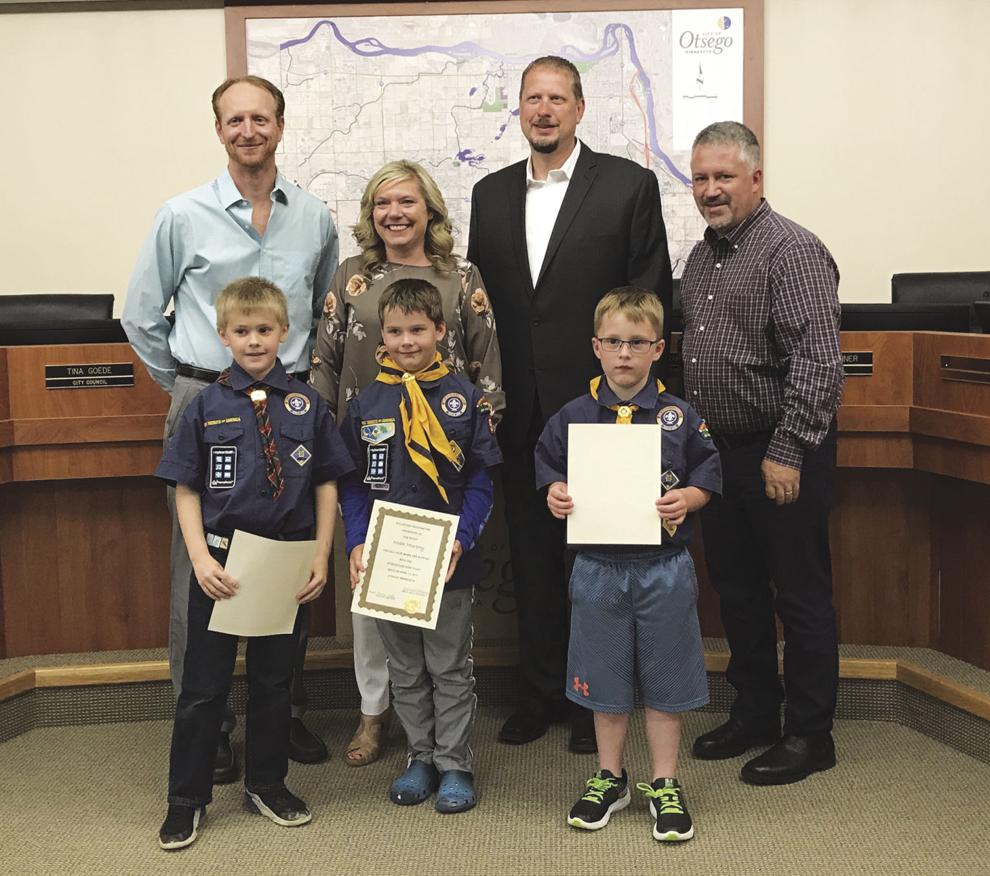 Rep. Eric Lucero, R-Dayton, attended the open forum of the meeting to update the council on the state Legislature's achievements this session.
Highlights included passing a $2.5 billion public safety bill as well as approving $6.6 million in cybersecurity funds to help secure elections. Higher education funding increased an additional $150 million over the previous budget, and the K-12 school budget will see a 2% increase in funding this year and next.
Tax conformity was passed, he said, and MNLARS, the state's troubled licensing and registration system, has been scrapped and will be replaced with a new system, he said.
In other news, council approved plans for development of an office building for Edina Realty within the Great River Centre. The building will be constructed as 4,905 square feet, with a potential 2,250 square foot addition, and will house 25-30 employees. Construction is expected to begin in June.
The council took no action on a request for a non-binding resolution from CommonBond, a nonprofit affordable housing provider. CommonBond was seeking approval from the council to submit an application to Minnesota Housing to apply for federal tax credits to pursue potential development of a 60-unit apartment building within Kittredge Crossings. While council members agreed that affordable housing is something the city will continue to explore, they expressed concern over the proposed location.
The next council meeting will be held Monday, June 10, at 7 p.m. at Otsego Prairie Center.