Soldier's Wish, a nonprofit organization that grants wishes to active duty military and veterans, saved Christmas for one family on a recent trip to Elk River.
Grant Pinska, a 32-year-old Cottage Grove man, was awarded a 2014 Dodge Ram truck at Cornerstone Auto in Elk River to replace failing 2009 Dodge pickup with 280,000 miles and a shot transmission. He was invited there under false pretenses with his wife, Leah, and their daughter, Harper, a smiley 16-month-old girl.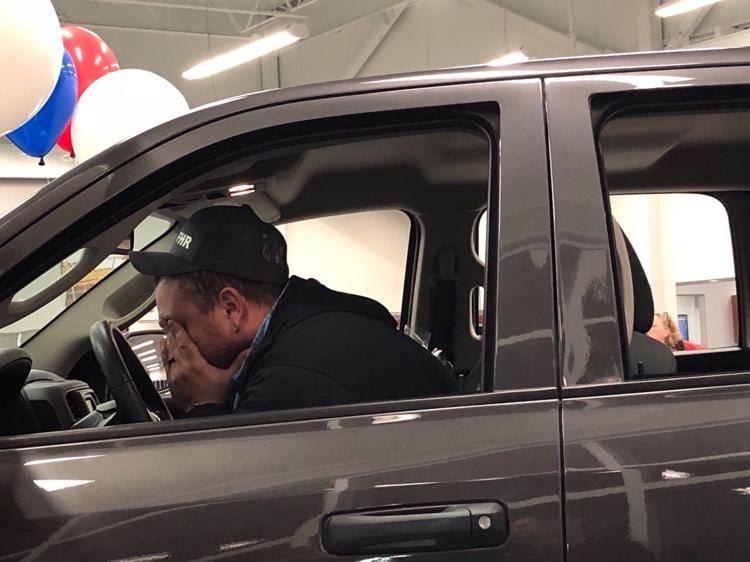 Little did he know his brother Tyler, who works at Cornerstone, and Leah wrote Soldier's Wish on his behalf and he was about to have a new set of wheels to use for his job. Christmas had been slipping away from the veteran of the Army National Guard's Bravo Company out of Rochester that he served with in Iraq from 2005-07.
He was losing tiling jobs one by one, because he didn't have a working vehicle. Meanwhile, bills were piling up and his ability to provide Christmas for his wife and daughter was vanishing.
"This is huge, it saves everything ...," Pinska said, choking back tears on the night of Dec. 20 on the Elk River showroom floor while a camera filmed him and people in attendance applauded his service to the United States of America.
"First and foremost we want to thank you, Grant, for all of your sacrifices and everything you have done to protect and serve this country," Mark Ochsenbein, the volunteer executive director for Soldier's Wish, told Pinska. "We also want to thank Cornerstone Auto for its help in making this wish come true.
"Thank you Randy Tesdahl, adjutant, American Legion Department of Minnesota for assisting. Last and certainly not least, thank you to U.S. Army Korean War veteran, former state Sen. Bob Lessard for your help as well."
Ochsenbein, a former Green Beret from Tulsa, Oklahoma, told Pinska, "We know you have fought the fight."
Ochsenbein talked about how, like most veterans, Pinska works hard, is always helping others and doesn't ask for anything for himself. He explained to Pinska that he knew the transmission on his truck is not doing well.
"You live up here, you need a truck," Ochsenbein said pointing around to the bank of windows overlooking a blustery scene out on Highway 10 in eastern Elk River.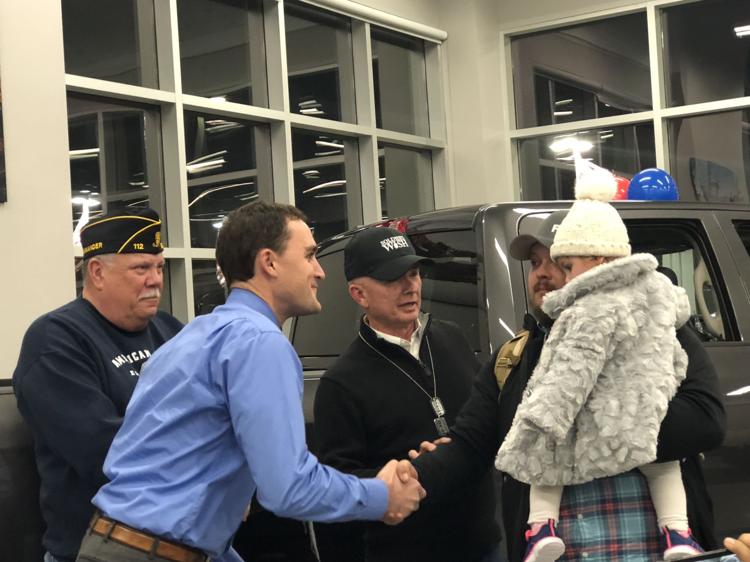 He handed him an envelope with a check and asked him to hand it to Rob Powell of Cornerstone Auto, one of the participating partners with Soldier's Wish.
Powell then pulled the keys of the Dodge Ram and handed them to Pinska.
"These are yours," Powell said.
The truck has already been helping the Pinskas get caught up on their bills, as two new tiling jobs came in since the gifting. And it was a joy for Pinska to watch his daughter open gifts of her own on Christmas morning.
"It was wonderful to not have to worry if we would have money for Christmas," Pinska said. "(Harper) was happy as she could be on Christmas morning. It was phenomenal."
Pinska has a tiling business of his own called Bravo Tiling that he does on the side and he also works for full-time for a private tiling firm.
"This has been a huge weight off my shoulders," he said.
The Pinskas worked with the American Legion, which has a strong relationship with Soldier's Wish.
Tesdahl, an Elk River man and director for the state's American Legion organization, explained how Soldier's Wish reaches out and helps veterans in areas the VA might not fully cover because of bureaucracy or a number of other reasons.
Tesdahl also praised Cornerstone Auto for all the great things they do for veterans and the outdoors and he recognized former Sen. Bob Lessard, a champion for veterans and the outdoors.
He introduced Ochsenbein, too.
"Men and women put their life on hold to go support our country and do the things that other people don't want to do, won't do or can't do, and everybody comes back changed," Ochsenbein said. "Veterans do not ask for help. It's not in their DNA."
That's where Soldier's Wish fills a gap. Somebody who knows them usually nominates them, and the organization can take it from there if they choose.
In addition to tiling and providing for his family, Pinska is now able to get back to his job as an assistant Alpine ski coach for Cretin Derham Hall and a ski instructor at Afton Alps.
"I can't praise Soldier's Wish enough or all the people that helped make this possible," Pinska said. "I don't feel I did anything special to deserve this. I feel so blessed."