A drop-in center for youth experiencing homelessness has its first director, a new program and an upcoming open house.
Cindy Ley is the new executive director of Open Doors for Youth.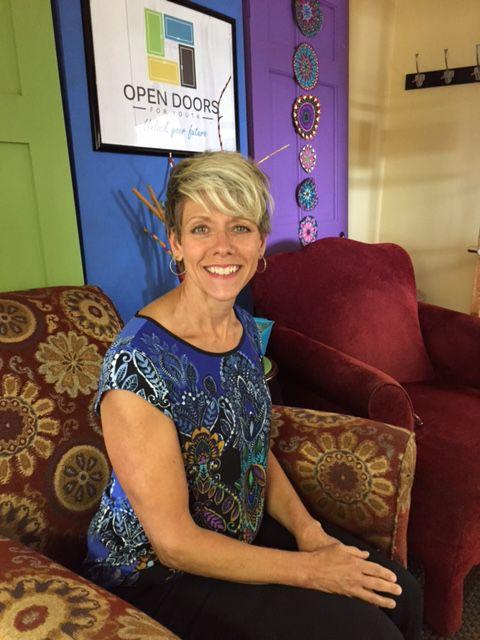 Ley has been a volunteer with the organization since before the drop-in resource center opened at 554 Third St. in Elk River in March 2015.
She most recently worked as director of faith formation at the Church of St. Gerard in Brooklyn Park.
Ley has a bachelor's degree from St. Catherine University and a master's degree from Hamline University, both in education, and has also worked as an elementary teacher and as a tutor.
Ley and her husband have lived in Elk River for nearly 20 years and have four children.
Cheryl Wold, chair of the Open Doors board, said they did a statewide search for an executive director and interviewed several candidates before choosing Ley.
"She brought this vitality to the program," Wold said. "She was just a perfect fit for the position."
Ley said her No. 1 goal as Open Doors' director is to continue to raise awareness of youth homelessness and gain support and to help people understand that everyone is part of the solution to ending homelessness.
"We're part of the community and the youth we serve are part of our community and so we all need to all work together to solve the problem of homelessness," she said.
Ley is Open Doors' second employee. She joins Brenda Pritchard, a part-time youth advocate and case manager who has been with Open Doors since March 2016.
Pritchard has a bachelor's degree in criminal justice from St. Cloud State University and worked in child protection for Sherburne County Social Services for almost 20 years.
Relationships are key to stability
Since launching Open Doors for Youth, the people behind the effort have learned that there's more to addressing youth homelessness than landing people a place to live.
They have seen youth moving from living in a car or outside to living in an apartment fail due to isolation and lack of permanent relationships.
"That's kind of our new 'aha,'" said Marilyn Olson, an Open Doors board member. "It's not about housing. It's about relationships."
Added Ley, "We've realized that more important than housing is helping them build lasting relationships, particularly with adults that they can trust."
With that in mind, Open Doors for Youth has launched a new program called Circle of Support.
It's a pilot program designed to assist youth in building a strong "relationship infrastructure." It is rooted in the acknowledgment that permanent relationships are the cornerstones for youth to successfully transition from homelessness to housing stability and well-being.
Open Doors has been awarded a state Homeless Youth Act Grant to support the new initiative.
Through Circle of Support, Open Doors will help youth identify who can be part of their support network and then help them build up those relationships.
Those caring, stable adults may not necessarily be the youth's parents or siblings. They could be an aunt or uncle, a cousin or the parents of friends.
Open Doors plans Nov. 9 open house
Open Doors for Youth will host an open house from 11 a.m. to 2 p.m. and 6-8 p.m. Thursday, Nov. 9, at the drop-in center located at 554 Third St., No. 201.