Nursing home workers at Guardian Angels in Elk River returned to work June 8 after a two-day Unfair Labor Practices strike without any negotiation sessions scheduled with their employer.
They hoped Guardian Angels leadership would be willing to get back to the bargaining table, but in absence of that the workers told the Star News June 7 they will work without a contract until November when the contract with nurses at the Guardian Angels Care Center comes up.
The significance of that is if they go past their expiration date, then both groups would have the right to strike.
"Right now the nurses group does not have the right to honor this because they have a no strike clause," said a spokesperson for Service Employees International Union Healthcare Minnesota.
The group of more than 100 workers who went on strike from 6 a.m. to 4 p.m. on June 6 and 7 provide housekeeping, laundry, dietary services, health unit coordination, nursing assistance, recreation and maintenance.
The SEIU workers were joined by community supporters on a picket line on the public sidewalk outside of the facility at 400 Evans Ave. NW in Elk River.
Among those to show up the first day were state Sens. John Hoffman and Jim Abler and former legislator Erin Murphy, who served as the majority leader of the Minnesota House of Representatives.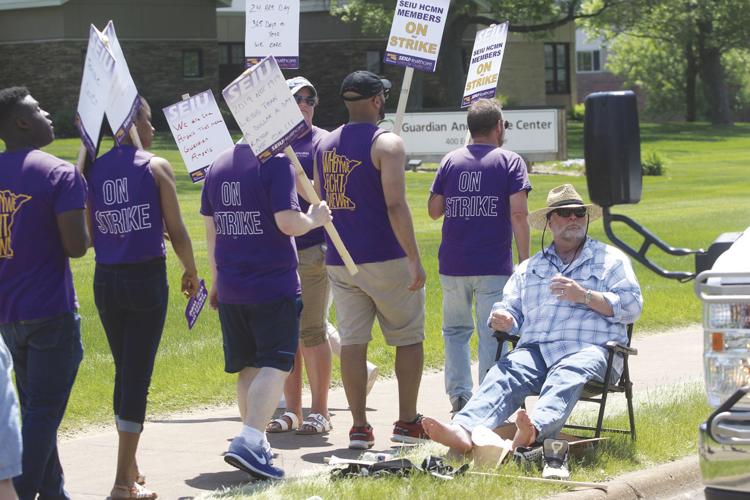 Abler told the Star News he has a great appreciation for the work of nursing home staff, and he offers support for them every time he can.
"It's important they be treated fairly, given the importance of what they do," he said. "They are very dedicated, and much of their work is nasty work. It's important they be treated fairly as they can be."
On the second day, State Auditor Julie Blaha and House Majority Leader Ryan Winkler stopped by.
The Star News visited with four of the striking workers on June 7.
Avis Lage, a dietary aide from Princeton, said she went on strike to push for safe staffing levels; wages that will retain, attract and reward people; and union access.
The employee with seven years of experience told the Star News Guardian Angels has been using an outside agency for staffing because they're so short staffed.
"The quality of care coming from these worker pools is totally unacceptable for the staff that works at Guardian Angels," Lage said. "Our residents need continuity of consistent care, and they do not get it when there's a different pool person coming in."
As workers walked the picket line they brought attention to issues like the use of outside workers, calling for Guardian Angels to "drain that pool."
The two sides have held over 10 bargaining sessions. The group recently voted to authorize a strike after not receiving an offer.
Jody Winter, a laundry department worker from Zimmerman who has worked for Guardian Angels for three decades, told the Star News one of the reasons she went on strike is in hopes of achieving respect of the staff's longevity.
"I have worked here 30 years, and they don't see a reason to respect longevity in this position," she said.
Another concern is union access.
"Our union representative is not allowed to come into our building to greet and educate members and to answer members' questions," Winter said. "They can walk in the front door, go into the break room and hang a notice on the bulletin board but they are not allowed to talk to any union members."
Because of this, orientation of new employees is difficult, Winter said.
"Guardian Angels gives them very little information," she said. "People are not educated to their rights as a union member."
One argument against allowing in a union rep is that the care center is the home of the residents.
To this, employees respond that Guardian Angels conducts scrapbooking weekends, weddings, funerals and an annual fair, and they invite the public to anniversary parties and allow nursing students in.
"And the two days we have been out here they have had the shades closed," Lage said. "They don't want the residents to look outside, yet it's the residents home."
Nicole Mellum, a registered nursing assistant and trained medication aide from Isanti, echoed something all of the striking employees told the Star News.
"I'm here for our residents," Mellum said. "I want us to have good staff, a staff with longevity. This place doesn't seem to care about people who have been here 14 years or more like myself.
"They don't feel the need to pay people that have been here a length of time any more money above and beyond than the people starting out."
Jane Gardner, a registered nursing assistant and trained medication aide from Big Lake, said she has been at Guardian Angels nearly 14 years.
"Some of these people I take care of daily are like a family member," she said. "I walk in and they're like, 'Jane! I am so glad you are here today.' And if I have a day off they call me 'slacker.' They're family and they need to be respected as much as we do.'
The nursing home workers started negotiations in November 2018, but trouble has been brewing for years. The group organized a picket six years ago.
"We didn't come out of that well," Winter said. "I feel like it doesn't matter how many times you say something or when you say it, the employer does not hear what you tell them.
"Hopefully, by coming out and organizing and getting our message out, we will be heard and (they will) know that we mean it. We want this community to know what we mean and what these residents mean to us."
Guardian Angels employees are proud of the five-star recognition the facility has, and with its latest assessment by the Minnesota state health department there was not one single deficiency noted. The health department looks at the entire building, from resident care and comments to medications and the kitchen.
"Guardian Angels needs to stand up and invest in their hardworking employees that get them their five stars," Lage said.