A sea of lights illuminated the evening sky at the Sherburne County Jail on Friday, July 12, as more than 300 people gathered as part of the national Lights for Liberty, an event to bring awareness to the conditions of immigration detention facilities along the southern border and closer to home.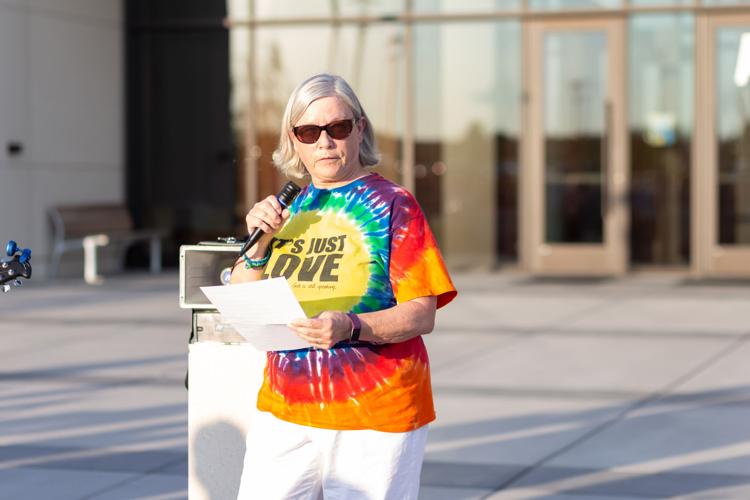 The event was one of several held throughout Minnesota, with attendees driving from as far away as Mankato and Bemidji to take part in the vigil. Sherburne County was chosen as a location because of its direct ties to Immigration and Customs Enforcement, as the Sherburne County jail partners with ICE to provide up to 300 beds for immigrant detainees and is working to expand its partnership to 500 beds.
Nancy Hassett, founding member of Sanctuary and Resistance to Injustice (SARI), a local faith-based organization formed in 2017 to bring awareness to the county's relationship with ICE, has been a weekly fixture at the government center, participating in vigils with other demonstrators every Wednesday to shed light on what she sees as a local government agency operating a for-profit business with ICE.
"SARI has been drawing awareness to the draconian practices of Immigration and Customs Enforcement and Sherburne County's role in this for the past year," Hassett said. "[We] will continue to share the truth about this immoral, un-Christian stain on our country."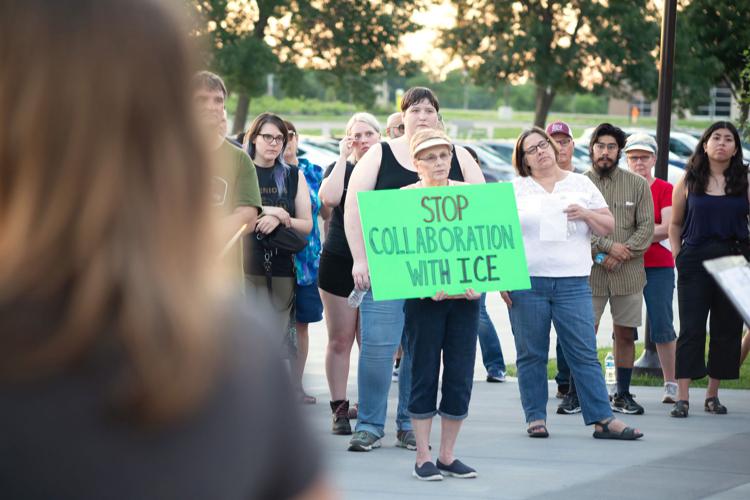 Marty Lemke, an Elk River resident, agrees, citing this as one of many reasons for coming to the Lights for Liberty event.
"There is an element of profiteering because the sheriff wants to enlarge the jail and talks about the increase in jobs and federal dollars that would come in," he said. "I think that is the wrong emphasis."
A host of speakers throughout the 90-minute event spoke of their concerns, including state Rep. Frank Hornstein, DFL-Minneapolis, and immigration attorney Danielle Robinson Briand.
Hornstein offered some personal reflections to the crowd.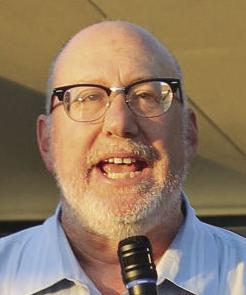 "I come to you as the child of refugees, as the child of immigrants, as the child of Holocaust survivors," he said.
It is his family's story that motivated him to be involved in the Lights for Liberty event and with the ongoing immigration crisis, which he considers to be the human and civil rights issue of our day.
"Elie Wiesel addressed this issue," Hornstein said, "and he said, and I quote, 'You who are so-called illegal aliens must know that no human being is illegal. That is a contradiction in terms. Human beings can be beautiful, they can be right or wrong, but illegal? How can a human being be illegal?'"
His reminder to everyone: "If one is not indigenous, then your family came to Minnesota as an immigrant."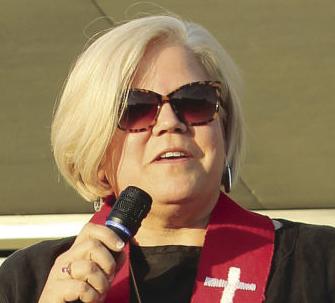 Hornstein believes state legislators can and should get involved in the county's relationship with ICE.
"We want to take a look at oversight of facilities when it comes to rights of aspiring citizens in detention," he said. "These include access to medical care, including mental health services, family visitation, phone calls and hygiene products. We want to ensure that detainees have proper access to legal resources and attorney visitation."
Attorney Robinson Briand echoed these concerns, and spoke specifically to the difficulties of meeting with clients being detained at the Sherburne County Jail.
"I have had to wait up to two hours to visit with clients at both Sherburne and Carver county jails. At the Sherburne County Jail, there is a chronic shortage of space for attorneys to meet with clients," she said, noting that no in-person visits are allowed.
"A major priority for our campaign around ICE detention in Minnesota is to reestablish in-person visits at all county jails," Robinson Briand said, noting that the Carver and Kandiyohi county facilities still allow for in-person visits. "Communication via electronic means is not a fair alternative, particularly because the cost of phone calls and video calls are cost prohibitive for so many detainees. We are urging Attorney General Keith Ellison and the Commissioner of the Department of Corrections to investigate the fee structure for inmate calls, food, and hygiene and determine whether they are legal under Minnesota law."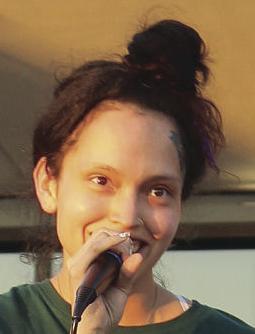 Several people at the Lights for Liberty gathering spoke of their own personal experiences with the Sherburne County Jail, either as immigrants themselves who were held in the facility or as loved ones of detainees.
Mixie, wife to John Bing III (aka Sota, a well-known Minnesota musician), was one of those people, and her address to the crowd shifted to a phone that a friend was holding up. Her husband, who is currently being detained at the jail, was watching, having paid $5 for a 20-minute video call. Bing was brought to the United States as a young child fleeing civil war in Liberia. He is married and has three children, all under the age of 5. He works five to six days a week, attends church regularly and volunteers there, and is an active member of the art community. He has been detained for over a month and could be deported to Liberia, a country he has not lived in for more than 30 years, at any moment. Mixie said that she lives in constant fear as to whether or not she and her children will see him again (in-person visits are not allowed at the Sherburne facility) as well as how she will take care of her family if Bing, the family's sole provider, is deported.
The fear and trauma is a real concern, according to Dr. Patty Kubicka, an Elk River pediatrician who was at the vigil, not only for those like Mixie and her family who are facing the very real possibility of their loved ones being deported, but the asylum-seekers at the border, as well.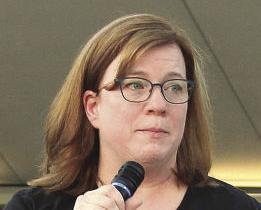 When speaking about the conditions reported at the facilities along the border, she said: "I can't imagine my child being taken from me. As a mother, my heart breaks for the babies hungry and drinking from dirty bottles, soiled in their own filth without diapers or baths. As an American, I cannot believe that this our policy, that this is our government doing this, that our tax dollars are paying for this and lining the pockets of the investors in these for-profit detention centers. As a pediatrician, I am shocked, appalled and dismayed at the conditions these children are forced to live in due to their parents seeking asylum. It is a travesty. Besides the obvious health crisis, we are creating a whole new crisis of mental health problems in these children, not to mention their parents."
Kubicka finished by telling the crowd that as a Christian, she felt called to attend the event and bring this issue to light "to try to alleviate suffering and to try to make the powerful care."