Elk River escaped serious damage brought on by thunderstorms punctuated by hail and tornadoes over the weekend, but one local residence got the brunt of the Friday, July 26, storm that started with thunder and lightning followed by rain and hail.
Lightning struck a tree at a residence in the 1300 block of 5th Street and followed the electrical underground to the attic space in the garage.
A neighbor reportedly spotted smoke and possibly flames coming from the garage and called 911 shortly before 7 p.m. Elk River police and fire departments responded.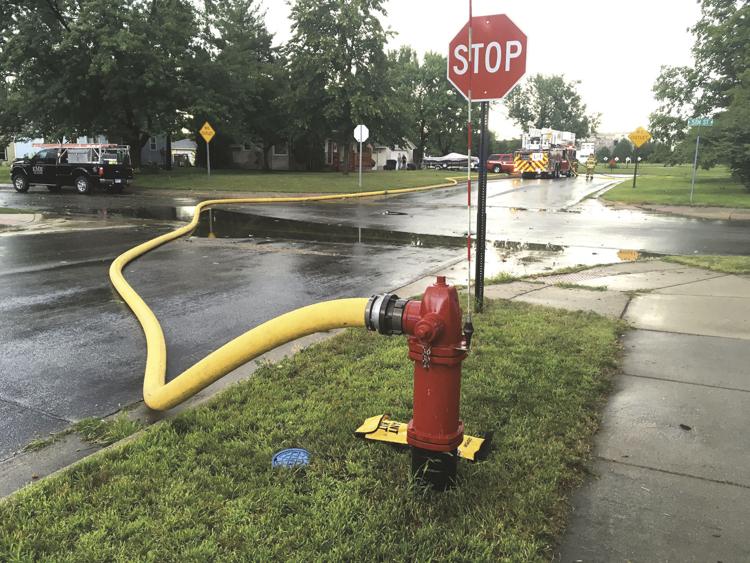 Fire Chief Mark Dickenson said his firefighters arrived to find insulation in the attic space smoldering. They were able to control the fire with foam and water.
No one was in the garage at the time of the fire, and there were no injuries, Dickenson said.
"Everything went very well with the quick response by the fire department," he said.
There was some thought initially to ask for assistance from the Oak Grove Fire Department, because they have a vacuum truck that can suck out insulation from a structure.
"It is common when dealing with attic fires that sparks will hide within the insulation and if not completely removed or soaked down can lead to a rekindle, which is one thing we try to prevent," Dickenson said. "Fortunately we were able to confine the area that was affected and soak that down instead of removing all of the insulation."
It continued to rain for a period of time while the firefighters did their work. It didn't help or hinder their actions since they were working inside the attic space, however, some firefighters did get pelted with hail, Dickenson said when asked about the storm.
"The fire was contained quickly with no extension and nobody was hurt so I would say it went very well," Dickenson said.
Elk River did end up with some scattered tree damage throughout the city but had no reports of any tornado activity. There were reports of downed trees in Elk River's Woodland Trails Regional Park.
As the storm moved through central Minnesota before reaching Elk River, residents in St. Cloud and Sauk Rapids were treated to hail that ranged in size from quarters to baseballs, according to Twin Cities media reports.
The July 26 storms moved out of the state and into western Wisconsin by 10 p.m.
Six tornadoes were confirmed to have touched down – four in Minnesota, two in western Wisconsin – during a short-lived severe weather outbreak on Sunday, July 28.
The National Weather Service crews assessing damage where tornadoes were suspected confirmed tornadoes near Biscay, Silver Lake (two) and Forest Lake/Scandia in Minnesota, and twisters near Luck and Barron, Wisconsin.
The strongest tornado hit near Silver Lake and was a 1/4-mile wide with 105 mph winds, making it a high end EF-1 tornado. Silver Lake is about 60 miles away from Elk River to the southwest.