Ivan Sand Community High School recognized and celebrated their 2019 graduates in a June 4 ceremony that included inspiring and emotional speeches from six of the 24 graduates. Each student's path to Ivan Sand was as unique as the individual standing at the podium to share their story, but the end message was the same: Ivan Sand changed their lives and carved a path to a future none thought was possible.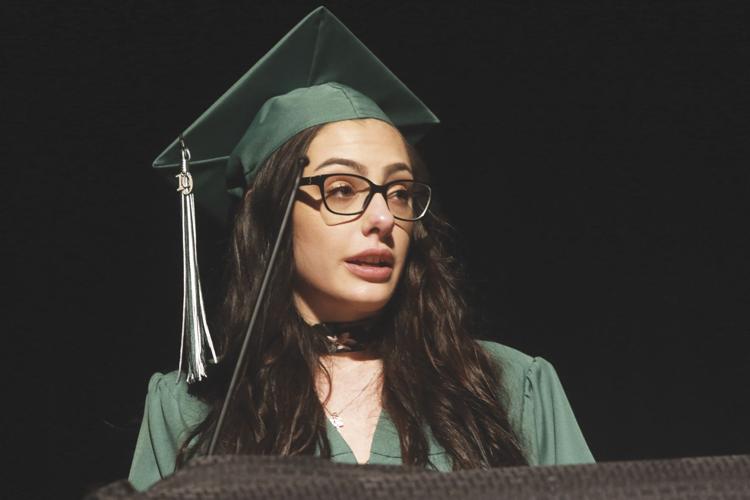 For Hailey Sederberg, bullying and threats at her old school created a toxic environment, triggering anxiety and depression. Coming to Ivan Sand at the beginning of her sophomore year was life changing. Her productivity soared and she became involved in extracurricular activities, including planning the school's first official "Snow Week," working on the Ivan Sand News, and serving on the prom committee.
"Things are so much different at Ivan Sand compared to any other school I've attended," Sederberg said. "I think what made me succeed the most was the one-on-one time with my teachers, and the fact that since it was a smaller school they didn't treat me like a ghost." She choked up a little as she said, "I'm so grateful for the persistent support I have gotten from everyone at this school. The relationships I was able to build have been the foundation of my education here."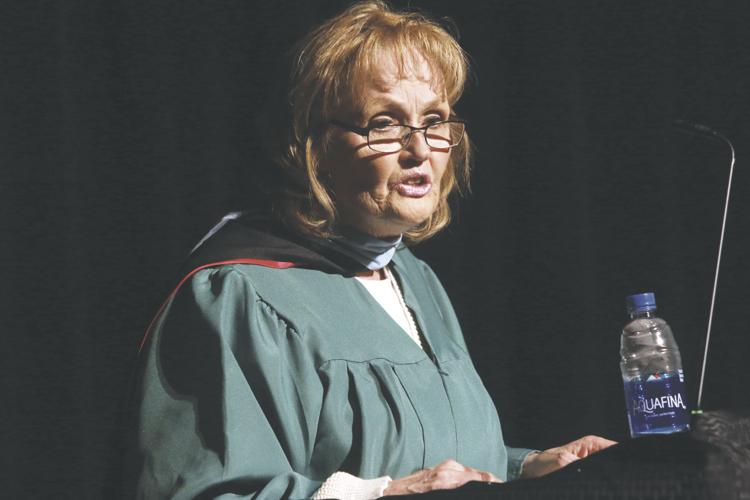 Lyric Minerich didn't want relationships with any of the staff when she first started at Ivan Sand. With a history of drug use, she arrived after failing middle school and had no intentions of changing her ways.
"I skipped school and left before the school day had ended, was insubordinate, [and] didn't do any work whatsoever," she admitted.
Things changed in 10th grade when she realized that not only did she need to get her act together, but that the teachers and staff who were always on her were doing so because they cared and wanted her to succeed. With their support and encouragement, she got serious about her schoolwork and was even able to attend classes at Anoka Tech and earn college credits.
"My opinion of Ivan Sand has definitely changed since I started here four years ago," Minerich said. "I am so thankful for everything that Ivan Sand has helped me accomplish and everything the staff has pushed me through."
Austin "Alaska" Whitsitt started ninth grade at Ivan Sand, hoping the smaller school would be better for the crippling anxiety he experiences.
"After three chaotic middle school years, I had grown to be a shy person and didn't think I'd make any friends [or] connections that'd go past being classmates," he said.
The students and staff at Ivan Sand welcomed him with open arms, and friendships flourished. Despite this, Whitsitt still struggled with mental health issues, which led to his hospitalization in 10th grade and switching schools for a period of time. He soon found his way back to Ivan Sand and, with newfound ambition and confidence, tackled the courses and projects he needed to graduate.
Whitsitt credits the school in helping him to develop better communication skills, more openness, and a willingness to seek help. Leaving Ivan Sand is a bit bittersweet.
"I'll miss it here, but it'll always be in my rearview mirror," he said. And then, with a big smile, he added, "The future awaits, and I'll be damned if I don't go into it full speed and ready for anything."
Mercie Neufville feels like she's ready for anything too. She never saw Ivan Sand as the high school she would graduate from, but life had other plans. Friendships at her former school took priority over her schoolwork, creating a downward spiral.
"Being a part of Ivan Sand was a new beginning for me," she said. "It made me reevaluate my life, and all I can say is that now school and my career after high school are my main priorities."
Her plans include going to Anoka-Ramsey Community College for her AA degree and then transferring to Clark Atlanta University, her dream college.
Fellow graduate Jacqueline Soto also has her eyes on the future — hers and her daughter's. At 14, she became a mom. This, coupled with an abusive relationship and a toxic home life, made finishing high school seem like an impossible dream. When she arrived at Ivan Sand, Soto wasn't fully committed to pursuing her diploma, she said, and made poor choices that affected her progress. In her third year at Ivan Sand, she had her light bulb moment. With the guidance and support of school social worker Joe Robinson, she started College Connect, a program that allowed her to take college courses while still in high school.
"Through College Connect, Joe Robinson became one of my biggest supporters and has truly been an impact on my schooling," she said. "There is no doubt that I'm going to miss all the wise words and advice he has given me."
Soto hopes to continue college after graduation and work either as a translator or in the criminal justice field. After her experience and the success she achieved at Ivan Sand, she said, "I know I can do anything I set my mind to and be successful. I am highly motivated, knowing my daughter is watching me."
Breanna Kissel knows a thing or two about setting her mind to something, especially when it seems as though all is lost. Her high school years included the death of a close family member, a diagnosis of a chronic illness, and a suicide attempt.
"My anger and hurt got the best of me," she said. "All my pieces were shattered."
But she decided that she wasn't going to let her past define her. With the help of the dedicated staff at Ivan Sand, she did more than pull through. She thrived. At Ivan Sand, Kissel was selected as a MAAPS STARS state officer and she enrolled in PSEO classes at Anoka Technical College, earning her Legal Administrative Assistant degree. She plans to finish her two-year degree and then continue her post-graduate education at Hamline University, where she has already been accepted. The next step will be law school.
She knows these accomplishments are hers and hers alone, but she also recognizes how instrumental the Ivan Sand community was in helping her to achieve these goals.
"This school has given me the independence I was looking for in a traditional setting," she said. "I didn't have to fit in or follow a group; I got to lead. The skills I have learned at Ivan I will carry into the rest of my life."
To her fellow graduates, she told them: "You can make it through anything. You make your own beginning. You choose the person you want to become. Make that person great. Make that person make a difference."
Guest speaker Cheryl Netka, a retired Ivan Sand teacher who spent 20 years at the school, spoke about graduation and the new beginning that await these students.
"New beginnings are scary," she said, "but they are the stuff that life is made of. They offer the chance that our dreams just might come true."
Scholarships to 10 separate students were also awarded at the ceremony, ranging from $500-$2,000 each, to help these students achieve their post-graduate goals.
For the 24 graduates of Ivan Sands, the world awaits. And with the diploma many never thought they'd earn grasped firmly in their hands, they are one step closer to making their dreams a reality.