Second season St. Louis Park-based outfitter mixes business, adventure
Ever floated past the parks and marshes along Minnehaha Creek through Minnetonka, St. Louis Park, Edina or Minneapolis on a sultry summer afternoon?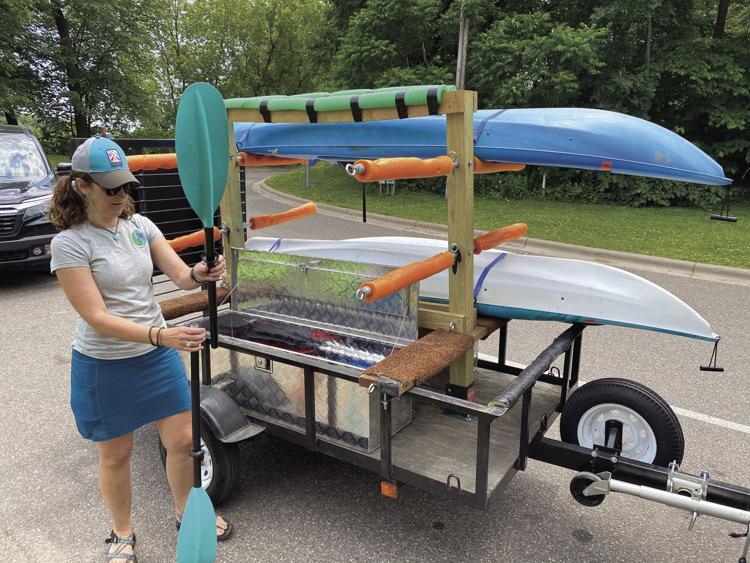 The unique perspective on the suburban and urban landscapes is one thing that caught the attention of Tamara Nugteren, the owner and operator of Kayak the Creek.
Now in the second year offering a full-service kayak rental business, the St. Louis Park resident helps others experience all the creek has to offer through single kayak rentals.
The business offers three-segment tours along the 22-mile creek, which begins at Lake Minnetonka and travels east to Longfellow Lagoon, which is just west of the scenic Minnehaha Falls in Minneapolis.
Nugteren estimates a trip from start to finish would take upward of a full 8 hours, which isn't realistic for casual or first-time paddlers.
"All three sections are different," Nugteren said. "Tonka is nothing like the Edina/Minneapolis and is more popular."
The Minnetonka section offers more open water through wetlands while Edina/Minneapolis offers more narrow passages through scenic backyards and is more shaded.
Paddlers will notice nuances along the way to add to the memories like a tree filled with hanging bells near Hopkins Crossroad. Last summer, Nugteren took a video of a friendly family of loons that stayed with the floating kayaks on an open stretch of water.
Figuring out the current water conditions and how to navigate the high/low areas appropriately is the biggest challenge 
"Last year, we had record-high water levels," Nugteren said. The levels made passing under some bridges tricky.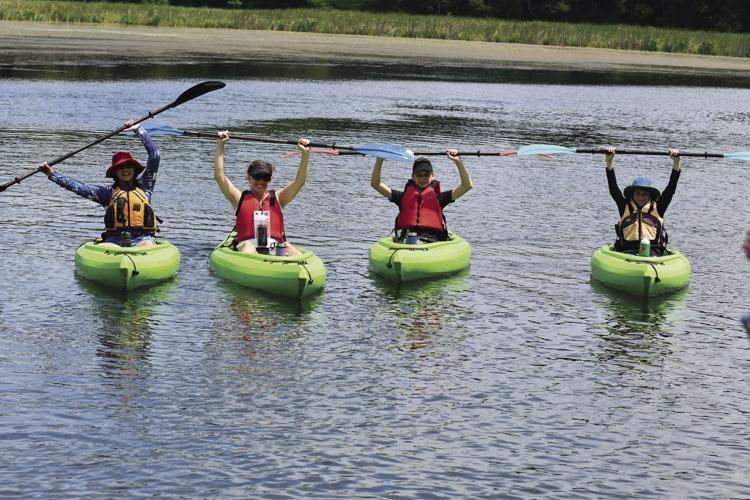 Since they already owned several kayaks, Nugteren and her husband decided the next natural step would be to share their love and experience for the creek with as many people as possible in the unique business opportunity.
Dip a paddle
Nugteren meets paddlers at their entry point into the creek with all of the necessary equipment – kayak, paddle, life jacket and dry bags (plus a box for key fobs to stay dry) for $60 per person. She goes over safety protocols and gives advice to have an enjoyable experience on the water, and then either helps them into the creek or, for an additional fee, provides a guide service in the water.
Customers who ask for a guide are usually those from out of town or are looking for someone to help point them in the right direction or offer local tips along the way.
Kayak the Creek offers excursions Thursday through Sunday with launch times at 8:30 a.m. and 1:30 p.m.
Nugteren noted that reservations are filling up for the weekends while the weekday openings offer a more quiet experience on the water.
All kayakers must be over the age of 12 and, if the water is high, Nugteren raises the age limit to 14, given how swift and powerful the water is along the route.
"You have to be able to make decisions quickly," she said for actions like navigating a turn or moving around a fallen tree safely. Plus, being physically able to control the kayak is vital.
Navigating a new business through the COVID-19 pandemic and the stay-home order was tough for Nugteren, but once given the OK was given to open up in mid-May, the response from the public has been remarkable. 
"It's been very popular because there are so many other places closed," she said, noting the unique position the business has with the social distancing aspect of kayaking.
In addition to sanitizing all gear between rentals, Kayak the Creek staff members will remain 6 feet away from paddlers and wear a mask when appropriate. Paddlers must be able to enter and exit the water on their own since staff cannot help stabilize the kayak. Paddlers from different parties are asked to practice social distancing on land and in the water.
Background
Nugteren has a professional background in advertising and marketing, which lends well to starting a business. Currently a stay-at-home mother, she grew up in a family where hot-air ballooning was a big part of life. That sense of adventure, plus time to pursue an outdoor business, led her to seek to expose as many people as possible to that natural treasure that is literally in the backyards of Minnetonka, St. Louis Park, Edina and Minneapolis.
Get more information at kayakthecreek.com.