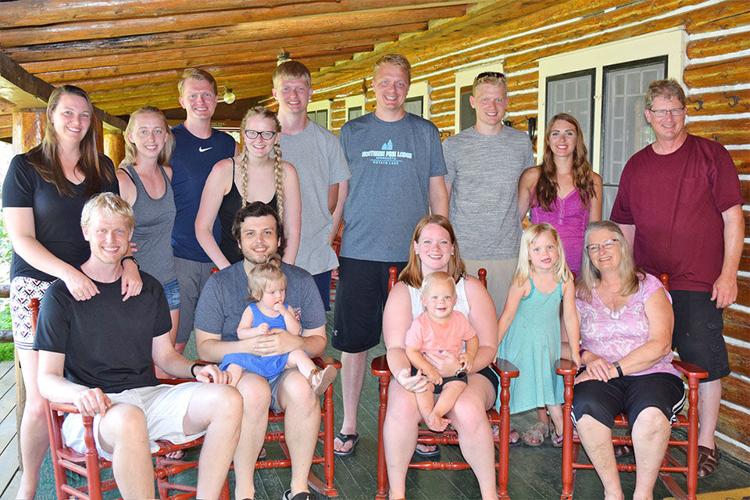 Dairy farming has been an integral way of life for the Lunemann family for many generations. As each generation farmed, the number of cows that were milked increased over time from only a few to about 720.
    "It's a passion many just don't understand," said Pat Lunemann, who owns Twin Eagle Dairy in Clarissa with his wife, Jody.
    In an effort to give people an opportunity to visit a farm and learn more about what actually happens there, the Twin Eagle Dairy will be hosting the traditional Todd County "Breakfast on the Farm" this year.
    The event will be held Saturday, June 22, from 10 a.m. to 2 p.m. and is free to attend. Meals of cheese burgers, chips, pickles, milk and ice cream will be available for purchase on site for $1 each.
    Some of the activities on the farm include farm tours, a petting zoo, children's activities, an agricultural machinery display, educational booths, a visit from Princess Kay of the Milky Way and more.
    For safety reasons, visitors are asked to park at the former Eagle Valley Elementary School track field in Clarissa (coming from Highway 71, enter on Roberts Street South) and ride one of the shuttle buses to the farm.
    The shuttle buses will bring people to and from the farm at no cost and run continuously throughout the event.
    The Lunemann's history in the United States began in 1925 when Lunemann's grandparents, Clem and Antonio Lunemann, his dad and two uncles emigrated from Germany.
    "It was the political and economic situation that made them decide to come over here. That was just after World War I," he said.
    Lunemann said his grandfather, Clem Lunemann, also had a brother who had died somewhere on the Russian front. Also seeing the unrest and wanting no part of it, his grandparents had decided to move, he said.
    "Money was worth nothing, so they scraped up everything they had, put it in a cedar trunk and made their way on SS Andania and ended up in Browerville," Lunemann said.
    Although his grandparents were able to purchase their first farm, shortly after they arrived, they lost it a few years later during the Great Depression.
    "They just couldn't make the payments," Lunemann said.
    However, a Swedish family not too far from their home wanted to leave their farm and asked the Lunemann's to farm it instead. Over the years as their financial situation improved, they were able to purchase the farm contract for deed in 1939, Lunemann said.
    Eventually his parents, Ben and Marie Lunemann, took over the farm in 1951 and about three decades later in 1983, Lunemann and Jody became the new owners.
    Lunemann said the operation doubled to about 60 cows being milked when he started farming with his dad. However, in the early 1990s as times were changing, he realized farming would become a lot more difficult if they stayed the same size.
    "We knew we needed to grow and needed to find a more efficient way to do things in order to survive," he said.
    In 1996, the Lunemanns built barns in the Twin Eagle Dairy's current location and also installed a double-12 parallel parlor.
    They employ about 17 full-time employees and several part-time positions — many of whom have worked there for nearly a decade or two.
    Lunemann said they are currently looking to hire a barn technician for the 9 p.m. to 5 a.m. shift.
    At this time, Lunemann has three employees who used to farm on their own, but for various reasons can't anymore.
    "They have that passion for cows and farming and they are able to get that fix by being here," he said.
    The cows are milked three times a day and each cow produces about 80 pounds of milk per day.
    Although milking three times a day versus the traditional two times a day produces about 15 percent more milk, Lunemann said he has seen an increased overall health benefit in the cows. Before when the cows were milked only twice a day, many of the high-producing cows leaked, he said.
    Besides dairy farming, the family plants and grows mostly corn and alfalfa hay. Lunemann said the best part of farming is being able to be creative and seeing the plants or the animal that are raised grow and really come to fruition.
    Although there is a lot of work to prepare for Breakfast on the Farm, Lunemann said he is looking forward to hosting the event and encourages people to visit their farm.