It takes a lot of people with a lot of dedication to produce a county fair, or state fair.
People like Tom and Marie Wuertz of Spring Hill.
Tom is serving his 49th year on the Stearns County Fair  Board, 16 years of which he served as vice president. Marie has worked right along side of Tom, as well as their five children, and seven of their 10 grandchildren.
Tom is responsible for getting the Stearns Fair buildings ready for the event, then dismantling them and getting ready for the storage season.
"I get the buildings ready for display — the cases and whatever is in the building, the setup of the fair," Tom said.
The couple has been married for 55 years. They operated their dairy farm 1 1/2 miles east of Spring Hill, retiring in 2004, turning over the dairy operation to their son, Peter.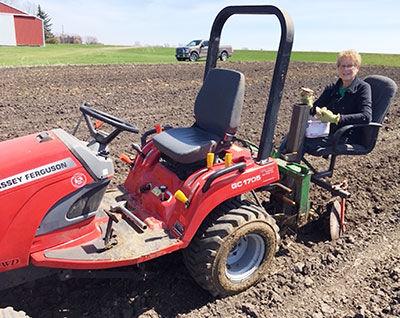 After retiring, Tom and Marie were looking for something to do, in addition to the Stearns County Fair work.
"Tom loved the State Fair," Marie recalls. "He said when we retire we're going to go oftener. I said then we are going to get a job."
They applied for jobs at the State Fair. It was a match made in heaven.
This year will be their 16th year at the State Fair, where not only does Marie enter a whole truckload of produce in the competition, but they spend 12 busy days working in the grandstand.
Marie is the captain of a 10-person team of workers on the Grandstand's East Plaza, the busiest grandstand entry area. "It's a fun job," she said. "You meet so many people, and each act brings in your different cultures of Minnesota. It's interesting to watch what each concert will bring in.
"You always know somebody, every night, that comes in," Marie said.
"A lot of people ask what we are doing down there … haven't we had enough at the county fair," Tom said.
They work the 5 p.m. to 11 p.m. shift every night. It's not like the early days. "When we started, it used to be start at 2 p.m., count the tickets from the night before. And when people came into the grandstand, make eye contact, tear their ticket in half, give them the stub. It took time. Then we did double shifts two days a week," Tom said.
Now scanners are used and they scan 9,000 people an hour into the grandstand.
The State Fair jobs require reapplication every year, a background check, and training.
"It's all done online now," Marie said.
Gardening begins in April, when Marie plants her peppers and tomatoes and petunias in the 8-by-12-foot greenhouse located in the back of their home in Spring Hill. The vining plants go in a little later.
"Everything is well started when we put them in the garden," Marie said, which is a long and narrow plot sandwiched between two corn fields on the home farm.
"The corn protects the garden," Marie said. "And my corn cross pollinates with the corn in the field."
She plants 20 different varieties of potatoes which all become State Fair entries.
The garden looks good this year. "We mulched it really early from a big, square hay bale. I mostly just go out and harvest," Marie said.
The couple likes to keep busy. Gardening is good for mind and for keeping their bodies in shape.
Marie gave up growing giant pumpkins, topping out with a second place at 650 pounds. She is trying some new varieties of gourds in her garden this year.
She works year-round on crafts and embroidery for the fairs. She isn't big on watching television.
"It's either crafts, or go to the bar, I guess," she laughs.
Tom's hobby is restoring vintage Minneapolis Moline tractors. His oldest is a 1936 model, and the others in the shop at the farm range up to the 1970s. He also exhibits a collection of miniature toy Minneapolis Moline tractors in the front entry of their home.
"I always take two tractors every year to the County Fair," Tom said. He also takes them to Albany Pioneer Days, and drives them in different parades.
Tom and Marie are already in fair mode for this year. You'll see them wearing their gray Stearns County Fair T-shirts, advertising the fair, which will run July 31 - Aug. 4 in Sauk Centre.