A cow named Sunflower provided bright fair experiences for eighth-grader Alexis Groetsch of Sauk Centre, this year. Her success at the Todd County Fair qualified her and Sunflower for participation at the Minnesota State Fair, where Sunflower earned a purple ribbon for Champion Total Merit Crossbred Heifer.
"Alexis was so excited to win. This was her first state fair with livestock and she had very high hopes for Sunflower," said her mom, Shannon Bruder.
Last year, Sunflower was showed by Lexi's brother, Eli, at the Todd County Fair but this year, she was showed by Lexi in the senior yearling class.
"She can be a challenge; she's sassy," Lexi said. "Hopefully, I can show her again next year."
Lexi shows cattle that belong to her grandparents, Greg and Ardyne Bruder of Long Prairie. Because their farm is in Todd County, it's much easier and closer to show at the fair there.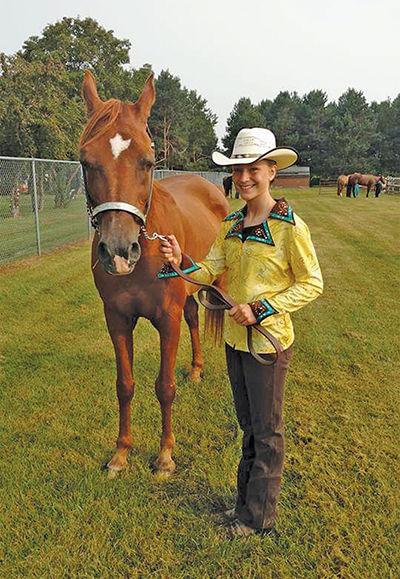 Lexi has been showing cattle since age 5, in open class. With open class, there is no requirement for an older escort/helper, as there is with 4-H Cloverbuds.
"It was not scary, it was just fun. The calf was well-trained," Lexi remembers.
She was pretty used to being around animals, since she had already been helping at her grandparents' farm by bottle-feeding calves. She also learned early to ride tractor with Grandpa and pick rock. She started riding on her own at age one.
"I love to milk, every chance I get," she said.
At her first fair in 2012, she showed a calf named Spot Dot, a Montpelier Shorthorn Holstein — a beefier breed of milk cow that is good for grazing. The calf is a pasture pet who continues to provide the Bruders with calves.
"After that she was hooked on cattle and has shown multiple animals every year," Bruder said.
Her second year at the county fair, Lexi showed Chocolate. It was about that year that she first showed a horse too. Lexi's aunt Katie in Osakis works with Lexi and the horses for a saddle club show.
Lexi joined 4-H at age 8 and has been competing with various animals and other 4-H projects since then. She and Eli are both members of the West Union Country Kids 4-H Club.
"My favorite thing about going to the county fair is just hanging out with friends," she said. "The best thing I learned is to be a good teammate."
This year, Lexi showed three cows at the Todd County Fair — Sunflower at senior yearling, Blues (Sunflower's sister) as a dry cow and Bowie as a winter calf.
Lexi's aunt Nikki helped her plan a clothing project for the fair, a peasant-type knit top, choosing a pattern to use and the fabric.
Her photography project was a bird sitting on a wife with a blurry background. She also did a horse-related project that described how a rider's posture in saddling and movement affects the horse.
Even though this was Lexi's first year to go to the State Fair with a cow, she qualified last year to take her clothing project. In addition to Sunflower, her photography project and her horse-related project were also at the State Fair.
Eli Groetsch, a third-grader, has been showing at the County Fair for about four years. He is a Cloverbud in 4-H and has shown cows. He also put together projects in LEGOs and photography.
"For his Cloverbud project in 2017, he built a race track complete with cars and a bleacher full of spectators," Bruder said.
Regarding her first trip to the State Fair, Lexi said, "It's special because I still get to be with friends. We walk further and there are a LOT more people. We're on duty more so we took shifts. It's so worthwhile. Because the routines are different, we get to stay up really late and spend time with my aunt Katie."
Lexi got her own horse, a 16-year-old Arabian named Sunny, two years ago. She was two points away from qualifying with him for the Minnesota State Fair in "games". Instead, they will be competing at the Western Saddle Clubs Association show at the Minnesota State Coliseum. It's a show for participants from children and teens to adults.
For next year's fair, Lexi is anticipating doing a horse-related project again, along with photography, arts and crafts and clothing.  She will also be showing both cows and a horse.
"I have the calf picked out already — Blues' calf," she said.
There are many months of training, preparation and excited anticipation before the 2020 fair season – plenty of time for the Groetsch and Bruder families to have everything they need ready for successful showing. And they can't wait.